With their striking appearance and venomous spines, Lionfish have become quite the topic of discussion in recent years.
Originally native to the Indo-Pacific region, these invasive species have taken over reefs and waters throughout the Caribbean and western Atlantic, causing damage to the ecosystem and threatening the survival of native fish species.
Despite their venomous spines, however, many people have been wondering: can you eat Lionfish?
This article will explore the answer to this question, diving into the taste, nutritional value, and safety considerations of consuming these unique and often feared creatures.
Whether you're a curious foodie, an avid angler, or simply interested in learning more about this invasive species, this article will provide all the information you need to decide whether or not to add Lionfish to your menu.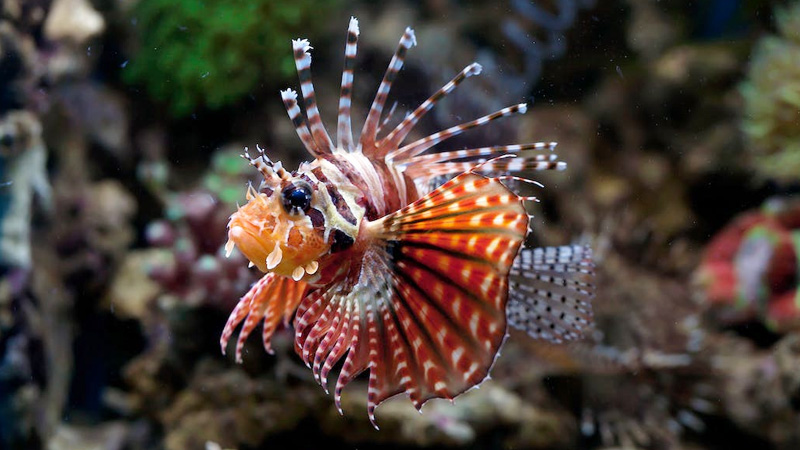 Can You Eat Lionfish?
Lionfish are decimating the population of native fish in the Caribbean. Their filets are flaky and buttery as well.
Unwelcome fish that tastes great? It sounds like the perfect recipe for guilt-free tacos. However, Lionfish can carry naturally occurring toxins as well as venom. Are they safe to eat?
Food safety experts, marine scientists, and conservationists unanimously agree that eating Lionfish makes sense. Make sure you do it smartly.
Humans indeed consume Lionfish, and apparently, they taste delicious!
Eating Lionfish can be beneficial for various reasons, including helping control their population, as they are considered invasive in some areas.
Additionally, they are high in protein, low in fat, and can be prepared in various ways, making them a versatile option for seafood lovers.
When the Lionfish's venomous spines are stripped, cleaned, and filleted, it becomes a delectable seafood dish. Scientists at NOAA are advocating the creation of a seafood market as a way to mitigate the Lionfish's impact on reef communities.
Can You Eat Lionfish Raw?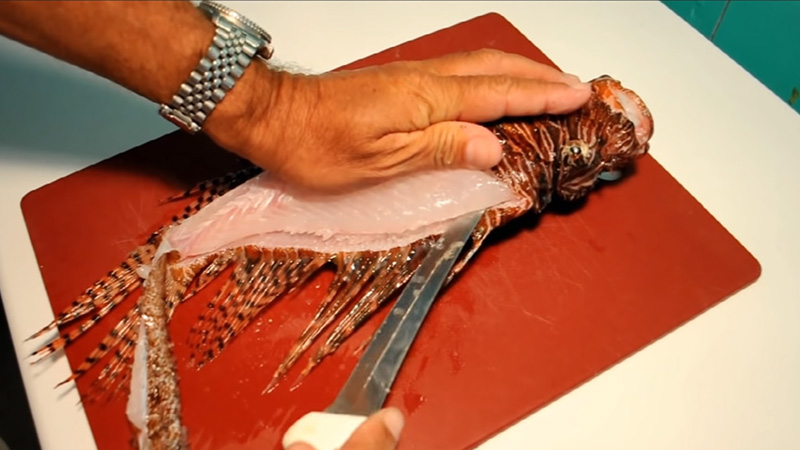 Although lionfish sushi is not a very common menu item, its meat is safe to eat raw. In fact, it's safer to consume raw than many other types of meat that are commonly served at sushi bars.
Tuna is a popular fish used in sushi, but it typically has higher levels of mercury than other fish. Pregnant women are often advised to avoid consuming it. Despite this, many people still enjoy tuna rolls and sashimi.
Compared to tuna, Lionfish has lower levels of mercury and higher levels of Omega-3 fatty acids. Therefore, it is objectively a safer fish to consume.
Tasty Trouble
It is true that Lionfish are tasty, but there are also a few health concerns associated with eating them.
Among the most striking features are the long, needle-sharp spines that rise from their backs and sides. Those spines are venom glands located in the fish's fins that can sting with severe pain.
When filleting, you should use a delicate touch to prevent pricking your fingertips. The venom can only harm you if you inject it, so it will not spoil the meat unless you inject it.
Fish fry shouldn't be a problem because cooking deactivates the venom. As recently as a few years ago, Lionfish were also linked to ciguatera – a type of food poisoning caused by toxins carried in the meat of large reef fish.
Facts & Statistics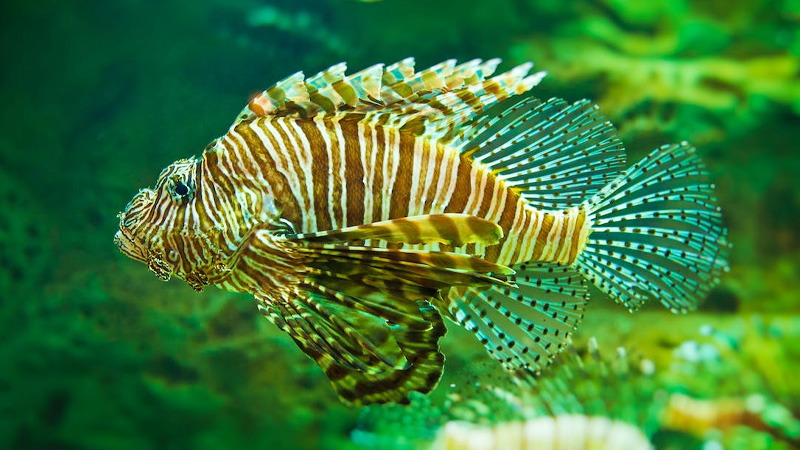 A list of species that the U.S. Food and Drug Administration considers to be ciguatera-associated is also available, which includes big reef predators such as grouper, snapper, and barracuda.
Although it may be debatable whether Lionfish can cause ciguatera food poisoning, there is evidence that they can. A 2015 study by Hixon found that tests on raw meat may yield false positives.
As far as he knows, there are no known cases where Lionfish have caused the illness. In addition to being localized, the conditions causing ciguatera tend to be specific, so it is important to know where a fish was caught prior to testing.
According to Alison Robertson, a toxin researcher at the University of South Alabama, who led the FDA's investigation of ciguatera in Lionfish, Lionfish are tasty and safe to eat from most places.
"However, caution should be taken if reef fish are collected from high-risk areas."
Lionfish are not only safe to eat, but they are also sustainable, Green says. There have been many lionfish culls run by dive and conservation communities, most of them by volunteers.
In Key Largo, Florida, Green is responsible for conducting the lionfish derby, an annual event that involves killing Lionfish. She has also mastered the art of killing Lionfish.
As the commercial fisheries boom, she says, more people will hunt this species, which offers the best chance at controlling the Lionfish.
However, there are tradeoffs involved. Do invasive species have to stay around if you create a fishery for them? Green wonders.
Rather than managing lionfish populations, opponents are interested in eradicating them. In addition, while extirpation would be ideal, "this isn't possible, unfortunately," says Green.
A Beastly Problem
In the United States, the lionfish population is on the rise, and their range is expanding. This is primarily because they have no natural predators and can reproduce throughout the year.
A single mature female lionfish can release around two million eggs annually, contributing to their growing population.
It's too late to root out the fish everywhere, and there aren't enough resources. There would at least be some relief from the symptoms of the issue if there was a fishery.
It is healthier to eat Lionfish than snapper, grouper, dorado, wahoo, amberjack, tunas and billfish commonly served in restaurants.
Researchers have found that Lionfish contain higher levels of heart-healthy Omega 3 fatty acids and are lower in saturated fat and heavy metals.
Currently, red Lionfish and Devil Firefish cannot be farmed and commercially cultivated.
By eating Lionfish, you support local fishermen and divers who recognize the dangers to their livelihoods, practice sustainable fishing methods, and make smart decisions!
When you consume Lionfish, you strengthen the local economy, help an important cause and support worthy people!
Have I told you how delicious Lionfish are? Whenever you think of fish, Lionfish is likely to go near the top of your favorites list!
Are Lionfish Poisonous To Eat?
The answer is a very simple "NO." Lionfish is very common on the menus of hundreds of restaurants in a variety of ways. As far as we know, no food-borne illness has been related to properly prepared Lionfish.
The spines are the only part of the snake that contains the venom, and even "fresh" venom would not cause poisoning if eaten. lionfish meat contains no poison at all.
What Does Lionfish Taste Like?
It has a flavor profile somewhere between a thin grouper fillet and mahi mahi (depending on where you live, dolphinfish or Dorado) with a touch of buttery flavor.
Lionfish is a white flaky fish, firmer in texture than halibut, has no red line, and doesn't have the characteristic "red line."
While others describe them differently, I have never seen anyone who eats white fish without enjoying Lionfish!
I would certainly recommend it over tilapia (BLECH!).
Should You Eat Lionfish?
Consuming non-native Lionfish can be a responsible and positive action for the environment.
These fish are considered invasive species in some areas, and their removal can aid in the recovery of native fish stocks and reef ecosystems under environmental pressure and overfishing.
In fact, eating Lionfish to the point of extinction in non-native areas could benefit the environment.
Regarding health benefits, Lionfish are a wise choice compared to other common restaurants' seafood options like snapper, grouper, dorado, wahoo, amberjack, tunas, and billfish.
Lionfish are rich in heart-healthy Omega 3 fatty acids, lower in saturated fats, and contain fewer heavy metals like mercury, commonly found in many other fish.
Notes
After going through the trouble of obtaining Lionfish, it's essential to know how to prepare them correctly. A general guideline is that any recipe or cooking technique that works well with other white-meat fish will also be suitable for Lionfish.
The most popular ways to eat Lionfish include ceviche, frying, raw, sushi, or sashimi-style. Personally, my favorite way to enjoy Lionfish is sashimi, as it requires little else besides some wasabi and soy sauce to enhance the flavor.
Conclusion
the question of whether or not you can eat Lionfish has a surprisingly positive answer. Not only are these invasive creatures safe to eat when prepared properly, but they're also packed with nutritional value and have a unique, delicious taste.
By incorporating Lionfish into our diets, we can help to control their population and reduce their negative impact on native species and ecosystems.
However, it's important to remember that consuming Lionfish comes with some safety considerations, including proper handling and preparation to avoid the venomous spines.
With the right precautions in place, Lionfish can make a tasty and sustainable addition to our diets. So, next time you're looking for a new culinary adventure, consider giving Lionfish a try!