Tandems are by far the most popular choice for duo fishing. You can even go solo by removing one of the seats. They are built large, fun to fish on, and very stable.
For beginners, they are hard to paddle if you are not used to tandems. Otherwise, it's a great way to fish together with someone. And to that, you need the best tandem fishing kayak.
If you are worried about coordination, there are some tandem boats out there that are designed to be paddled by one person only. Since most of these boats will allow you to move the seat forward, you won't have to worry about stability when going solo.
Tandems are ideal for bringing a child or someone that needs assistance. You can fish with these everywhere from the ocean to the rivers and in a variety of configurations.
You can choose to paddle or put a motor on it. And the fun part is, both of you can stand and fish from a tandem kayak. With that being said, here is a list of some of the best tandem kayaks for fishing.
Table could not be displayed.
Best Tandem Kayak Review & Comparison
Our goal in the proceeding reviews shall be to identify the top kayaks on the market and discuss them in finer details. We are going to examine every aspect of this equipment to help you navigate this field better. We shall look at the build, designs, construction, and a host of other elegant features.
1. Intex Explorer K2 Kayak Review – Cheap Tandem Kayak
No products found.
Kayaking ought not to be too much of a hassle. Indeed, it is possible to quickly set up the kayak and deflate it whenever you are not in need of it anymore. Only a specially designed kayak of this nature may guarantee you this kind of performance. The review below unravels its finer details.
Product Features
Built & Design
Performance & Compatibility
Installation
Perfect Dimensions
By measuring 20 inches deep by 36 inches wide by 123 inches long, this kayak indeed has the perfect dimensions. This provides a larger storage space and also makes it well able to accommodate bigger passengers with ease. Your comfort is hence guaranteed with this particular kayak.
Higher Weight Capacity
Other than possessing a larger dimension for adult occupants, the kayak can also accommodate heavier occupants owing to the higher weight capacity of around 400 pounds. This sees to it that you carry along all your gears regardless of their weights and sizes. It also provides you maximum convenience on the whole.
Removable Skeg
Underneath the kayak is a removable skeg. This plays the primary role of conferring added stability to the kayak. It also aids in the navigation of the kayak by steering it from below. Being removable, it allows for convenient storage by calling for limited storage space. This is not to mention that it simplifies the process of transportation as well.
Adjustable Inflatable Seat
An inflatable seat comes in handy to hold and support you. Its inflatable nature contributes to its overall comfort by furnishing your butt and back some soft and reliable support. Moreover, the seat also has a backrest which supports your back as well. This also goes a long way in minimizing fatigue and allowing for prolonged use.
Reliable Cockpit
The cockpit of the kayak is designed for both comfort and space. It is indeed spacious and equipped with some gears that are all intended to make you as comfortable as possible. You will find it quite easier to gaze in the direction of travel. This is to mention that all the various steering and controls apparatus are within easy reach.
Three awesome features do converge to make this kayak a reliable tool for water-based activities. The rugged vinyl construction which brings about utmost reliability and overall comfort comes in first. It also provides some added stability. The study and inflatable I-beam floor come in next. This one mainly makes the kayak quite rigid and able to endure turbulent waters with ease.
Lastly, the kayak is mainly suited for the smaller bodies of water. You will find it particularly handy and relevant for the mild rivers and the smaller calm lakes. This is due to its ability to respond timely to the various controls and prompts.
Standing out from its awesome features are the Aluminum oars and the high-output air pump. You use the Aluminum oars to steer the kayak in the desired direction. The high-output air pump, on the other hand, will aid you in inflating the kayak necessarily. It does generate maximum pressure for great comfort and stability.
The grab line and the grab handle also constitute a vital part of this kayak. They are placed at either end of the kayak. In light of this, the two items are easier to reach and are thus convenient to leverage. You will enjoy maximum safety and peace of mind while in use.
As stated, the kayak is pretty simple to inflate and deflate. This is made possible by the quick inflating and deflating speeds. The high speeds are further made possible by the existence of the Boston valves that exist on either side of the kayak. The pleasure of maximum response is, therefore, yours to leverage.
Its two 86-inch Aluminum oars, as well as the Intex high-output pump, also make for the simplified inflation and deflation of the kayak. They make it possible for you to conveniently engage the kayak under all circumstances of use. You will also expend less effort to do so on the whole.
Why should you buy it?
You have no better friend than this kayak for those emergency situations. This stems from its ability to quickly deploy and deflate when the situation so dictates.
Pros
Easy to assemble and deploy for use
Convenient to carry around with ease
Highly visible and trackable while in the water
Expedites search and rescue missions
Cons
Accommodates only two adults at a time
Not so great at enduring rough storms
There you have it! You have no better friend than this one if all you are looking for is faster response times and ability to respond to emergency situations conveniently. You do not want to forfeit its extremely light nature which allows you to use it continually without spending too much of your effort. It is also simple in scope and hence comparatively easier to engage.
No products found.
INTEX Explorer K2 Tandem Kayak On Water Review
2. Sea Eagle SE370 Inflatable Review – Best Lightweight Tandem Kayak
No products found.
Is your search for the right tandem kayak dictated by the need to confront the Class III whitewater? If you answered in the affirmative, this indeed is the kayak to look up to. As you are about to see, it has all the parts, components, and features necessary to tackle these kinds of riding environments.
Product Features
Built & Design
Performance & Compatibility
Installation
NMMA Certification
Topping the charts is the certification of this kayak by the National Marine Manufacturers Association. This is a body that oversees those vehicles that are designed for use in the waters. The certification is a mark of reliability and awesome satisfaction. You thus rest assured of nothing but the best of experiences imaginable at all times.
Self-bailing Drain Valve
A self-bailing drain valve exists to make your experience all the more enjoyable. This is because it drains out excess water automatically and thus spares you the time and effort you require for the same. You will, therefore, get to ride the kayak for an extended duration of time without feeling or fatigued.
3 Deluxe One-way Valves
Its valves are deluxe and luxurious in appearance. They are three in number. This arrangement ensures that you operate the kayak as conveniently as you possibly can. Being one-way, you will not have to put in too much of your effort into operating them and coming up with the desired outcomes.
Lashed-down Inflatable Spray Skirts
To further enhance the safety and comfort of the passengers on board, the kayak comes along with the lashed-down and inflatable spray skirts. These inflate to keep excess water out of the kayak and also improve the overall comfort of the passengers on board. This is the kayak to go for if you intend to paddle for too long.
I-beam Construction Floor
Lastly, its floor comes in the form of the I-beam construction. This is structurally strong to confer the support that is necessary to handle heavier riders. It is made of steel which resists the shear and the tear forces conveniently. It also confers some great peace of mind to you.
An open and close drain valve exists to aid you in dissipating excess water. Being easier to open and close, the valve ensures that your kayak remains afloat all the time. This is because it gets rid of excess water that might overwhelm your kaya and cause it to capsize.
Also forming a vital part of this kayak are the five deluxe one-way inflation/deflation valves. With these valves, you may quickly inflate and or deflate the kayak appropriately. They are quick acting and therefore bring about the desired outcomes within the shortest time possible. Of course, the kayak also has lots of other features as well.
Two major features exist to influence the performance of the kayak. The first is the two molded kegs. These one track the speed of the kayak and to enable it to cruise smoothly on the water. You will enjoy the benefit of being able to know how fast you travel and the kinds of terrain you traverse at any given time.
The second is the high-frequency welded seams. These fuse the material into one solid piece in a tight manner. This confers some great strength, support, and reliability to the kayak. The seams, therefore, enable the kayak to bear much weight and endure the most intense abuse perfectly.
Installing this kayak and making it ready to go is pretty simple. You will enjoy the benefits of the inflatable movable and the removable DKS seats. These are pretty simple to engage and offer a fair degree of convenience. They also make the process of cleanliness and maintenance a very convenient undertaking.
A foot pump and a carry bag also form a vital part of the installation of the kayak. These two accessories are further accompanied by a convenient shoulder strap for your comfort and safety. This is not to mention that they are easier to engage and are therefore awesome indeed.
Why should you buy it?
You have no better companion to confront the Class III whitewater than this particular kayak. It is truly fully equipped for the job and is hence your best bet.
Pros
Light in weight and extremely inflatable
Resists the pawing and clawing of the dogs
Has plenty of cargo space for keeping the various gears and supplies
Simple to transport out and about a desired location
Cons
Can only carry one adult at a time
Not so worthy a purchase
Why would you even entertain the thought of looking elsewhere for your Class III whitewater kayak? You have all your cares and worries well taken care of in this kayak. It is fully equipped for the job and is truly great at tackling such turbulent waters. Its maximum comfort and the ease with which it is operable are all the more irresistible traits. Do look for it wherever and whenever you might find it for your use!
No products found.
3. Ocean Kayak Malibu Two Review – Best Tandem Touring Kayak
No products found.
Kayaks come in different shapes and forms. They are also used for different tasks and purposes. If all you are looking out for in a kayak is the ability to transport some cargo, this is the one to look up to. As you are about to see, the kayak is optimized for that very purpose. This stems from its sheer nature and design which is tough and effectively streamlined for the job.
Product Features
Built & Design
Performance & Compatibility
Installation
2 Comfort Plus Seats
Some two comfortable seats do stand out from the list of its topmost features. They are padded for extra comfort and are therefore suited for long-term seating and relaxation. You will hardly feel numb, bored or fatigued at all. The comfortable seats, therefore, allow you to use the kayaks for an extended duration of time.
3 Molded-in Seat Wells
Its seats are also designed in such a way as to enhance your comfort and security. The seat well is molded to confer utmost reliability. It will less likely fidget or require any adjustments from time to time. This permanence also makes the entire kayak quite reliable in the long run.
Gear Straps
You will enjoy the pleasure of fastening your gears on the kayak. This is made possible by the gear straps. These are some kinds of special ropes which you use to hold the various gears in place. The ropes are durable, stretchable, and of course, fully adjustable. They are hence pretty easy to use.
Patented Overlapping Foot Wells
By its design, the kayak also provides some space for you to stretch your legs. Its foot wells are patented and designed unlike any other. They are spacious and highly adjustable to meet the unique requirements of your feet. You are thus guaranteed maximum comfort at all times and reduced incidences of clogged veins.
Molded-in Handles
Its handles are designed in such a manner as to conform as nearly to the unique shapes and dimensions of your hands as possible. This is due to the fact that they are appropriately molded for the same. You are hence absolved from the likelihoods of blisters, friction, and of twitching.
Two main features stand out among those that constitute its build and design. First and foremost is the awesome dimensions. In all, the kayak measures 144 inches long by 34 inches wide by 20 inches deep at its deepest point. It also weighs a comfortable 57 pounds. This first trait provides plenty of storage capacity.
Next is the hull and deck design. This makes it possible for you to easily stack multiple hulls. The end result is the simplified on-dock storage. It is this trait which actually expedites the transportation of the cargo by this particular kayak. This allows you to transport heavier cargo with relative ease.
Due to its extra-tough construction, the kayak can handle total cargo that weighs around 375 to 425 pounds. This range is pretty comfortable as to be able to handle all kinds of human occupants and cargo. This is not to mention that it also performs optimally at such times.
The kayak itself measures around 12 feet long and 34 inches wide. These dimensions are just perfect for kayaking and traveling in turbulent waters. This is because they provide some added comfort and stability at all times of use. This is the kayak to go for if you have turbulent waters to confront.
The kayak has three seating positions for you to choose from. These positions allow for all kinds of occupants and kayaking undertakings. You may optimize the kayak, courtesy of these positions, for solo, group, or sporting kayaking respectively. You may even set the kayak to carry a child as well.
Its overlapping foot wells, on the other hand, allow for an occupant to seat at the center position. It also makes it possible for the said person to sit as comfortably as possible. What's more? It also has some side carry handles which provide extra storage for the contents you might have with you.
Why should you buy it?
To be able to handle and transport plenty of cargo, you have no other kayak to consider buying. The large cargo capacity of this kayak is indeed sufficient to transport your whole load.
Pros
Great for children too
Extremely comfortable to sit on
Lighter in weight and hence easier to steer around
Stable and unaffected by storms and waves
Cons
Less durable than most other kayaks
Brings about limited returns on investments
By its stable construction, sturdy design, awesome weight capacity, and utmost reliability, no other kayak apart from this is great for the transportation of cargo. Why don't you find it wherever you can and use it to transport your loads? You have no worthier companion in this as you will also spend less on maintenance.
No products found.
4. Vibe Kayaks Yellowfin 130T Review – Best Sit on Top Tandem Kayak
No products found.
Does your entire life revolve around kayaking? If that is the case, you definitely want a kayak that is strong, multipurpose, and very durable. This is to be able to guarantee you higher service outcomes for an extended duration of time. Look no further than this one as it is indeed the one that has all the features you might want in the ideal kayak. It also has the ability to discharge numerous kayaking related chores.
Product Features
Built & Design
Performance & Compatibility
Installation
2 Hero Seats and 2 Paddles
Topping the list of its awesome features are two hero seats and two paddles. It is these two features which you sit on and use to steer the kayak respectively. Being two, you have the pleasure of utmost peace of mind given that you will not have a spare tool to use in times of disaster.
3 Seating Capacity
The kayak can seat up to three adults at a time. The seats that accommodate these adults are located atop the kayak. Their unique location guarantees maximum comfort at all times. Being three, you may be guaranteed a higher degree of convenience. This is due to the ability of the kayak to transport many occupants at a time.
2 Sealed Hatches
Some two sealed hatches do exist which let you access the stern and the bow compartments with ease. They are situated in the hull of the kayak. Being two, and being conveniently located, you have the pleasure of enjoying your use and operations of the said hatches. They are also sealed to prevent unauthorized access.
80-pound Multi-Person Kayak
Other than being able to transport three adults at a time, the kayak can also handle much weight. It has the ability to handle persons who weight up to 80 kg each. This translates to a combined weight of 240 pounds. Regardless of your weight, you may count on the kayak to do you good.
2 Flush Mount Rod Holders
With this kayak, it is possible for you to enjoy your sporting even in pitch darkness. The existence of two flush mount rod holders will make it possible for you to fix in place some flashlights. It is these which you use to illuminate your path in a time of low illumination.
Forming the core of its build and design are some three topnotch features. These are explained in finer details hereunder:
Caps and 4 Mounting Points
In all, you will enjoy the pleasure of placing your paddles on four different locations. These positions are further accompanied by some caps. They are conveniently located and are hence easily accessible. You will hence not waste too much of your time and effort to reach out to these caps.
Excellent Seating Positions
This kayak has the ability to accommodate two to three adults at a time. Its seats are located at the top of the hull area. They are very comfortable and also confer easy access to the other crucial parts and components of the kayak. You will enjoy the pleasure of sitting for long without getting numb.
Mount Rod Holders
The kayak is so designed as to be able to handle all kinds of rods. This stems from its possession of multipurpose mount rod holders. They are able to handle the RAM, Scotty, or the Railblaza rods, respectively. You yet again have the pleasure of maximum convenience for your taking.
For a start, the kayak has a total weight capacity of around 500 pounds. This is pretty large as to be able to handle all kinds of weight over and above the three adult passengers stated above. The large capacity negates the need for the acquisition of extra kayaks.
It's 13 -foot length is also large enough to stretch your legs in. You are therefore guaranteed maximum comfort and stability throughout your journey. It also distributes the weight evenly to ensure the ease of steering. This is not to mention that it also prevents capsizing as it balances the kayak well.
For your installation, you have two main gadgets. These are optional center paddle position and the adjustable footrests. The first may allow you to paddle the kayak as an individual rather than as a group. This is due to its stability and appropriate balance while kayaking.
The adjustable footrests, on the other hand, confer customized comfort. This is because they allow you to adjust them appropriately in response to the unique sizes of your feet. The arrangement ensures that you do not confront too much squeeze while leveraging the kayak. It also makes it possible for the blood to flow smoothly in your veins.
Why should you buy it?
If all you are searching for is the highest returns on investments, you have no other viable option than this kayak. It embodies all the crucial traits of the ideal kayak out there.
Pros
Backed by a lifetime warranty
Confers numerous storage options
Suitable for a wide variety of tasks and purposes
Safeguarded against manufacturing defects
Cons
Expensive to afford
Poor back-end customer support
Get hold of this kayak and say goodbye to unnecessary discomforts and extra expenses. As you may well have noted, the kayak is equipped with all the necessary traits and features. It also has a higher weight capacity and is therefore well able to handle all kinds of loads. By placing your money on it, you are sure to enjoy maximum peace of mind. This is over and above lower maintenance costs.
No products found.
5. Brooklyn Kayak Company UH-TK219 Review – Best Tandem Fishing Kayak
No products found.
Are you on the lookout for a kayak that can handle and accommodate more occupants at a time? If you answered in the affirmative, this indeed is the one to try your hand on. As you are about to see, it is packed with a range of features and specifications that are geared towards this very end. It is also strong enough to be able to endure the most turbulent waves and waters. BKC UH-TK219 is the best tandem fishing kayak and provides comfortable balanced seating for exploring.
Product Features
Built & Design
Performance & Compatibility
Installation
2 Deluxe Kayak Seats
Topping the list of its awesome features are two deluxe kayak seats. These are comfortable and large enough to accommodate fully grown adults. Their comfort enables you to sit for an extended duration of time without getting tired or bored.
Rear Storage Pouches
At its rear are some storage pouches. In these pouches, you will be able to preserve all your gears and belongings. Being strategically located, the pouches are easily accessible and are thus more convenient. You, therefore, stand to reap the benefit of expedited time and great experience on the whole.
4 Carrying Handles
It is also accompanied by some four carrying handles. These are special kinds of bags which you use to accommodate some items you might have for your use. Being compact and specially designed, you will find them quite useful and convenient to leverage. They are also great to behold and thus confer aesthetic values as well.
2 Bungee Paddle Parks
You will not always use the paddles throughout a kayaking session. Chances are that from time to time, you will have to briefly keep them away for some time. The bungee paddle parks to place them on. These paddle parks are placed in such a manner that they are easily accessible to you.
2 Paddle Rests
When not utilizing the paddles, you have some two paddles rests to place them on. These are located strategically on the kayak and are hence easier to reach out to. You will not at all strain to get your hand on them and will, therefore, enjoy plenty of conveniences while doing so.
4 Flush Mount
Lastly, you will enjoy the benefit of being able to kayak at night. This is made possible by the existence of not one or two, but four flush mounts. They exude some bright light and hence enable you to view your route and ambiance well. They also come in handy in times of search and rescue missions.
Its build and design incorporate the following parts and features:
2 2-piece Lightweight Aluminum Paddle
Its paddle comes in the forms of two two-piece and lightweight Aluminum materials. These are easier to steer and engage owing to their light nature. You will not have to expend too much of your brawn to move from one point to another. This is not to mention the enjoyable nature of your rides.
12-foot Long
On the whole, the kayak measures a whopping 12 feet long. It is subsequently large enough to be able to hold around three people who have a weight of around 70 pounds each. For this reason, you will find it indeed handy and useful for your utilization.
440-Pound Weight Capacity
It does have the ability to accommodate a combined weight of around 440 pounds. This is heavy enough and is also sufficiently large to handle the most extreme chores imaginable. It is this particular feature that grants the kayak commercial value as well as higher returns on investments.
This kayak is equipped with numerous features and resources to facilitate its engagement. The bungee tie down system comes in first. This one enables you to securely tie down the cargo you have on board. It subsequently prevents the cargo from swaying the kayak unnecessarily and predisposing it to the risks of capsizing.
Some three adjustable rod holders also constitute a vital part of the kayak system. These ones are placed there to hold the rods whenever they are out of use. They, therefore, make the rods accessible to you whenever you might need them. This goes a long way in facilitating your use and enriching your experience.
To be able to appropriately install the kayak, you have to take note of the dimensions of it. It measures around 148 inches long by 32 inches wide by 12 inches deep and measures a whopping 70 pounds. Due to these extra-large dimensions, you will have to put in plenty of muscle power to engage and set the kayak in its course.
The same case shall apply to the mounting space. You will equally need to set aside some plenty of space to install the kayak. Being slightly complicated, you will definitely require some expert and technical support to do so.
Why should you buy it?
This is the kayak to go for if you want to accommodate more people at a time. It has sufficient passenger space and is also tough enough to hold much weight.
Pros
Quite stable and unlikely to tip over
Offers a comfortable balanced seat for solo fishing
Allows you to use multiple fishing lines at a time
Ideal for traveling, fishing, and family fun
Cons

Heavier than most kayaks
Requires plenty of muscle power to engage
There you have it! You have no better companion if all you are searching for in a kayak is that ability to handle heavier weights and accommodate more occupants at a time. This indeed is your best bet. Why don't you now go ahead and find one for yourself? How else will you be able to leverage the benefits of this awesome and high-value kayak?
No products found.
How To Choose The Best Tandem Fishing Kayaks?
Sit on top kayaks are the clear choice for fishing. They will have better gear storage and better stability. This means, avoid sit-in tandems at all cost. Now, with that in mind, let's have a look at some other factors that you need to consider when buying a tandem kayak for fishing.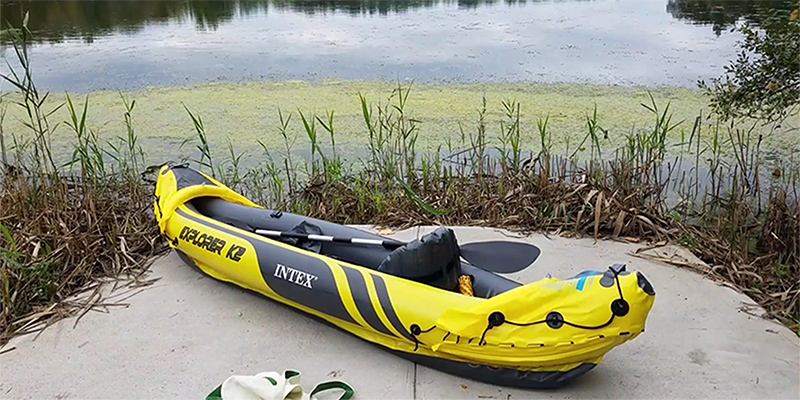 Long Vs. Short Tandems
Some tandem kayaks can 20+ feet long. Longer means they will be much heavier and more stable on the water. On the downside, you have to figure out how to transport them.
Loading and unloading is also an issue with these big boats. But the pros outweigh the cons. Longer tandems are easier to paddle. Let me rephrase that. On a longer tandem, the paddles aren't as close to each other.
This means the paddles won't clash with each other even if you two are out of coordination. Both of you can paddle as you wish. As for longer tandems, anything above 16 feet should be good enough.
Weight Capacity
To find the right weight capacity within your budget, you have to take into account your own weight, your partner's weight, and the total weight of all the fishing gears you will be carrying.
Just like any other kayaks, most tandem fishing kayaks will have a different weight capacity. On a side note, also check the total weight of the kayak. Too heavy means you will have a hard time loading and unloading the boat from your trailer. Obviously, these fishing boats will be heavier than normal kayaks.
Rigged For Fishing
The main difference between an ordinary recreational kayak and fishing kayak that a kayak designed for fishing will always have fishing pole hardware. This is easy to notice, and this feature alone can make a huge difference.
You will have holders on the sides to keep your fishing rods, or some will have a top-mounted pole holder where you can easily access your fishing lines in the water.
You can always make a normal kayak into a fishing kayak by adding all the hardware needed for fishing. However, that will be too time-consuming and costly.
Storage Options
Kayaks that are designed for fishing have some of the best storage options. Since most people buy them for fishing anyway, the manufacturers try to add as many storage options as they can.
You will need all the space you can get to keep your rods, reels, lines, baits, and your provisions of the day. There will always be space to keep your catch if you don't plan on catch and release.
Most, if not all, will have dry storage options to keep your valuables safe from the water.
Extra Features
The only extra feature that should matter is the ability to add a trolling motor. If you are fishing, there is no point in wasting all your energy fishing when you could focus on the things that matter the most.
Tips For Using Tandem Fishing Kayaks
While a lot of people will suggest that you buy two solo kayaks, there are reasons why tandems still exist, and the reason is actually fascinating. Some call these tandem divorce boats or the marriage counselor.
Reason? Because you have to constantly communicate or pay attention to what others are doing. Now, modern tandems don't have that problem anymore because of a certain feature called "Overdrive."
If you don't have the budget to buy one of those kayaks, here are some of the ways that you can still enjoy fishing on tandem kayaks. The only issue you will run into is that these boats require a certain amount of coordination between you and your partner.
You need to keep in mind that these are designed for two people. So, you need to work together in terms of edging, paddling, etc. With that being said, the best tandems will prevent any mishaps that might occur while you are fishing.
Some of them will have a similar feature like Overdrive, which offers effortless speed, adaptability, and ease of use. However, they are somewhat expensive. If you are really sold on tandems, consider renting first just to see if it is working out for you.
Frequently Asked Questions
1. What is the maximum weight capacity of a tandem kayak?
Depending on the manufacturer, some tandems can easily hold up to 600 pounds.
2. Can I use a tandem kayak for solo fishing?
If you kayak has the option to remove the seats, you can easily use it for solo fishing.
3. Should a heavier person sit in the front or in the back?
It's important that you distribute the weight evenly. If the seats are adjustable, try sitting closer to each other. However, tandem kayaks are designed to distribute weight evenly, so anywhere should be fine.
4. Are tandem fishing kayaks faster?
No, these are heavy boats and not fast enough. If you want to cover long distances, go with a single narrow kayak.
Final Verdict
It is not sufficient to know about the best tandem kayak. Indeed, it pays for you to acquire and leverage the blessings of at least one of them. It is for this reason that we urge you to acquire and utilize at least one of these kayaks we have reviewed.
If I were the one selecting, I would settle on the Vibe Kayaks Yellowfin 130T 13 -Foot Tandem due to its high weight capacity and its awesome seating positions. However, I leave it up to you to decide to owe that you have to make an independent decision. All the best as you take the critical first step!