When it comes to seafood, there are numerous options to choose from – salmon, trout, tuna, and more. But what about carp?
Carp is a freshwater fish that is often used in fishing tournaments and is considered a pest in some areas. However, it is also a popular food source in many parts of the world. But can you eat carp fish?
The answer is not as simple as a yes or no, and several factors must be considered before adding carp to your dinner menu.
Today we'll explore the nutritional value of carp, its taste, and some of the potential risks associated with eating this fish. So, if you're curious whether you can eat carp, keep reading to find out!
Anglers in the United States consider the common carp a rough fish, unfit for human consumption.
Carp is, however, regarded as a valuable food fish in many parts of the world. It can make a delicious addition to the menu if properly cared for.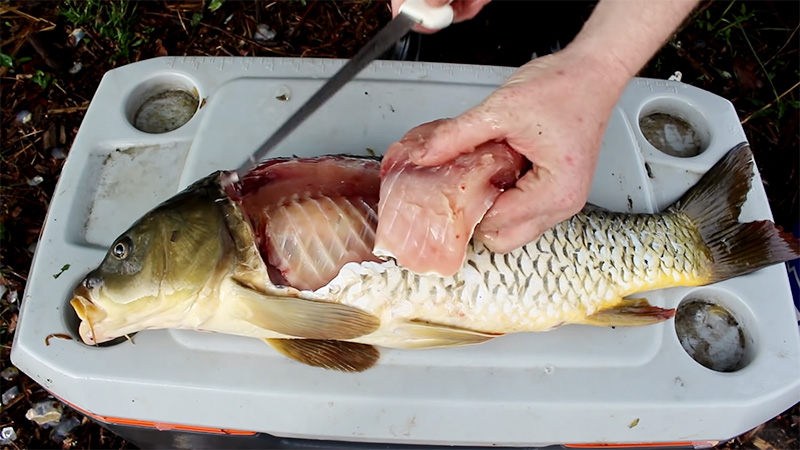 Dangerous Carp Or Edible Carp?
In addition to the FAQs on the United States Geological Survey's (USGS) website, there are several questions regarding Asian carp, such as "What are Asian Carp?" "Are Asian Carp Dangerous?" and "Can Asian Carp be eaten?"
Despite the fact that even the most enthusiastic fish-eaters might be put off by the small bones that can be found in each fillet, the USGS says the fish has a mild flavor, are low in fat, and make excellent table fare.
American anglers often consider common carp to be rough fish that humans cannot consume.
There are, however, many parts of the world where carp is regarded as a delicacy. You can make a tasty meal from your catch if it is properly handled.
"We Americans think of carp as a bottom-feeder with a muddy taste, which it can sometimes be," Dirk Fucik, owner of Dirk's Fish and Gourmet Shop, told the outlet.
However, Asian carp feed on plankton, so their meat is much cleaner, sweeter-tasting, and has a different texture.
Are Carp Good To Eat?
The taste of carp is good when it is properly prepared. A similar texture and flavor to tilapia can be found in the pink meat of this fish.
It is important to consider where the fish was caught, how it was handled, and how it was prepared when assessing its taste and flavor.
The carp is considered a rough fish since it has thick scales, thick skin, and a lot of bones. As a result, cleaning and filleting them can be somewhat challenging.
As long as the meat is properly cleaned and prepared, carp meat can be quite tasty! The majority of anglers in the U.S. fail to properly clean around all bones and cook the fish.
What Does Carp Taste Like?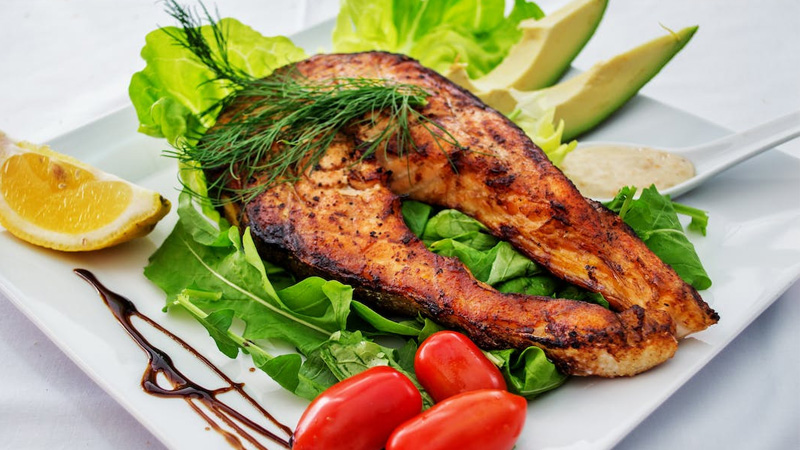 There are high levels of healthy fish oils in the meat of carp. It is moist, flaky, and low in fat. Often, it is served as whole fillets or chunked meat.
It has a unique and mild flavor. It has been compared favorably with salmon and tilapia because of its high oil content.
Ideally, it won't have any muddy taste if it's handled and prepared properly.
Is Carp Meat Clean?
The quality of carp meat is influenced by the cleanliness of its environment, similar to most fish. Catching carp in muddy, polluted, or disturbed waters can negatively impact the meat's taste, smell, and quality.
To ensure you have high-quality carp meat for your table, it's best to catch them from the cleanest water sources possible, where they have been feeding on a varied and nutritious diet of plants, mollusks, and insects.
If you're fishing in clean water sources, there's no need to worry about a muddy flavor. However, if you catch carp from a polluted, muddy river, it will likely have an unpleasant taste and smell. It's important to note that this is not limited to carp, but all fish species living in that waterway, including bass.
What Carp Species Is Best To Eat?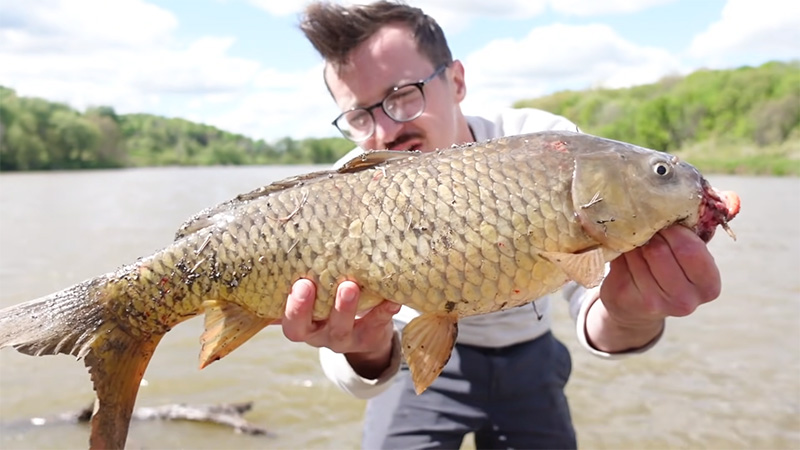 All species of carp are nutritious and delicious, although some are more preferred than others. Carp is rich in healthy fish oils, vitamins, minerals, and high-quality proteins.
While some variations in flavor may exist among species, the preparation method is more critical than the type of carp when it comes to taste.
For those new to eating carp, some recommend trying the Crucian carp, a European species that are relatively rare in North America.
In the U.S., Bighead Carp and Silver Carp are highly sought after for their excellent taste. Although Common Carp is edible, its meat is darker, and the flavor is slightly stronger.
Personally, I find Silver Carp to be the most flavorful and abundant, and they're also fun to catch in the Mississippi and Missouri River watersheds.
Why Do People Think Eating Carp Is Bad?
I find this question fascinating. Almost everywhere else in the world, carp are regarded as a delicacy. They were also regarded as a delicacy in North America for much of the 19th century. However, they have a terrible reputation in North America now.
There are a lot of nicknames for carp, including "junk fish" and "trash fish". Catching a carp is often considered a disappointment by anglers.
That's just not right!
Eating to Control Invasive Carp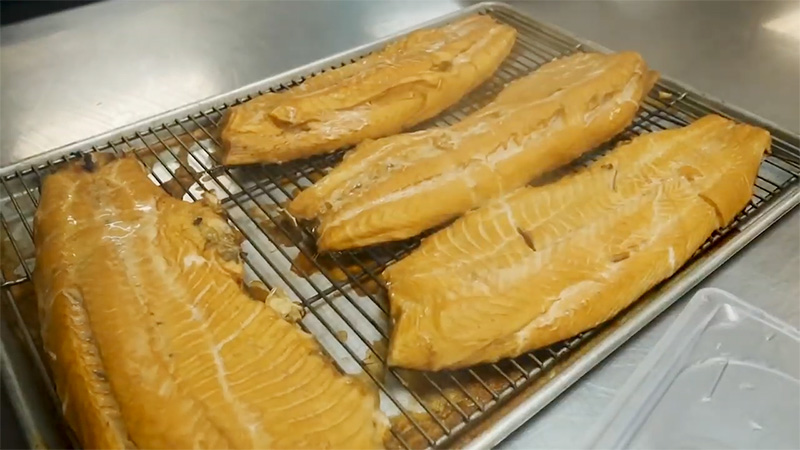 There has been an increase in Asian carp infestations in the United States. Since the 1970s, they have been imported into the country to eat the algae in wastewater treatment plants, as well as to reduce the algae in catfish ponds.
They have now been found in the Missouri and Illinois rivers because of flooding and other water-related accidents, and Illinois is taking all the necessary steps to keep them out of the Great Lakes.
There have been suggestions in the past to reduce the number of Asian carp by serving them on American plates.
As a Ph.D. student in Virginia Tech's Department of Food Science and Technology, Clay Ferguson admits that the word 'carp' is off-putting since people tend to think of it as dirty.
It's a misconception that we're trying to clear up," Ferguson told the Augusta Free Press.
A major goal of the Challenge was to get 1,000 people to try Asian carp for the first time, in partnership with the Midwest Fish Co-op and the Illinois Department of Natural Resources.
I don't think we'll be able to eat our way out of this problem, but I think we'll buy ourselves time," she said. Until we figure out structural solutions, we can slow their progression north."
Are Carps Bottom Feeders?
The term "bottom feeder" is often used to describe carp, and the implication is that they are unclean animals that pick up unclean things from the bottom.
This is not true. The omnivorous diet of carp actually produces lower pollution levels than other game fish. In other words, they are not bottom feeders.
Carp has gained an unfair reputation as "river pigs" riddled with pollution and disease. However, carp caught from clean, pollution-free rivers will provide clean and safe meat.
It's advisable to avoid eating large, older carp, similar to any other fish, as they tend to accumulate higher levels of environmental contaminants in their bodies.
Carp: How Should They Be Prepared For Eating?
Carp, like all fish, can spoil quickly, so it's essential to clean and ice them promptly after catching them by gutting, grilling, and removing all blood from the backbone and body cavity.
According to some experts, cutting off the tail and bleeding the fish before cleaning it, as well as removing the dark meat along the side, can enhance its flavor.
Many people prefer to remove the skin when cooking carp to reduce the fishy taste. It can be filleted, halved, or left whole for stuffing and baking.
No matter the cooking method, scoring the carp is recommended by slicing two-thirds of the way through the meat every 1/8 to 1/4 inch with a sharp knife. Scoring allows heat and cooking oils to reach and soften the many small bones in the fish.
Conclusion
Whether or not you can eat carp fish depends on various factors, including its nutritional value, taste, and potential risks. While some people enjoy the taste of carp and consider it a delicacy, others may find it too "earthy" or bony.
Additionally, due to its habitat and feeding habits, carp may contain higher levels of contaminants, such as mercury and PCBs, which can be harmful to human health if consumed in large quantities.
If you do decide to try carp, make sure to purchase it from a reputable source and prepare it properly to reduce any potential risks.