Have you ever found yourself at a sushi restaurant, staring at the menu and wondering if you should take the plunge and try jellyfish?
Or perhaps you were walking along the beach and saw a jellyfish washed up on shore, and the thought crossed your mind – can you eat jellyfish?
It may seem like a strange question, but in fact, jellyfish is a common delicacy in some parts of the world. So, can you eat jellyfish? Let's dive into the topic and explore the answers.
Yes, you can eat jellyfish. You can prepare a salad by shredding or slicing it thinly and tossing it with sugar, soy sauce, oil, and vinegar.
You can also boil it, cut it into noodles, and serve it with vegetables or meat. But there's more to it than just a simple yes. Here are a few things you need to know about it.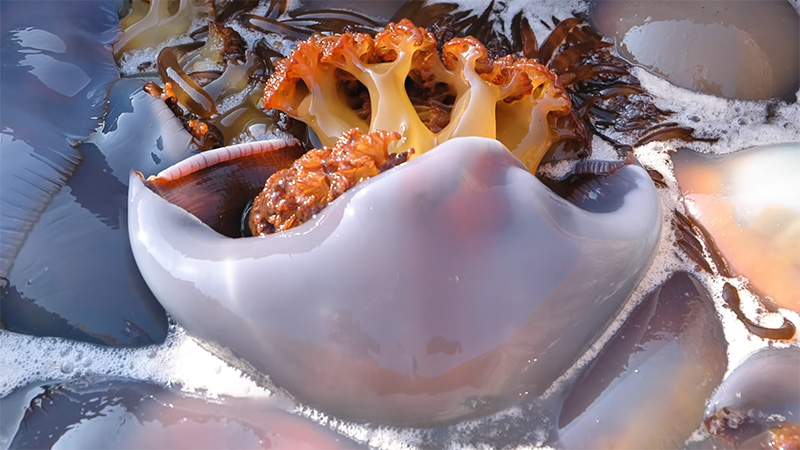 Is It Safe To Eat Jellyfish?
Certain types of jellyfish can be consumed safely due to their high nutritional content. However, it is important to take appropriate steps to remove any bacteria that may be present in fresh jellyfish by cleaning and processing them properly.
If you are unfamiliar with the correct cleaning process, purchasing from a reputable vendor or opting for dried jellyfish instead is advisable.
Eating Jellyfish Safely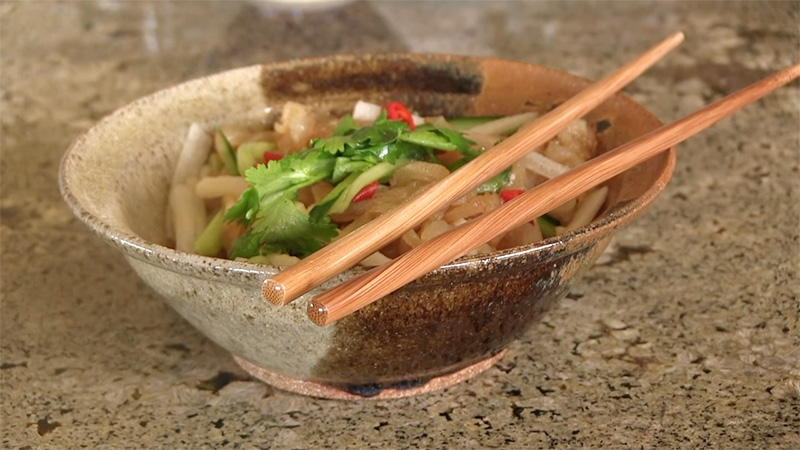 It's important to know how to consume jellyfish safely before eating it. A total of 11 jellyfish species have been identified as edible, including the popular Southeastern Asian jellyfish Rhopilema esculentum.
It's important to clean and process jellyfish quickly after catching them since they spoil quickly at room temperature.
Traditional jellyfish preservation involves dehydrating the meat with an alum-salt mixture. Alum acts as an antiseptic in bringing, reducing pH and maintaining a firm texture.
According to a study that collected safety and quality parameters for edible jellyfish, traditional methods of cleaning and processing resulted in jellyfish with few or no contamination signs.
To prevent jellyfish poisoning, it is crucial to only consume jellyfish products that have been thoroughly cleaned and processed. The color of the product is to be also important for safety.
Can You Eat Jellyfish Raw?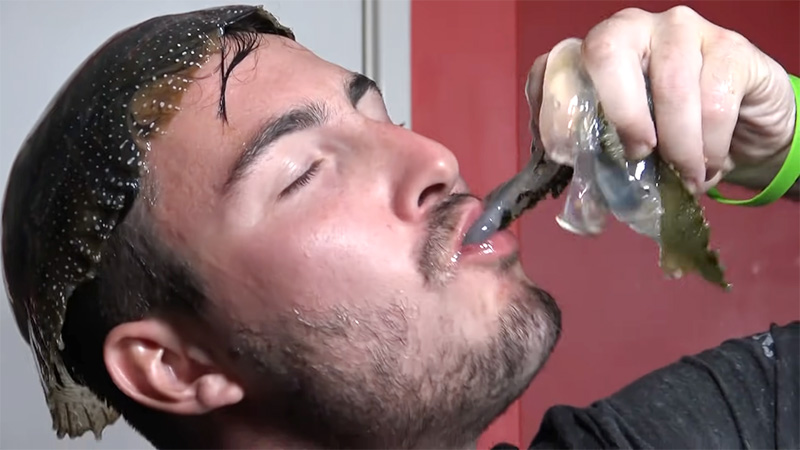 There is no problem eating raw jellyfish if you clean them well because they contain bacteria that can cause food poisoning.
If you purchase seafood from a vendor, make sure it has been freshly prepared.
Jellyfish that have been freshly processed usually have a creamy white color that gradually turns yellow as they age. Consuming yellow-colored products is still safe, however, brown-colored products are spoiled and unfit for consumption.
How It's Used
In most cases, jellyfish are cleaned and processed shortly after being caught by brining them in a solution.
To reduce saltiness and improve texture, desalt jellyfish before consumption is often recommended, then rehydrate it overnight in water.
It is surprising how crunchy prepared jellyfish is despite its name. In addition, it can be chewy depending on how it is prepared.
There is a delicate taste to it, which tends to take on flavors that it is cooked with. However, it can still be quite salty if not desalted.
What Does It Taste Like?
Jellyfish is renowned for its delicate, slightly salty flavor, which makes it more of a textural experience than a taste sensation.
Due to its slimy, slightly chewy consistency, it is often consumed raw or served as a salad ingredient by Chinese and Japanese gourmands. In general, jellyfish is salty, chewy, and mildly flavored, so most people eat it for its texture.
It has a different taste and texture depending on whether it's fresh or dried; the dried one has a crunchy texture. It is the seasoning and dressing that make the real difference.
How To Cook Jellyfish?
Several methods to prepare jellyfish include boiling, shallow frying, or deep-frying. However, avoiding overcooking the jellyfish is important as it can make it tough and chewy.
Before cooking, it's essential to remove any excess salt by soaking the jellyfish in fresh water for at least 3 hours. Since jellyfish do not have a distinctive flavor, you can marinate them in your favorite seasonings to achieve your desired taste.
Possible Benefits
Several Asian countries recommend eating jellyfish for a variety of health reasons, including to treat high blood pressure, arthritis, bone pain, and ulcers.
Eating jellyfish may have some potential health benefits, even though most of these claims are not supported by research.
High In Several Nutrients
It is safe to eat several species of jellyfish. There may be some differences in their nutritional content, but they're all generally low in calories, and they're a good source of protein, antioxidants, and a variety of minerals.
Excellent Source Of Selenium
You can get plenty of selenium from jellyfish, an essential mineral that plays a key role in several important body processes.
Even though jellyfish is a rich source of this mineral, more research needs to be conducted on the health benefits of eating this particular marine animal.
High In Choline
Despite being an essential nutrient, many Americans do not consume enough choline.
Good Source Of Collagen
There is evidence that jellyfish's collagen content is responsible for many of the therapeutic benefits that have been proposed.
Studies have evaluated the potential benefits of collagen from jellyfish in lowering blood pressure.
The collagen peptides from ribbon jellyfish showed significant blood-pressure-lowering properties and antioxidant properties in a test-tube study.
According to another study, jellyfish collagen intake for one month significantly reduced blood pressure in rats with high blood pressure. Human studies have yet to be conducted on these effects, despite their promise.
In addition to protecting skin cells from sun damage and improving wound healing, jellyfish collagen has been shown to be effective in treating arthritis in animals. It is still unknown whether these effects can be observed in humans.
Potential Health Risks
There are only a few species of jellyfish that can be consumed by humans.
It should be noted, however, that while cooked jellyfish is generally safe, some people have been diagnosed with allergies to the animal after experiencing an anaphylactic reaction after eating it.
It is also imperative that food is properly cleaned and processed to reduce the risk of bacteria and other potentially dangerous pathogens causing foodborne illness.
Jellyfish preservation may also expose the jellyfish to high aluminum levels, according to studies.
Aluminum Content In Jellyfish Products
In traditional jellyfish processing, alum brine is used.
Alum, also called potassium aluminum sulfate, is a chemical compound that is sometimes used for preserving foods.
Although the Food and Drug Administration (FDA) has approved alum as a generally recognized as safe substance (GRAS), there are concerns regarding aluminum retention in jellyfish products.
There was a study that investigated dietary exposure to aluminum in Hong Kong that found high levels of aluminum in ready-to-eat jellyfish products.
It is important to note that the study did not find aluminum to be dangerous for adults in general, but it did raise concern that frequent consumption of high-aluminum products like jellyfish could pose a risk to individuals.
Conclusion
The answer to the question "Can you eat jellyfish?" is a bit complex. While it's true that jellyfish is a delicacy in some cultures and can be prepared in a variety of ways, there are also potential risks to consider.
Some species of jellyfish are toxic and can cause serious harm if consumed, while others may simply be unpalatable or difficult to prepare. Ultimately, the decision to eat jellyfish is a personal one and should be made with caution and careful consideration.
Whether you're feeling adventurous or simply curious about this unique food, it's important to do your research and ensure that you're making an informed choice.