Looking for a new and exciting culinary adventure? Have you ever considered trying paddlefish? This freshwater fish, also known as spoonbill, is a unique and fascinating creature that can grow up to seven feet long and weigh over 200 pounds!
But the question on everyone's mind is, can you eat paddlefish? That we'll answer in this article. So, let us dive into the world of paddlefish cuisine and explore the different ways you can prepare and enjoy this delicious fish.
Whether you're a seasoned seafood lover or just curious about trying something new, this guide will provide you with all the information you need to know before taking a bite of paddlefish.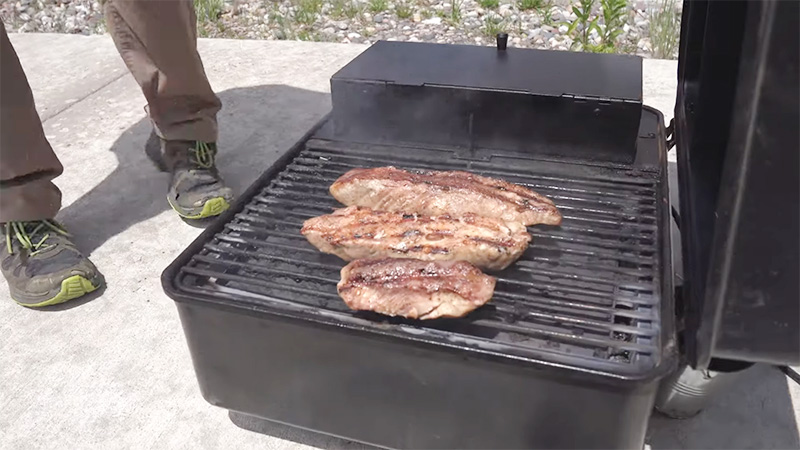 What Is A Paddlefish?
A paddlefish is sometimes called a spoonbill catfish in some areas of the country. The snout of this animal resembles that of a dolphin or porpoise, but it is long and shaped like a paddle.
Historically, paddlefish have been used to make caviar and meat as an alternative to sturgeons.
Natural populations of paddlefish in the Mississippi River basin and Gulf Coast drainage were commercially harvested and sold as caviar because of their high-value roe and meat.
Can You Eat Paddlefish?
For years, paddlefish have been used as an alternative to sturgeon as a source of meat and caviar. Natural populations of paddlefish once occupied the Mississippi River basin and adjoining Gulf Coast drainage, and their high-value, boneless meat and caviar were commercially harvested.
In the event that you happen to catch a paddlefish, you can certainly consume it and appreciate its taste if you prepare the meat properly.
However, since these fish are hard to catch, they are generally quite mature by the time they are removed from the water. Consequently, the meat may be tough and chewy unless you take proactive measures.
Therefore, it is suggested that you soak the paddlefish in a saltwater brine for approximately 48 hours to help tenderize the meat.
Paddlefish Caviar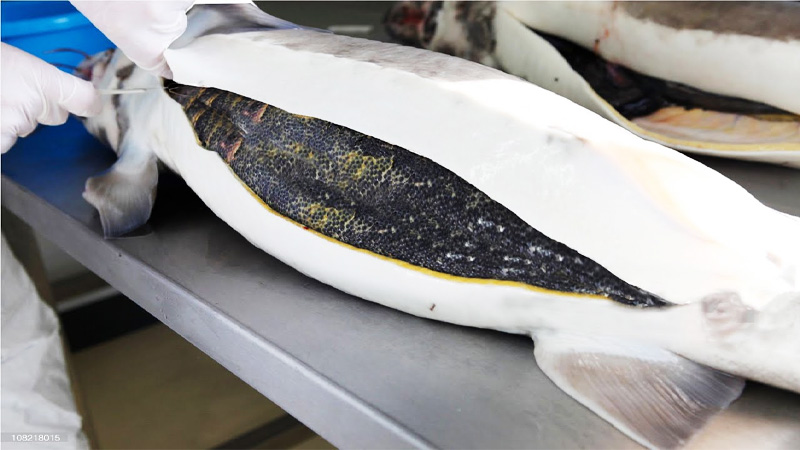 The eggs of the Paddlefish freshwater sturgeon (Polyodon spathula), found in lakes and rivers of Mississippi, Tennessee, and Kentucky, are utilized to produce American Paddlefish caviar, also known as paddlefish roe.
This caviar features silvery eggs with an earthy flavor that comes directly from the rivers in the region. American Paddlefish or Spoonbill is the source of this caviar in the Mississippi and Tennessee rivers.
While Paddlefish roe may be somewhat smaller than other caviars, it boasts a similar appearance to Sevruga with its silver-grayish pearls.
Although its taste is more earthy than crisp, it still retains a buttery texture that makes it a desirable choice. And if you enjoy the flavor of Hackleback caviar, you'll find that Paddlefish caviar is a great match for it.
How Big Is A Paddlefish?
The size differs between the sexes, with the male being smaller than the female. There is an average height of five feet and a weight of around 60 pounds.
I saw one that weighed 102 pounds and measured around six or seven feet long. Among the smallest ones I saw, the shortest measured 12 inches in length and weighed around 12 pounds.
How Do You Catch A Paddlefish?
Our fishing poles are deep sea poles with an 80-pound test line. It is better to use 80 pounds of the test when handling a 100-pound fish when compared with 40-50 pounds. Usually, we use sinkers of 5-6 ounces, along with treble hooks of good size.
It takes skill to catch a paddlefish. It is necessary to wade out into the water at about ankle to mid-calf depth and cast out the line and sinker.
As you reel in the pole, swing it back towards the bank. Once you have done this three times, hold the pole in while reeling in quickly. When improperly done, you will be snagging on rocks and the bottom.
Sometimes a fisherman will think that he's snagged on a rock or something when a paddlefish shoots off downriver when snagged.
After that, it's a game of wits as the fisherman coaxes it into the bank. There have been times when a fisherman has walked a mile or more just to catch the fish. It can't be rushed (like deep-sea fishing.)
Taste of Paddlefish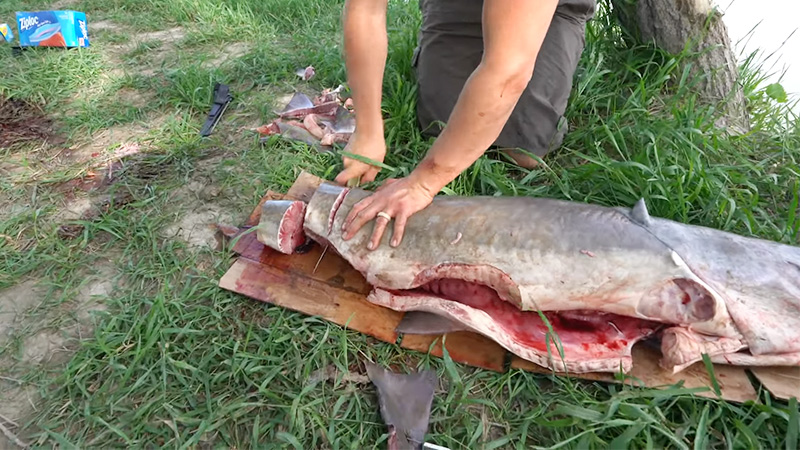 If you're not a fan of a strong fishy taste, fret not. Adding some brown sugar or other sweeteners to your paddlefish brine can help balance out the flavor profile. This will mellow out the fishy taste while infusing some sweetness into the meat.
Paddlefish meat has a texture similar to that of a pork chop and is best served as thick steaks. Once you've cut them, there's a variety of cooking methods you could use, but grilling is a great way to enhance its natural flavors.
Are Paddlefish Good Eating?
In general, yes, but there is a recommendation not to eat red meat on the outside layer. My experience with paddlefish was similar to that with catfish, but I found it had a better flavor.
It can be fried in oil or cubed and deep-fried. Depending on the size, fishers can make thick steaks from the meat. Paddlefish roe is widely popular and considered a delicate caviar dish.
Preparation
As previously stated, paddlefish are commonly consumed as steaks. However, it can also be utilized in a variety of preparations such as stews, curries, gumbo, or jambalaya, resulting in delectable dishes.
When it comes to healthy cooking methods, baking or broiling paddlefish is recommended, as it is for most other fish types. However, deep-frying paddlefish produces a more flavorful outcome, albeit at the cost of reduced health benefits.
Are Paddlefish Bony Like Other Fresh Water Fish?
There are similarities between paddlefish and sharks or dolphins, but they are not sharks. The bones of their bodies are composed of cartilage.
Their skin is gray in color and smooth when you run your hand from the snout to the tail; however, it is rough when you run your hand from the tail to the snout.
What About Raw Paddlefish?
Raw paddlefish can be consumed, but it is not advisable as it is typically rubbery when served cold. To enhance the taste and texture, heating the paddlefish meat is essential.
It is important to note that paddlefish eggs are highly sought after as caviar, with some people paying up to $7.00 for a small portion of the eggs.
There are restrictions on the possession of paddlefish eggs in areas where paddlefish are caught, such as a three-pound limit in Oklahoma, and the possession of eggs from a single paddlefish.
Additionally, it is illegal to transport the eggs across state lines. These regulations are in place to prevent individuals from exploiting paddlefish solely for their eggs.
Considering that a 40-pound paddlefish can produce up to 10 pounds of eggs, it is evident why such measures were implemented.
Safety Concerns
Paddlefish is generally regarded as a safe fish to consume, provided it is correctly handled and prepared. Nevertheless, similar to several other freshwater fish, paddlefish may contain contaminants like heavy metals and pesticides.
Hence, it is crucial to acquire paddlefish from trustworthy sources and ensure that it is fresh and adequately handled during preparation.
Is There Seasonal Fishing For Paddlefish?
The optimal time to catch paddlefish may vary depending on the region. For instance, in Glendive, the ideal period for paddlefish fishing is usually the last week of May or the first week of June.
Timing is critical because catching only small males is probable if one goes too early in the season. In contrast, if one goes too late in the season, the fishing quota might be met, resulting in the season's closure.
If you plan to fish for paddlefish for the first time, it is recommended that you research the area you plan to fish in and find the optimal time to go.
Conclusion
After learning about the unique qualities of paddlefish, it's clear that this fish is a fascinating and delicious addition to any seafood lover's diet.
From its dolphin-like snout to its cartilaginous bones, paddlefish is unlike any other freshwater fish out there.
And when it comes to taste, paddlefish is a real winner. With a mild flavor that's often compared to catfish, paddlefish meat can be prepared in a variety of ways, from frying to grilling.
And let's not forget about the caviar! Paddlefish roe is a delicacy in its own right and a must-try for any caviar enthusiast.
Overall, if you're looking for a unique and flavorful seafood experience, paddlefish is definitely worth considering. Just be sure to check with local authorities and avoid eating red meat on the outside layer.