Welcome to the world of pufferfish, also known as fugu in Japan. These exotic creatures, known for their distinctive appearance and unique defense mechanism, have been a culinary delicacy in certain parts of the world for centuries.
However, consuming pufferfish can be extremely dangerous and even fatal if not prepared properly. So, the question remains, can you eat pufferfish?
Today our job will be to explore the risks and rewards of consuming this elusive delicacy, as well as the cultural and culinary significance of pufferfish around the world.
Whether you're a seasoned foodie or just curious about this fascinating creature, read on to learn more about the tantalizing yet potentially deadly world of pufferfish cuisine.
Pufferfish, or fugu, are luxury fish used all year round in Japanese cuisine. It is important to note that these fish are poisonous, which is why they can only be served in Japan in restaurants where fugu handlers are qualified.
It is safe to eat fugu because of the system managed by the Japanese government in general.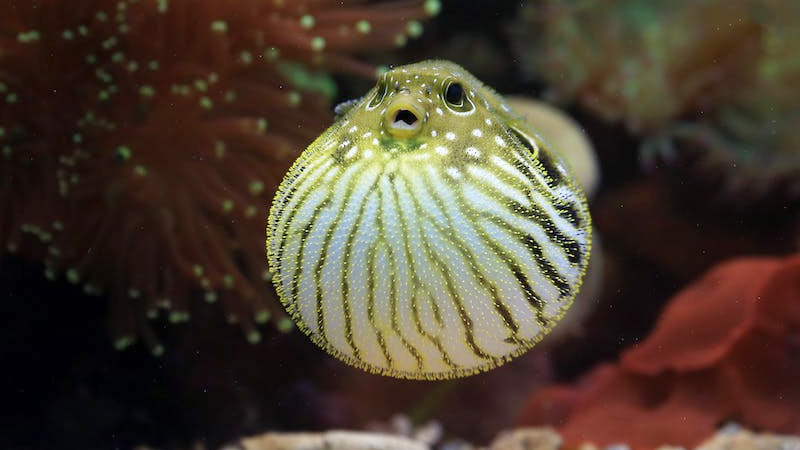 Is Puffer Fish Safe To Eat?
The Japanese consider them a delicacy and often eat them. There is a toxin inside pufferfish called tetrodotoxin that makes them poisonous.
It is possible to become paralyzed or die if ingested in large quantities of this toxin. In most cases, pufferfish are prepared by trained chefs who are familiar with removing the toxins.
The United States requires chefs to be licensed before serving puffer fish. It is dangerous to consume the fish due to the toxins it contains.
There is no doubt that it is one of the deadliest fish in the world to consume. In the United States, it is common along the Eastern seaboard.
In Japan, You Can Safely Eat Fugu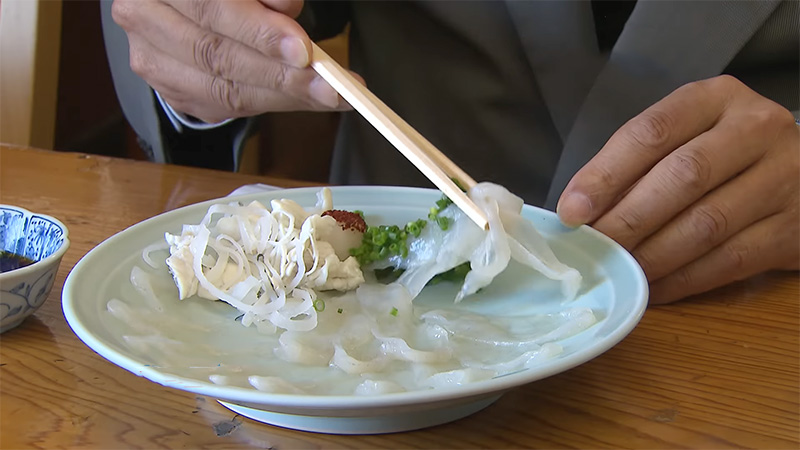 Fugu, a type of fish known for its poisonous nature worldwide, is considered a safe and palatable delicacy in Japan.
This is thanks to the Japanese government's implementation of a rigorous training program for fugu handlers. Only certified handlers are legally allowed to serve fugu dishes in restaurants, ensuring the safety of consumers.
During the preparation process, handlers meticulously remove the poisonous parts of the fish and use water to wash away any remaining traces of blood.
This results in a high percentage of waste compared to the edible portions of the fish, contributing to its reputation as a luxury food item.
The process of cutting the meat is also time-consuming and requires skill, adding to the exclusivity of fugu cuisine.
Once the poison is removed, the handlers slice the meat into thin pieces using a knife and serve them on a plate, often referred to as "Tessa" or fugu sashimi.
The dish's presentation is exquisite, resembling a flower with the plate's pattern visible through the translucent fish.
Fugu is rich in collagen and fiber, and its flavor is enhanced by the creativity of the handlers' preparation techniques, making it a highly sought-after culinary experience.
After the poisonous parts of the fugu have been removed during preparation, it is legally required to store them in a specially designated lockable container and dispose of them safely to prevent any potential health hazards.
The Japanese government strictly manages and regulates the handling of fugu, and any violations of the regulations outlined in the Food Sanitation Act are met with severe consequences.
Japan's Fugu Food Culture and History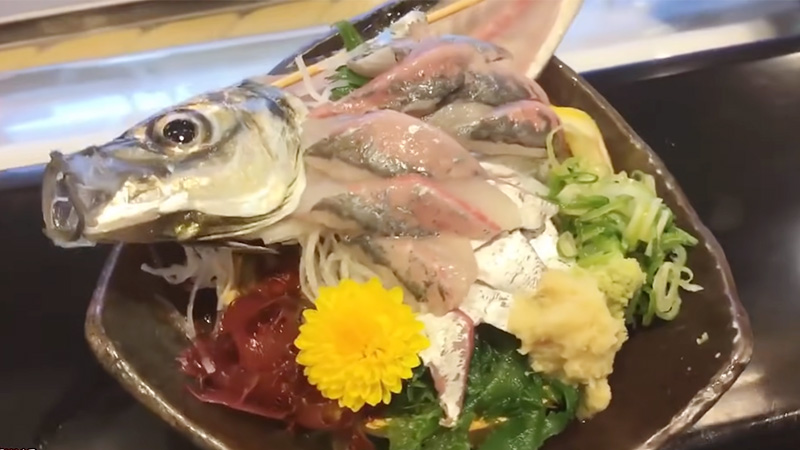 There exist approximately 350 different species of pufferfish globally, with around 35 specific varieties of fugu present in the waters surrounding Japan. Numerous fugu types contain significant amounts of poison.
This poison, known as tetrodotoxin, is reportedly 1,000 times more potent than potassium cyanide. The toxicity levels vary based on the type of fugu, making it exceptionally hazardous.
As a result, trained fugu handlers possessing the required expertise and knowledge are necessary.
In Japan, approximately 22 different varieties of fugu are utilized for culinary purposes. Fugu is a highly nutritious food, rich in protein, low in calories, and containing numerous essential vitamins and minerals.
This makes it a delectable food that also contributes to beauty and good health. In Japanese culture, the phrase "Fugu wa kuitashi inochi wa oshishi" is used to refer to someone who desires to eat fugu but fears for their life, as fugu can be highly dangerous if not prepared correctly.
Due to Japan's geographical location, surrounded by the sea, people in the country have developed unique techniques for preparing and consuming fugu since ancient times, dating back to before the 4th century BC.
However, during the 17th century AD, Japan was embroiled in numerous internal conflicts, and many soldiers fell ill due to fugu poisoning, leading to a decree banning the consumption of fugu.
It was only in the late 19th century, with the influence of Western culture, that the ban on fugu was gradually lifted, starting with Yamaguchi Prefecture due to the efforts of Prime Minister Hirobumi Ito. This highlights how fugu has remained a beloved culinary delicacy in Japan for many centuries.
Is It Possible To Become Ill From Puffer Fish?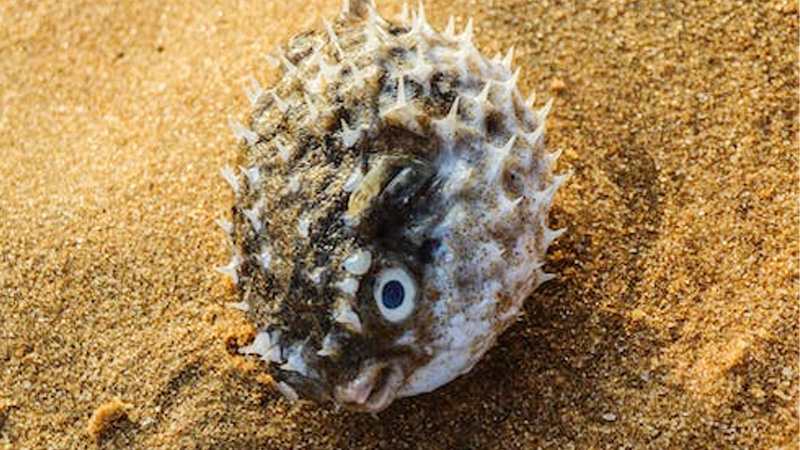 People rarely become ill from eating pufferfish in restaurants despite the Russian roulette stereotype. Most problems arise from amateurs who catch fish and think they can cook it at home.
A major mistake they make is frying up the liver, which is very toxic as well as the ovaries, the brain, the eyes, and the intestines – and the result is immediate neural paralysis.
There is no need to worry, however, for chefs. The act of handling these toxic parts does not pose a health threat, as long as the person does not touch their mouth afterwards.
What Does It Taste Like?
The mild white fish taste of puffy fish makes it one of the most popular seafood items among seafood lovers. The taste is not fishy, making it an excellent pairing with a variety of sides.
Pufferfish differ in texture depending on how they are cooled. Broiling or baking keeps the meat tender and juicy while grilling produces a dryer texture.
Can You Eat Puffer Fish Raw?
Japan's fugu dish is made from puffer fish and is commonly eaten raw. Although it is considered a delicacy, improper preparation may make it dangerous. A certain type of puffer fish must be carefully selected for raw consumption.
How To Cook Puffer Fish?
Chefs who are trained to remove the poison from puffer fish should prepare the fish only.
As with other typical fish meals, puffer fish can be served as sashimi or prepared as usual. There are a few ways to cook puffer fish, including filleting, baking, or grilling.
Chefs are required to take a national written and practical examination to be able to cook fish, even though it is commonly served at restaurants across Japan.
Conclusion
While pufferfish can be a delicious and prized delicacy in certain parts of the world, it is important to approach consuming them with caution and awareness of the potential risks.
Only specially trained chefs with proper licensing and expertise should attempt to prepare pufferfish for consumption, and even then, there is still a small but real risk of danger.
However, the cultural and culinary significance of pufferfish cannot be denied, and for those brave enough to try it, the experience can be truly unforgettable.
So, can you eat pufferfish? With the right preparation and knowledge, the answer is yes, but it is certainly not a decision to be taken lightly.
Whether you're an adventurous foodie or prefer to stick with safer culinary options, the world of pufferfish remains a fascinating and intriguing topic.