Are you a food lover looking to broaden your culinary horizons with a new and exciting seafood dish?
Or perhaps you're an angler curious about the delicious potential of the sheepshead fish, a fascinating creature known for its impressive size and striking appearance.
Regardless of your background, you may be wondering – can you eat sheepshead fish? The answer is a resounding yes.
And in this article, we'll take a deep dive into the world of sheepshead cuisine to uncover the secrets of this tasty and nutritious seafood delicacy.
So come along on this gastronomic adventure and discover the many ways you can enjoy the unique flavors of the sheepshead fish.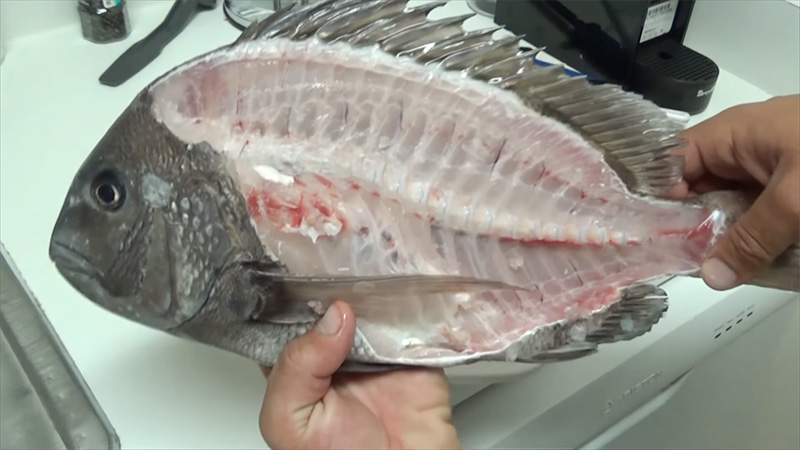 What Is A Sheepshead Fish?
The sheepshead fish is a marine fish found in the shallow waters of the Atlantic and Pacific Oceans. The majority of them are located in North and South America.
Various names for these fish exist, including silver bass, gray bass, and lavender bass. Besides their large heads and mouths, you can identify them by their camouflage coloring.
Featuring a sloping profile and serrated scales, the sheepshead has a short snout. In contrast, the dorsal fins are black and gray, while the caudal fins are somewhat green.
The sheepshead's back is covered with sharp spines and black stripes, typically five to seven. Sheepsheads, however, have teeth that look similar to those of humans.
For many unsuspecting people, seeing inside a sheepshead's mouth is an amazing experience. It has molars and incisors that are similar to your own set of chops, rather than small, pointy teeth.
Can You Eat Sheepshead Fish?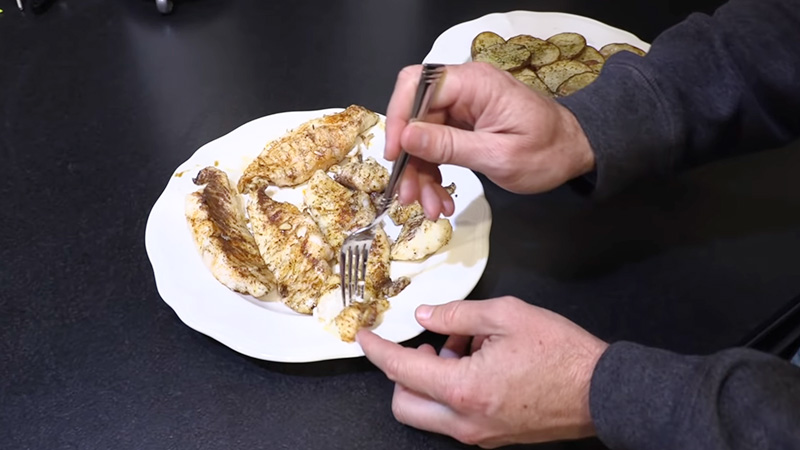 If you have a fondness for seafood, you're in for a real treat with sheepshead fish. Sheepshead fish can be eaten, and you'll find that they have a delectable shellfish flavor that's both delicious and sweet.
The secret behind their distinctive taste is their diverse diet, which also makes them very healthy fish. Once you catch a sheepshead fish, make sure to keep it for a scrumptious meal.
Expect a slightly flaky texture and tender meat from this species. You can cook sheepshead on the grill with garlic and butter or try making blackened sheepshead with a creamy basil sauce.
Their distinctive flavor can be attributed to their diverse diet, which also makes them very nutritious.
When you catch a sheepshead fish, be sure to take it along for good eating. You can expect a somewhat flaky texture and tender meat from this species.
What Does Sheepshead Taste Like?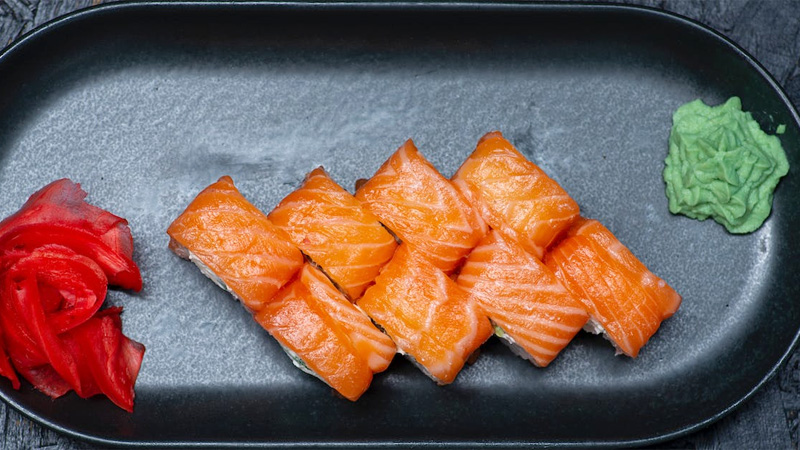 In terms of saltwater species, sheepsheads are one of my favorites. Whatever they are prepared, whether fried, grilled, or blackened, they are delicious.
Most chefs describe sheepshead as having a delicious shellfish flavor and being firm, moist, and oily.
The taste is somewhere between a triggerfish and a black bass but with a distinct flavor and texture. As a result of its high oil and moisture content, this fish has a sweet, firm, and flaky texture.
Sheepshead Texture
There are several fish species whose texture differs from that of the sheepshead. Upon cooking, the meat becomes soft and flaky with a delicate mouthfeel.
In contrast to drier, flakier fish species, sheepshead's flesh is compact and firm due to its moisture and oil content. A positive effect of that oil/moisture can also be seen in the flavor of the fish.
The Rise of Sheepshead Fish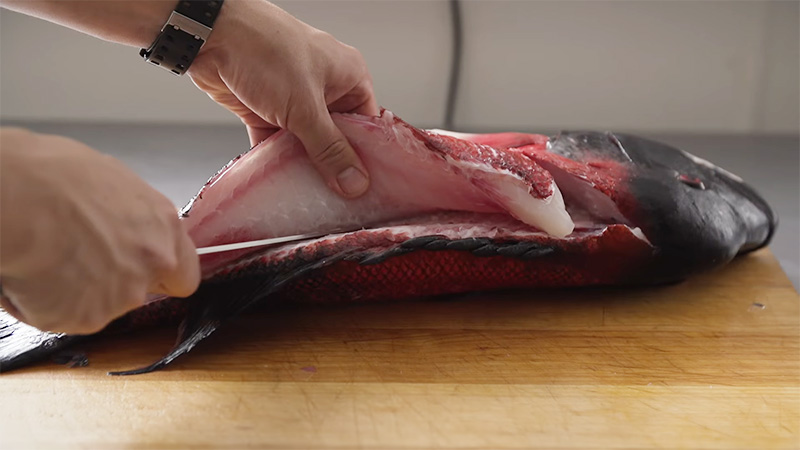 The flounder is historically the most popular species for anglers in North Carolina (where I grew up).
Anglers were able to legally catch and keep Flounder just a few years ago when the state shortened the fishing season. Sheepshead fishing has exploded in popularity among inshore anglers thanks to these recent regulations.
Although sheepshead was still popular during the years when the Flounder season was open year-round to North Carolina anglers, they were always overshadowed by the Flounder.
As far as inshore species go, sheepshead is one of the most challenging and rewarding. North Carolina is not the only state where sheepshead is popular for inshore fishing.
It is common to find Sheepshead and the Gulf of Mexico along the east coast of the US, especially during the winter months.
Tips For Catching A Sheepshead
Have you ever fished for sheepshead? Here are some tips to help you catch the big one!
You should use a rod that is 6-7ft long with a medium action and a light touch so that you can feel even the slight nibbles of sheepshead
A spinning reel rated for 12 pounds might be a good choice.
When fishing for sheepshead, braided lines are best.
What Is The Best Time Of Year To Catch Sheepshead?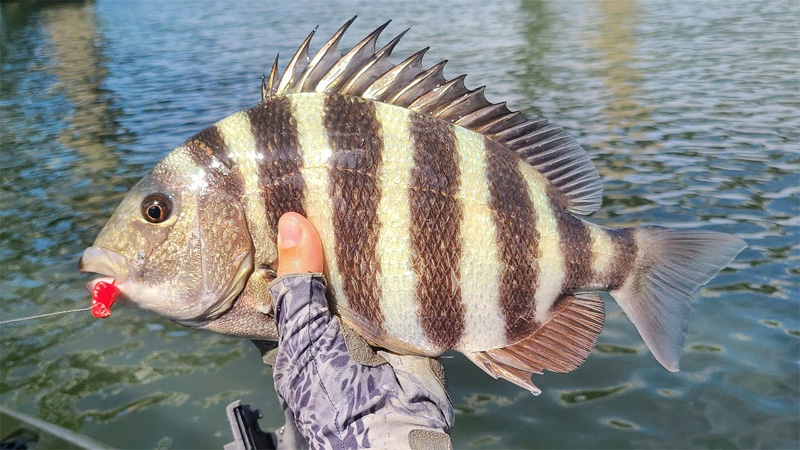 Sheepshead fishing is best during the winter months. When sheepsheads are looking for warm waters, they will congregate in coastal shallows.
Winter is undoubtedly the best time to catch sheepshead, but March and April are also great months to catch them.
They tend to avoid going too far offshore in the spring when they seek out spawning grounds, particularly around structures. Spring is a great time to fish for sheepshead nearshore.
Can You Eat Sheepshead Fish Raw?
It is generally not recommended to eat sheepshead fish raw. Sheepshead fish, like many types of fish, can potentially harbor harmful bacteria, parasites, and viruses that can cause foodborne illness if consumed raw or undercooked.
To ensure safety and minimize the risk of illness, it is best to cook sheepshead fish thoroughly before consuming it.
Cooking the fish to an internal temperature of 145°F (63°C) will help to kill any harmful microorganisms that may be present. Additionally, it is important to properly handle and store the fish to prevent contamination and spoilage.
Conclusion
We've learned that the sheepshead fish is not only a fascinating creature with a striking appearance but also a delicious and nutritious seafood option for those who are willing to try it.
Whether you prefer it grilled, baked, or in a savory soup, there are many ways to enjoy the unique flavors and textures of this versatile fish.
So next time you're at your local seafood market or restaurant, don't be afraid to ask for sheepshead – it might just become your new favorite dish!