Have you ever heard of snakehead fish? This unique fish is known for its elongated body and snake-like appearance, hence its name. While it may not be as common as other fish species, snakehead fish is a popular delicacy in many cultures.
However, with some species of snakehead fish being considered invasive, it's important to be cautious when consuming them.
In this article, we'll explore the question, "Can you eat snakehead fish?" and provide you with some helpful tips on how to prepare this fish for consumption.
So, whether you're a seasoned fisherman or a curious foodie, read on to learn more about this intriguing fish and its culinary uses.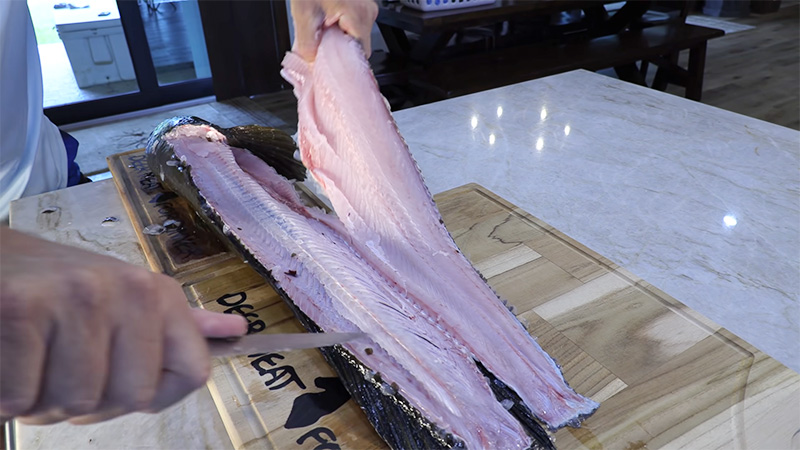 Can You Eat Snakehead?
Recently, there has been a growing interest in the invasive northern snakehead (Channa Argus) fish species, leading many to question whether this type of fish is suitable for consumption.
The brief response is that the northern snakehead is a highly delectable fish and was initially introduced to a pond in Crofton, Maryland, for the sole purpose of being consumed.
It may come as a surprise to some individuals as this fish isn't considered the most visually appealing in the river.
Nevertheless, developing a market for snakehead meat may be the most effective method of curbing the spread of this species at this point in time.
Why Is This Fish Called a Snakehead?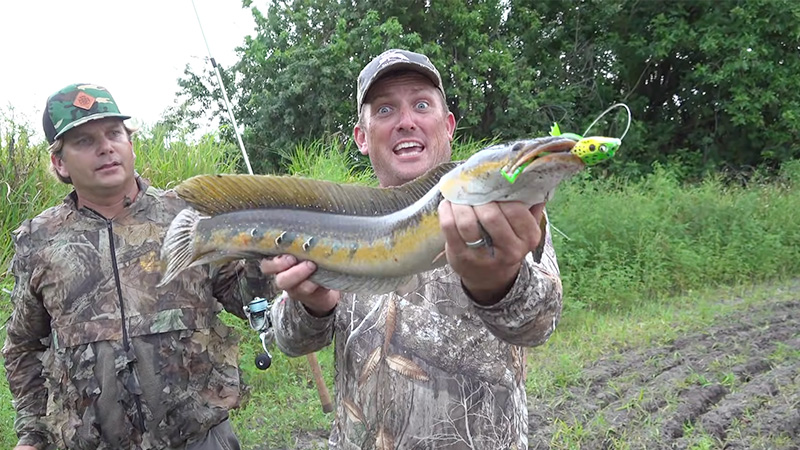 This species is known for its elongated body and sharp, dagger-like teeth. A pair of imposing canines can be found on their bottom jaw.
Almost all of their body is covered with dorsal fins, which makes them powerful and fast swimmers. It is possible to find snakeheads in a wide range of sizes and species.
In comparison, dwarf snakeheads are no longer than ten inches in length, while the five largest species can reach over three feet in length and weigh more than 19 pounds each.
What Are They Like?
Their aggressive nature allows them to defend themselves and their young ones. Too close encounters have led to people being bitten.
The northern snakehead is an ancient species of fish that is believed to have originated in the Himalayas more than 50 million years ago. They have a diverse diet, which can include insects, other fish, amphibians, and even small rodents.
However, what sets this species apart is its remarkable ability to travel short distances on land. Due to their ability to breathe air, snakeheads can survive on land for up to four days.
They achieve movement by wriggling their bodies and fins to propel themselves across the terrain, a unique and startling characteristic.
Is It Safe to Eat?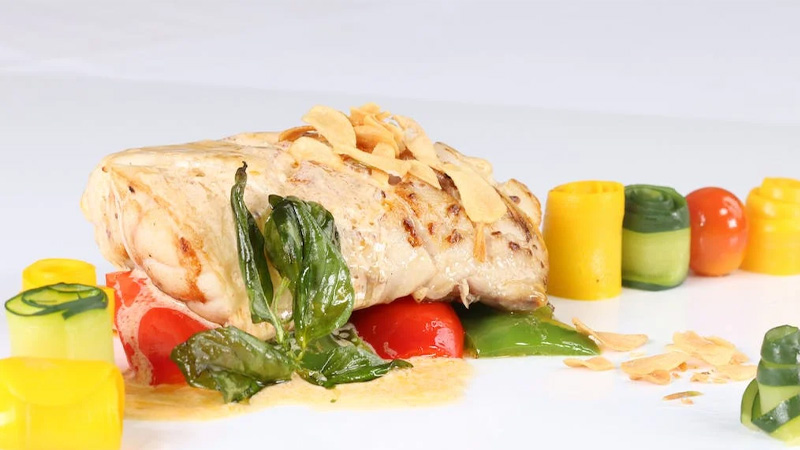 Historically, the introduction of snakeheads into foreign waters was mainly for their use as a food source. In numerous cultures, this fish is highly valued for its taste and is considered a prized ingredient in many dishes.
In recent times, chefs in the United States have started incorporating snakeheads into their cuisine as a way of combating their spread in American waterways. Across Southeast Asia, where the fish is indigenous, it is prepared in various ways.
In Vietnam, for example, it is commonly cooked in a clay pot, pickled or steamed. Meanwhile, in Indonesia, the snakehead fish is held in high regard as a delicacy.
Can You Eat It Raw?
As with any raw fish, snakehead can be safely eaten raw if handled safely.
What Does It Taste Like?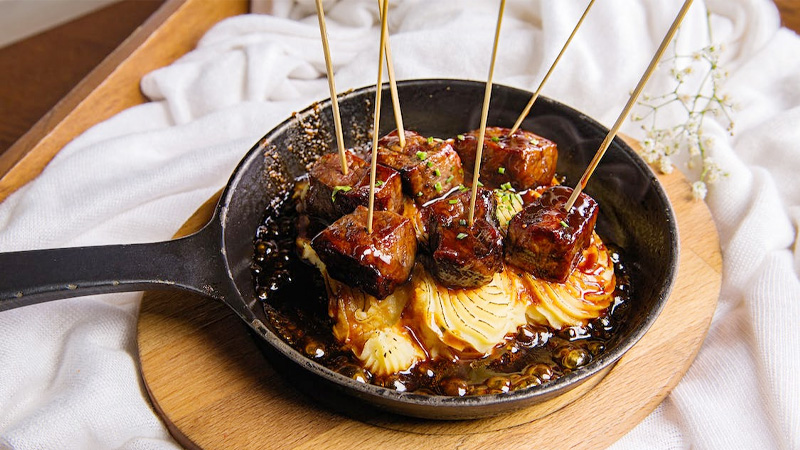 The northern snakehead's unsightly appearance and its notorious reputation as an aggressive, air-breathing predator can be off-putting to some people, deterring them from trying it as a food source.
However, those who can look past its aesthetics will discover that the fish's flaky white meat is pleasingly firm and surprisingly free of any fishy aftertaste or smell. Whether grilled, barbequed, or breaded and deep-fried, a snakehead fillet is an incredibly versatile ingredient in the kitchen.
In fact, in a taste test conducted by the Washington Post, a breaded snakehead fillet was preferred over the popular Cod, proving that this under-appreciated fish has much to offer in terms of taste and texture.
So, Is Snakehead Fish Good To Eat?
It has no fishy aftertaste or smell, and if one can get past the aesthetics, the flaky white meat is pleasantly firm.
This versatile fillet can be grilled, barbecued, breaded, and deep-fried to serve as a main course or as a side dish. The breaded snakehead won a taste test conducted by the Washington Post over the standby cod.
For centuries, snakeheads have been a staple of Asian diets and are even considered a delicacy in Singapore. "Many Singaporeans believe snakehead's skin softens when cooked with green apples," explains an AP article.
The "Fresh Fish w/ Flaming Chili Oil" at Z & Y Restaurant is one of the restaurant's most popular dishes, and it features Snakeheads. In fact, this dish is almost as popular as the famous explosive chicken.
The mouth-numbing Sichuan peppercorns combined with the texture and juiciness of the fish are a favorite among customers. If you ask most diners who have tried this dish at Z & Y, "Are Snakehead fish good to eat?" you'll probably get a resounding YES!
Preparing And Serving Snakehead Fish In Many Ways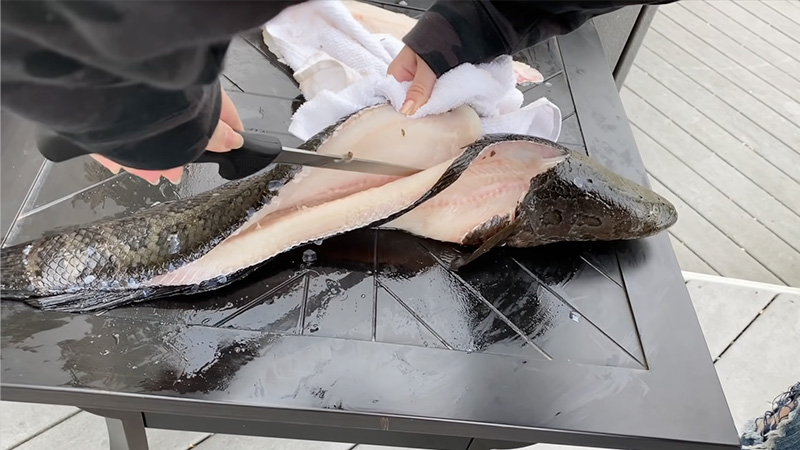 Due to its flaky, firm, and white texture, snakehead fish meat can be cooked in a variety of ways. So far, the most popular ways to cook fish have been to fry it in a pan, bake it in an oven, or grill it outside.
It is especially enjoyable to eat snakehead fish with chips. There was a Washington Post story explaining how this meal combination has now surpassed fish and chips in popularity.
How Does Snakehead Fish Taste Like?
We love blackened snakehead fish and it is one of our favorite ways to prepare the fish. If you want to fry your snakehead, that is also a great option.
A Word Of Caution On Fish Consumption
Similar to any wild fish, it is important to limit the amount of northern snakehead you consume on a regular basis due to the potential presence of polychlorinated biphenyls (PCBs) that can accumulate in the layer of fat underneath the skin of the fish.
However, proper cleaning and cooking methods can help reduce the amount of PCBs in your fish.
When preparing your snakehead, it is recommended that you remove all the skin, slice off as much fat as possible, particularly around the belly flap and lateral line, and cook your fish on a rack in the oven or on a grill to allow more of the fat to drain out of the fish.
Mercury can also be present in fish, and in the case of snakehead, it is located in the actual fish muscle rather than in the fat layer. Unfortunately, there is no way to reduce the level of mercury through cleaning or cooking.
Your best option is to limit your consumption of fish species that tend to contain high levels of mercury. Since mercury bioaccumulates in fish, larger/older fish typically contain more contaminants.
Sticking to younger, smaller fish is generally a good idea. Moreover, it is advisable to avoid fatty fish such as channel catfish and carp.
The Virginia Department of Health regularly posts fish consumption advisories for various fish species in all the water bodies in the state, using data collected by the Virginia Department of Environmental Quality.
Since snakehead is not listed as an official game fish, the Department doesn't publish advisories for eating snakehead, although you can gauge how many are safe to eat by examining the advisories for other fish species in your local river.
The current fish consumption advisories for Virginia can be found on the Department's official website, which also includes a quick reference map.
Conclusion
The question of whether or not you can eat snakehead fish is one that doesn't have a simple answer.
While it's certainly possible to cook and enjoy this fish, it's important to consider the potential environmental impact and health concerns associated with consuming it.
If you do decide to try snakehead fish, be sure to source it responsibly and cook it thoroughly to ensure that it's safe to eat.