If you want to cook up your favorite meals, you need some gas for your camping trip. After you have used up your small propane canisters for camping, what should you do with them? Is there a way to dispose of them responsibly?
Everybody loves Coleman fuel canisters. You can easily use them. There are, however, a few things you need to be aware of before disposing of Coleman fuel canisters. Canisters can be recycled, but some people don't think they can. Nevertheless, it is possible if you exercise caution.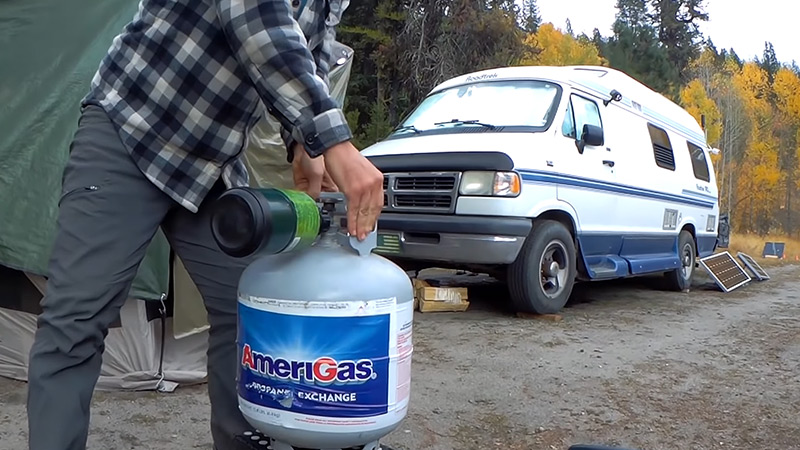 What Are The Advantages Of Coleman Fuel Canisters?
They are convenient, to put it simply. The best way to cook your meal is to unpack your Coleman propane cylinders, attach a stove, and boil water or heat the canned food. It doesn't get any easier than this. Go ahead and ask anyone that has ever gone camping or backpacking.
They can be quite heavy at times. Others are expensive. It can be a nightmare to dispose of these materials. Despite these challenges, their benefits outweigh them.
Why Is It So Difficult To Dispose Of Coleman Propane Cylinders?
Coleman fuel canisters pose the same safety hazards as most fuel canisters. The government prohibits the transportation of refilled canisters as it is a violation of federal DOT regulations.
Many places are discouraging them as recyclables. Depending on where you live, you can throw them away. Nevertheless, leniency like that doesn't exist everywhere.
Fuel canisters are dangerous to leave in recycling containers most of the time. The crushing process could result in a spark when the canister is crushed. You or others in the vicinity could be put at risk by an explosion or fire caused by that spark.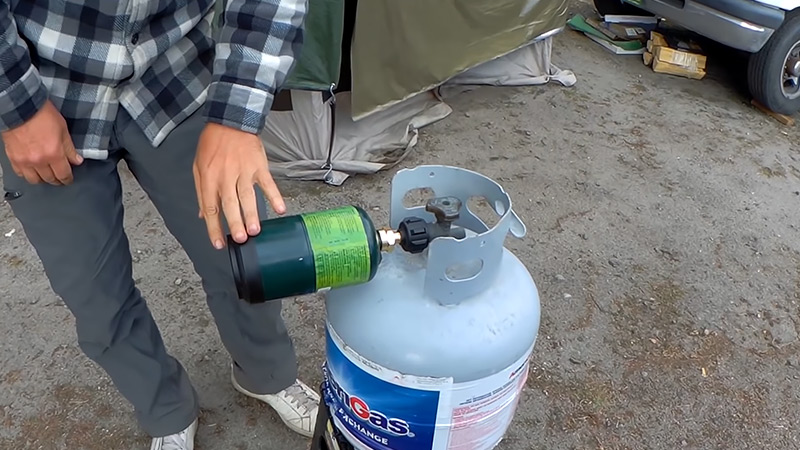 How Can You Solve Some Of These Problems?
There are a few ways you can dispose of fuel canisters. However, the effectiveness of each varies based on your location:
You may be able to recycle your canisters in some municipalities. It's possible to arrange for special hazardous waste programs to collect, transport, and dispose of hazardous waste, such as pressurized fuel canisters.
These programs can sometimes be used for free. It is not uncommon for them to be accompanied by a small fee. The fee, however, is not insurmountable for many people because it means getting rid of their Coleman Fuel Canister.
You can exchange gas bottles through some programs in some areas to resolve this issue. The main purpose of the organization is to recycle garbage bottles donated by the public safely.
Canisters will be thoroughly cleaned of all gas residues. As part of the recycling process, recycling workers will also remove the valves from the canisters before puncturing them.
Dealers of propane cylinders are sometimes happy to accept old cylinders from their customers. A propane cartridge dealer who will accept all your old propane cartridges would save you a lot of trouble.
Coleman Fuel Canisters | How To Dispose Of Them Safely
It may not be possible for you to dispose of your propane cylinder at a propane cylinders dealer or a propane recycling center, so you may want to dispose of it yourself: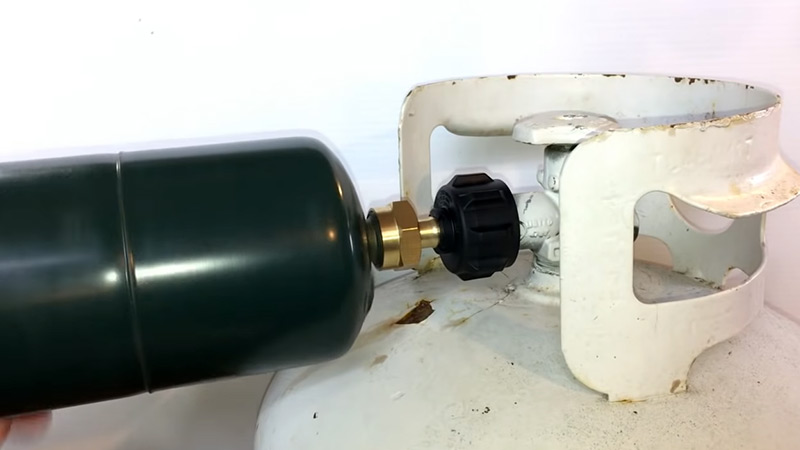 1. Gas
Make sure the canister is empty of all gas. The method for doing this is to attach a stove and burn off the remaining gas. This should be done outside. Don't let the canister come into contact with open flames or any other sources that could ignite.
There is no need to use a stove. It can be any critical device in the area. Maintain a properly ventilated environment. Wait until the gas has completely evaporated once you open the valve.
It will take a while to do this. Canisters are shallowly pressured when empty. Due to this, the remaining gas will burn extremely slowly. The valve must remain open even when the flame appears to be sputtered out.
Only by doing so can we make sure that all residual vapors are also burned off. This process might be annoying for some, but it is the only way to ensure the safety of those who will eventually recycle the canisters.
2. Puncture
If the canister has been emptied for a while, this next step will be much easier to accomplish. To puncture it, you have to use a needle. There are a few tools that can help you do this, including the Jetboil Crunchit Recycling Tool.
Even so, a hammer and nail will suffice to achieve similar results. When in doubt that the canister is empty or concerned about the sparks this method will generate, use a rag instead.
Before you begin hammering, place it over the canister. Sparks are less likely to appear in this way. During recycling, it is necessary to puncture the canister to prevent it from posing any danger.
If you decide to pierce it, please do not stop there. You should clearly label the empty and damaged canister, so anyone coming across it will know what it is. As much as possible, your puncture should stand out. In an alternative scenario, it might make workers at the recycling center reluctant to approach it.
3. Research
To recycle a canister, you need to make sure it is empty and punctured so you can start looking for a recycling facility. Some programs accept empty and punctured canisters, even if they're not full.
It is, however, difficult to find one that accepts a full canister. You must conduct thorough research because of this. The type of material from which a fuel canister is made may play a part in whether it is accepted or rejected by a recycling center.
For example, you cannot simply throw away steel camping stove canisters in curbside recycling containers in some places. Depending on the center, some won't accept them. You can speak to your local authorities if you have trouble figuring out what you should do with your empty canisters.
You should contact recycling companies in your area to determine whether or not they offer programs appropriate to your circumstances. There are some Some of them collect special days. Depending on your municipality, you might be allowed to place canisters in curbside bins.
The lightweight butane and propane cylinders that backpackers use will be much easier to recycle than heavy cylinders like those made of steel. In the case of heavy propane cylinders, recycling them will be a very difficult task for campers. Certain locations are simply unreachable.
Wasn't There A Way To Throw One-Pound Coleman Tanks Away Safely?
Coleman introduced a program called "Green Key" in 2009. The goal was to find a way to safely dispose of one-pound canisters in the trash without harming the environment. Since then, the program has been discontinued.
A device was included with each Coleman Green Key propane cylinder that could be used to open the valve. As the gas was escaping, the green key closed the valve and allowed the gas to escape. It was safe to handle, transport, and recycle the one-pound tank with the valve open.
Green Key never received widespread acceptance by regulators or the waste disposal industry for whatever reason. Coleman discontinued the program due to the lack of support from the waste disposal and recycling industries.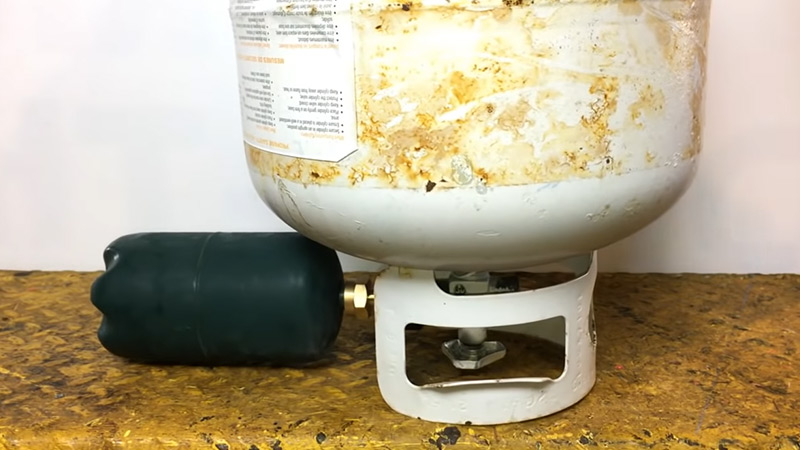 Conclusion
It may be easier to dispose of smaller propane camping canisters, but they still pose a risk if not done properly. The campground's management can often even accept them for you if you ask them about their policy when you arrive. As an alternative, you can return it to your home and then place it at a safe disposal facility.