You want to shoot down that buck, don't you? What's the wait for? Something wrong? Is the shivering making it hard to aim? That's why you should have planned and layered your clothes properly before leaving.
Hunting is always exciting and, most often, rewarding – no doubt about that. Hunting in winter adds to the challenge. The adrenaline rush in your blood when you see the prize, the deer you've been waiting for so long.
You pick up your gun and your best hunter form. You take your aim, and you pull your trigger. Baaangg…! And it all goes silent. The deer is down. That's the best moment, isn't it?
Don't you think it'll be a shame if it all goes to vain simply because of you failing to target for the cold? It can happen.
Even if the cold doesn't affect your hunting skill, it'll nonetheless be uncomfortable for yourself. Why bother going through that when you can solve the problem much easily?
The solution is as simple as wearing proper clothing. No, I'm not implying to wear a whole bunch of stuff. That'll rather be problematic. You should plan your journey, weather, activity, and dress accordingly. Here are a few tips to ease you.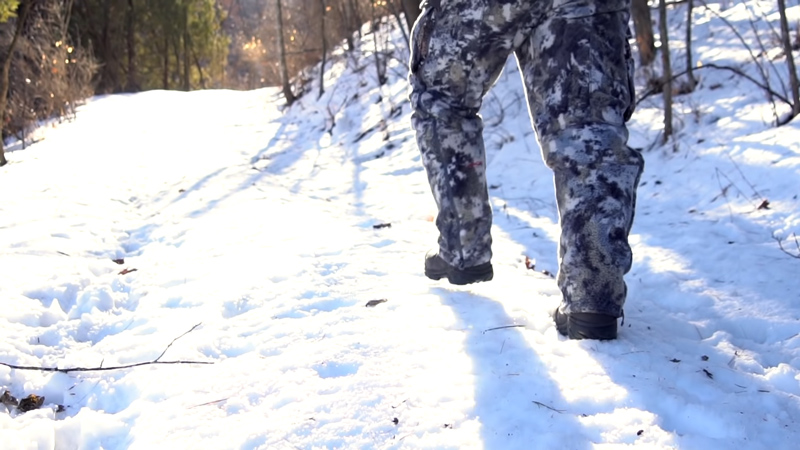 Basics Of Layering – How To Layer For Cold Weather Hunting?
Layering is the process of appending something on top of another. In our case, it is our clothing. Hunting in cold weather is just as challenging as it is exciting. You better be ready to handle both.
There are mainly three layers of clothing.
The Base Layer (Wicking Layer)
The Middle Layer (Warming Layer)
The Outer Layer (Warding Layer)
The base layer or the wicking layer is a thin layer of clothing that you wear right on top of your skin. It helps to warm you a bit, but its main purpose is to wick off the sweat.
The middle layer or the warming layer is a flexible layer. I mean flexible functionally. It can be as thick or as thin as you prefer it to be. Its main purpose is to warm up your body.
The Outer layer or the shell layer (I like to call it warding layer) is the outermost layer. This layer faces the harsh weather. The main purpose of this layer is to ward off the wind or rain or snow or whatever the environment may throw at you. This layer also traps your body heat and prevents it from leaking out.
It's easy to see the difference in skill level between two hunters. But trust me, there's just as much difference in their clothing as well. It's the subtle thing that gives one person a slight advantage over another throughout the whole hunting season, effectively making a visible difference in the end.
Colder Weather Preparation
Layering is not just putting a bunch of stuff on and calling it a day. There are some combos that will work better than some others. I want to mention it again; it boils down to planning, such as your hunting location, weather, temperature, the possibility of rain or heavy wind, and also your budget.
Here is a scenario that you can take motivation from. Keep in mind, this is an imaginary scenario, but it should comply for most people with most situations with a little tweak here and there.
At least three layers are highly recommended for this situation. Any less will likely never warm you up enough.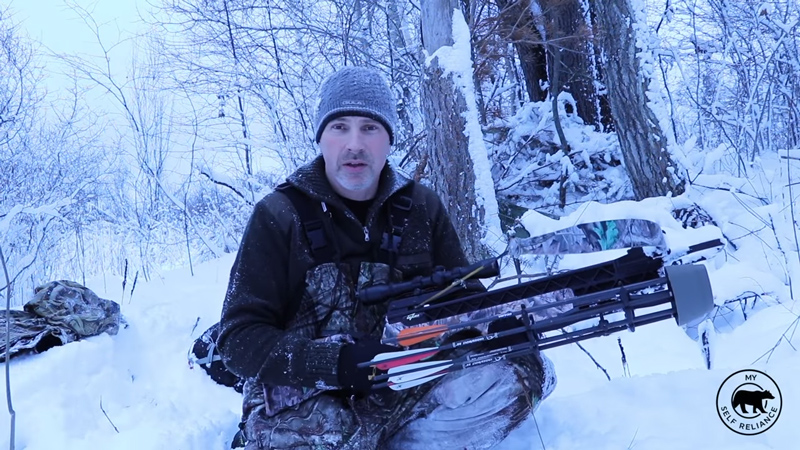 1. Vests And Leggings
For the base layer, you want something that is good at wicking the sweat away, thin and lightweight. The idea here is to move that sweat without disturbing outer layers much. Insulation or warming your body isn't of very high priority.
Some good materials are:
Mid-weight polyester
Merino wool
Polyester is very thin and light, but it may stink sometime, especially if it gets wet. Merino wool, on the other hand, is free of any kind of stink, breathable, light, but it is slightly on the thicker side.
Your top and bottom part of the body should be treated in the same way, like polyester tops and leggings, or wool items. That way, there'll be a good balance of heat distribution via your blood. However, you can mix between the two as well if that's what is available.
For the middle layer, you want something that can make a strong barrier between your body and the outside world in terms of heat. Insulation is your first priority for the middle layer. This layer will do the big duty of keeping your body warm.
Preferable materials are:
Synthetics like polyester or nylon blend
Thick wool
Wool blends
Polyester is renowned for its insulation. It can maintain quite a high-temperature difference on its two sides. In our case, it is the inside and the outside. However, nothing beats the insulation capability of thick wool or merino wool.
This material is also highly breathable. Meaning it'll adjust quite a bit with temperature keeping you comfortable.
For the top, synthetic material does well, but for the bottom, it is recommended to wear a fleece pant instead of going for synthetic. The reason being legs heat up slowly. Thus, wool is much more preferable.
For the shell layer, You want something to stop the wind and rainwater before any of those can even touch the inside. Thus, the layer needs to be impenetrable and strong. Another good idea is to have it either camo printed or white to blend better with the environment.
Materials that work well
With an added coating of water-resistance, these materials will make great exo-jackets. However, The water-resistant layer will sacrifice breathability. Normally, these jackets are breathable.
Thus, the inner layers will stay fresh. So, if you know for sure that it won't rain, you are better off going with a base material jacket. Otherwise, go for the coated variant.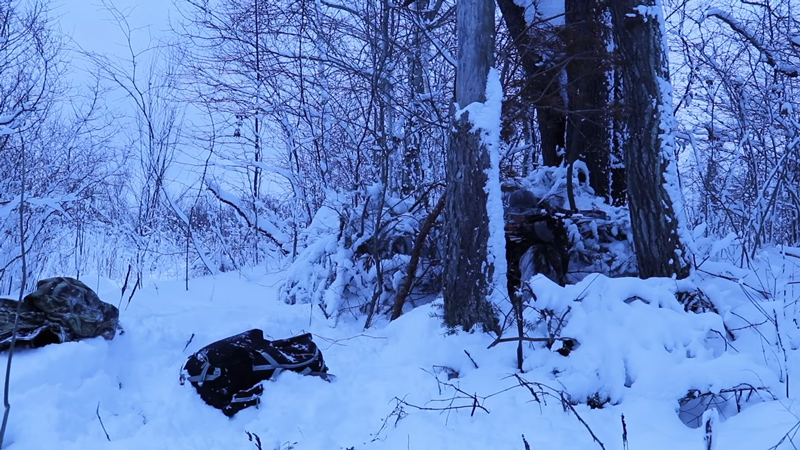 2. Socks And Shoes
Layering at your toes is slightly different from layering other body parts. You need to be more careful about your feet because your feet take longer to warm up and if they get cold. However, the basics are the same. Wicking, warming, and warding. With that in mind, the layering can be broken down into sections.
For the base layer, you should wear a long thin sock, that will wick the sweats away easily and keep the feet dry. Keeping your feet dry and warm is more important than the upper body. The reason being, they come in direct contact with the ground.
Some desired materials are
Thin merino wool
Wool blend with other materials
Synthetics like polyester, nylon, or spandex
The main idea is to keep your feet dry while adding anything highly to the total weight and thickness. You really need to go thin here. You will need to wear multiple layers along with boots and also keep space for comfort.
For the middle layer, You should wear a thick sock. As mentioned before, feet take longer to warm up, and in a meanwhile, they'll waste a lot of heat. Thus, preparation is key here.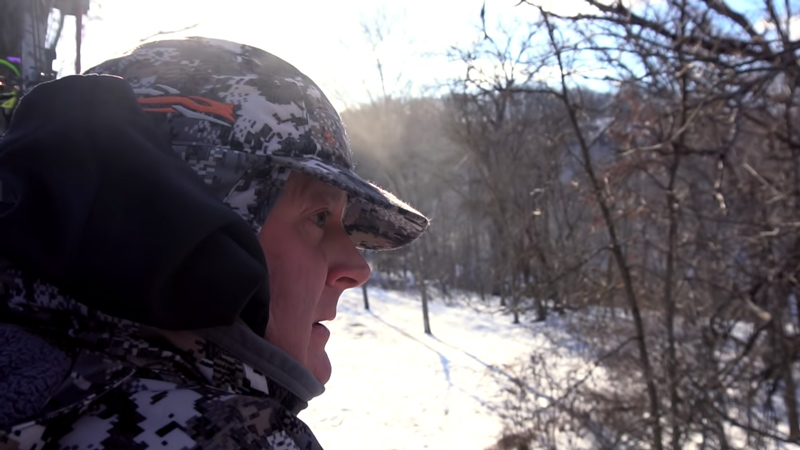 Some preferable materials
Thick merino wool
Wool blend
If the base layer is good at wicking away the sweat, then wool is your best bet for warming up. Synthetic materials are improving slowly but surely. However, even to this day, they can't top wool at their job.
For the outer layer, I'm going to speak of heavy-duty boots; it's a no brainer. There are two main categories of boots you can go for: hunting boots and snow boots. The choice is yours. Hunting boots are good for mobility, while snow boots are good for insulation. It depends on your hunting location and weather mostly.
Material option for boots
Leather is great at keeping away water or snow. It also stops the wind quite well. On the downside, It is hardly breathable, meaning sweat vapor will not clean out so easily. It is relatively heavy as well.
Nylon, specially coated with a waterproof layer, is a sweet alternative. It is lighter in weight and works fine while cutting on weight.
Final Thoughts
All in all, wool is a sweet option to opt for. You can trust wool, almost blindly. Even on the shell layer, wool won't be terrible. However, a mix and match usually work better, utilizing the specialty of a material to its best.
Overall, you'll need to understand your situation, what you might be facing, and what to expect. That way, you can make the best combo for you.