Camping trips are always accompanied by perfect weather in a perfect world. In reality, it doesn't work that way.
It is possible to encounter rain and wind even during the summer months. Furthermore, it is very common during the winter for snow to fall during camping.
If you are camping, a tarp or rain fly will help to protect you from the rain or wind. Your tent will remain dry and warm. Making your own rainfly for your tent can be done in a few easy steps and with a bit of DIY ingenuity.
As part of this article, I will demonstrate how to use a tarp as a rainfly on a tent to provide extra weather protection.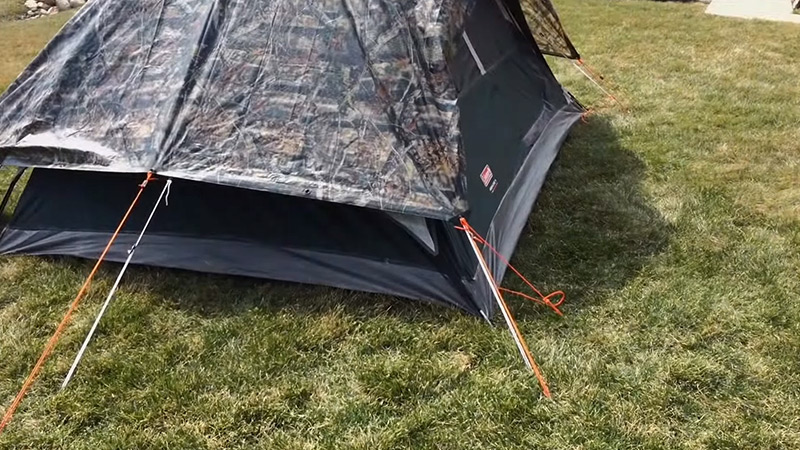 What Happens When Your Tent Is Missing The Rainfly?
To cover it, you can simply buy a tarp. Almost every tent comes with an attached rainfly. In addition to cutting and staking, rain flies are stretched using lines to keep off the body of the tent.
If you don't, you can replace it with a sufficiently large and waterproof item. Tarps of different colors generally indicate the thickness of the tarps.
Even though there is no organized way to ensure that brown tarps are thicker than blue tarps, check the label. In most situations, a standard blue tarp will suffice if you are not going to be in a high wind environment.
If the shower curtain is large enough, you can even use it. Possibly more affordable and lighter.
What's The Point Of Rain Fly?
A rainfly above a tent is often deemed unnecessary by many people. There is no need for it. If a tent doesn't have a rain fly, rain won't wipe off the whole thing as it does from a rain fly.
Air circulation is difficult in tents with windows that cannot be watertight. Tents with rainfly keep their interiors dry. You're better off buying a cheap thin rope and a large tarp instead of relying on a rainfly.
It is necessary to have the rainfly on the tent because most tents come with an open (screened) roof, and it is not possible to cover it unless it is there. It's important, especially during warm weather, to maximize ventilation.
Making A Rain Fly For Tent
You tie the tarp up about two feet above your tent after pitching your tent to create an effective rainfly. Be sure to angle the tarp so that rain will run off away from your tent.
In addition to its size, the tarp provides a very large overhang that forms a nice outdoor porch for sitting or storing gear or firewood you wish to keep dry.
A big tarp should always accompany your gear, no matter how fancy it is. It's lightweight and foldable, and it's not heavy.
Rain will never be a problem, so it's worth the hassle. Any tent that has been exposed to enough rain will leak and won't dry if it continues to rain. Whether it's raining or not, tarps transform cheap tents into dry havens.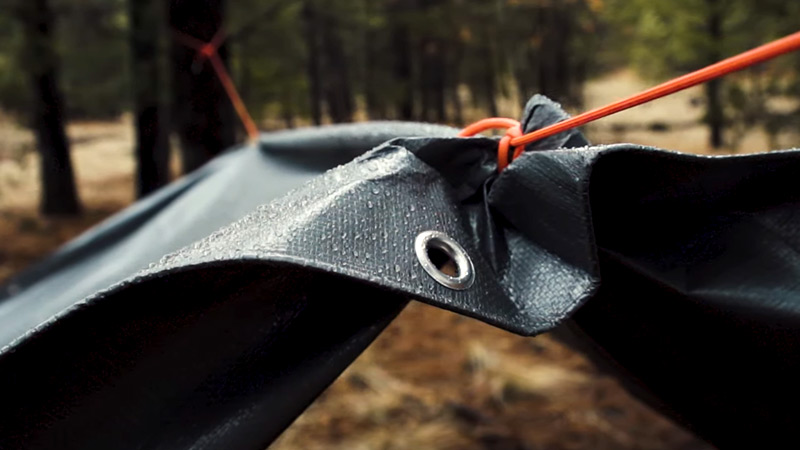 How Do I Rainproof My Tent?
Using ground cloth at a campsite and letting its edge hang a foot or two from under the tent is a common mistake I see.
As a result, water will drop off your rain fly, then splash on your ground cloth, then accumulate beneath your tent. Make sure your ground cloth does not stick out past the corners of your tent.
The ground cloth's purpose is to prevent water from seeping through the floor of the tent. If you weren't using one already, I'd suggest using one as well.
That spray-on waterproofing is available for purchase. To a certain extent, that works. You may have a bad tent, or the tent was not set up properly if everything got wet. The wrong way to set it up has more to do with where it is placed about the landscape.
DIY Rainfly
Over the tent, you can string up a tarp that is longer X wider than the tent. Water is heavy, so make sure to keep that in mind when hanging the tarp.
Moreover, the tarp should be hung with one corner lower than the others to prevent water from accumulating and weighing it down.
Waterproofing A Tent
Water dripping inside your tent is one of the sounds of nature you don't want to hear when you're in the wilderness.
After experiencing such a shelter failure, it's time to reinforce its waterproofness. You can waterproof your tent in three different ways:
You can prevent moisture from seeping through seams by applying a seam sealer.
You need to refresh the urethane coating inside your rainfly and on the tent floor. That's the primary moisture barrier. You can do this by spraying urethane on the inside.
Update the DWR: A durable water-repellant (DWR) coating eliminates water from your rainfly.
Practical Uses Of A Tarp When Camping
You can use a tarp as an extra groundsheet to pitch your tent on the moist or muddy ground (make sure the tarp is completely tucked under your tent). 
As you take down your tent, you should find that the ground is dry at the bottom.
Shelter from the rain, somewhere to eat, and somewhere to cook. 
You should not cook inside your tent; you can cook outside by lighting a fire under the tarp. It is possible to eat even when wet, thanks to a tarp!
If it is raining while you are pitching your tent, your gear can still get into your tent, but you will remain dry and comfortable.
Campfires are more fun when they are wet. Trap heat with tarps and windbreaks. Play tents are a great way to keep children entertained. You can create one using a tarp.
Building A Simple Shelter With A Tarp
The way a tarp is set up differs from person to person. In addition to the wind direction, the location of trees and supporting structures, as well as what the structure will be used for, all are factors that affect the design. Two straight tent poles can be used in the construction of a shelter along with rope, pegs, and of course, a tarp.
The poles need to be held by some little helpers so that a line can be run between them. To keep the poles from moving, the excess line is tied into the ground and nailed into it. It is called the ridgeline.
Put a peg into the ground at each pole and run another line. You should now have something that resembles a washing line. In addition to two lines connecting the poles, there is another line linking the two poles free of charge.
Cover the line with the tarp. Peg the tarp down at the corners and run lines from there. Changing the apex of the shelter is made possible by moving the tarp. It might be better to have a bit more tarp on the back and less on the front of the shelter.
A tarp front can be positioned near the fire, which allows smoke to escape (thereby reducing potential accidents) but leaves enough tarp to provide shelter for a comfortable stay. Apexes help runoff from rain. The setup works well for storing some of the heat from a fire, even when it is not raining.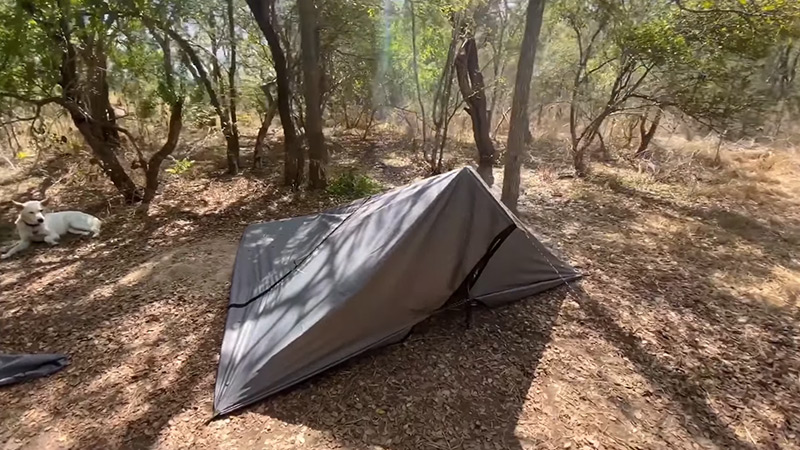 Final Words
For extra protection, you might want to place windbreaks around the shelter. If you don't have chairs, you may wish to lie down on a tarp on the ground.
If it does rain heavily, consider the consequences. Rain should not accumulate in areas where the tarp is exposed. Don't let the tarp bulge.