Fishing is fun with friends and families. Many newcomers tend to underestimate how dirty fishing reels may end up after a single day out.
Without proper maintenance, it will cause serious damage and potentially end up ruining the fishing rod. Cleaning and oiling it after every fishing session is crucial.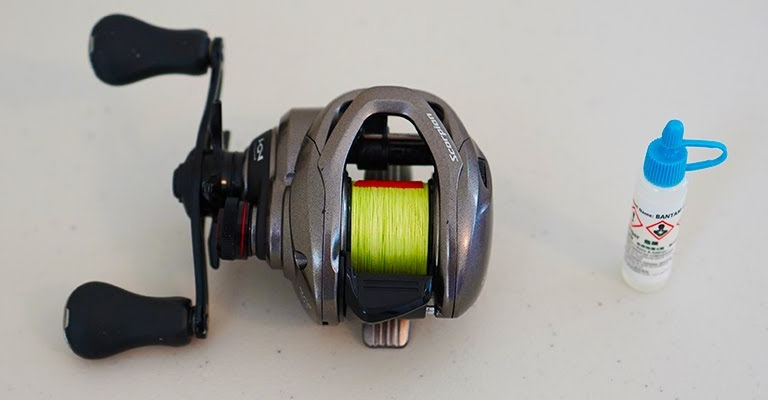 But What Is the Proper Way to Clean and Oil a Fishing Rod?
In short, prepare an area for the process. Anywhere with plenty of light is perfect for the job. Take your spinning reel and clean it first. Then take the oil and apply a couple of drops on the bail connection points.
Separate the spool, clean the shaft, bear, and use a drop of oil or two on the bearing. Separate the handle, oil the bearing, and other connection points. The final step will be to reassemble everything back.
Fishing reels face a lot of stress at the time of fishing. Stress comes from the soil, mud, water, salt, bait, dust, and a lot of other environmental elements.
Can you imagine how serious damage it can cause your fishing reel if left untreated?
If ignored long enough, it will deteriorate over time. Regular cleaning can increase the lifespan of your reel dramatically.
Most people simply seek fun and don't pay attention to this issue at first. But it's important for a successful fishing trip. You need to clean it and oil it after every fishing trip. Knowing your fishing reel is another aspect of taking care.
Some reels are more specialized and have a more complex mechanism. If your fishing reel is sophisticated, pay close attention while disassembling and assembling. So, here's the how-to:
Necessary Tools For Cleaning And Oiling
Cleaning is a part of oiling. Oiling a dirty fishing rod is pointless. The water, dust, mud, and residue will mix up with the oil and make a big mess if anything. For the most part, the cleaning will be minimal, done using basic tools and simple methods.
Reel cleaning tools should be available at most outdoor retailers, and they are inexpensive. You can buy from the shop or order them online. Now, the items you will need are given below.
Reel oil (Use specific fishing reel oil)
Reel cleaning solvent (Normal soap or degreasers may damage the reel)
A clean, soft cloth (Better to use microfiber cloth)
Small bristle brush
Paper towels
Cotton buds
How To Clean And Oil A Fishing Reel?
There are a few steps to properly clean and oil the fishing reel. Following these steps will help keep track of which parts have been taken care of and which is not. Keep in mind; excessive oiling has a high chance of damaging the mechanism. So,
1. Proper Location
Firstly, prepare an area with sufficient light. Outside or inside a well-lit room, wither will do. Then place a clean cloth on a steady surface where you will work on.
2. Oil the Bail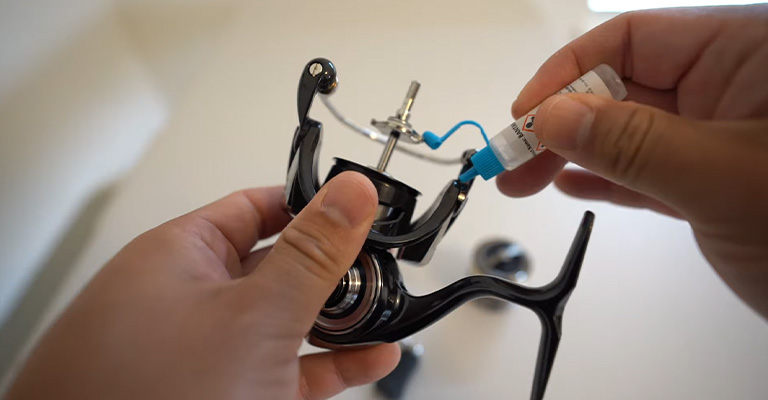 Now, take your reel and open the bail. Use a few drops of the cleaning solvent and apply it to all available bail connection points & line roller. Use the brush and clean it thoroughly.
After cleaning, you may or may not need to dry it, depending on the solvent used and the amount. Apply a few drops of oil at every connection point of the bail. Then open and close the bail a few times. By doing this, the oil will distribute properly at connection points.
3. Next Is The Spool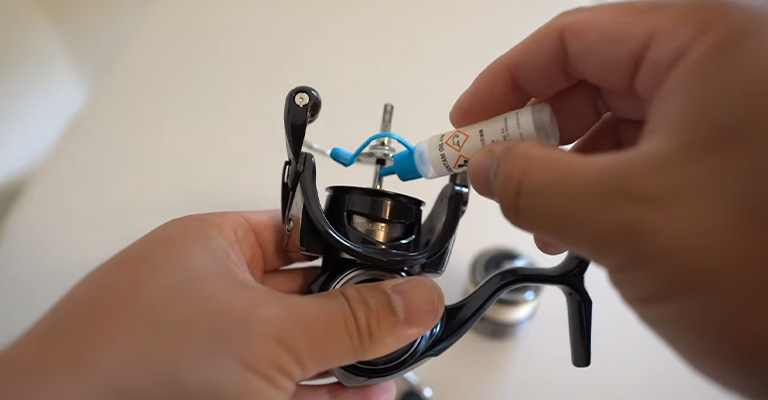 Unscrew and remove the drag knob. After that, separate the spool from the reel body and use cleaning solvent to clean the shaft and bearings properly. Thoroughly remove dirt, excess oil, and wipe it clean.
Use cotton buds in tricky areas and apply a drop or two of reel oil after drying. Don't miss any points. Carefully use the reel oil in the main shaft and gears. After doing this, reassemble the spool on the main body and reattach the drag knob.
4. Don't Forget The Handle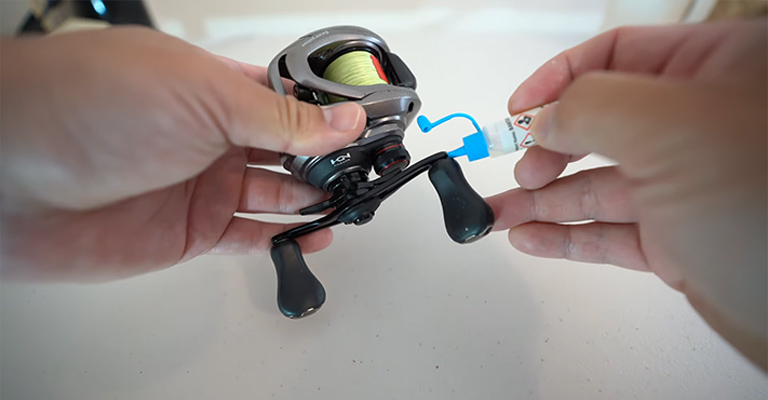 Now we are going to clean the bearing of the reel body and oil it. For this, we have to unscrew the screw cap and the reel handle. Use another fresh cotton bud to clean the bearing.
When the bearing is cleaned and dried, apply a drop of oil to each bearing. Also, don't forget to apply oil to the joints of the handle. Give all the moving parts a good spin so that the oil can seep into every gap and crevice. Now you can reassemble the handle and screw the cap as before.
5. Final Touches
Finally, we will oil the entire reel body. It will add a layer of extra protection. Use reel oil to wipe down the entire reel lightly. The oil will act as a hydrophobic layer on the line and protect it from water during fishing.
Now check the fishing reel again to see if it's working properly. It should work just as fine as long as the disassembly and reassembly were done properly. If not, then try to disassemble it and reassemble again.
How Often Should You Clean And Oil A Fishing Rod?
In general, you should attend it as frequently as you can. The more you take care of it, the better outcome you can expect from it. Your fishing reel will face stress during the time of fishing.
Those stress can come from the soil, mud, water, salt, bait, dust, etc. Unless taken well care of, it can ruin the quality of the tool. Thus, a quick cleaning after every fishing session and detailed cleaning along with oiling every once in a while are fine.
The frequency depends on how often you use it. If you use it every day, oiling every weekend will suffice. But If you use it every weekend, make sure to clean it after every fishing session and oil it once a month at least. If you are even more infrequent, just oil it after every usage. That should suffice.
Another factor is the location of your fishing. Freshwater fishing is less stressful than saltwater fishing for your fishing reel. The saline residue of saltwater causes more wear & tear towards your fishing reel. I hope you understand that saltwater fishing gear will need more careful and frequent maintenance.
Final Words
Cleaning the fishing gear and oiling them regularly is a big deal to conserve the quality and lifespan of the tool. These tools come in contact with water nonstop. Not always is the water clean.
Instead, it is much more likely for the water to be polluted or saturated with different types of chemicals than not. You may not need to clean and oil your fishing reel thoroughly every single time if you are careful. Simple cleaning is required most of the time, and oil it every once in a while.
At first, the oiling process may take some time, but you will get used to it eventually. Follow the above steps carefully. Fishing rods often get damaged during shipping. You must pack and ship the rods properly when you plan to go fishing.