Are you excited about going kayak fishing? Fishing, on its own, is fun and relaxing. A kayak opens up a lot of options and thrill in fishing. However, proper accessories can enhance your experience immensely. Let's check out some of the must-have accessories for kayak fishing.
If you've ever gone fishing, you know the relaxation and peace, the serene, untroubled nature can bring in your mind, followed by the thrill and excitement when you catch something. A kayak opens a lot of fishing spots that were inaccessible without one.
Has it ever happened to you, that you sit there for hours, without seeing your bobber move unless you move it? Or you realize after a while that you are no longer where you started fishing? The wind can slowly and silently drift you away.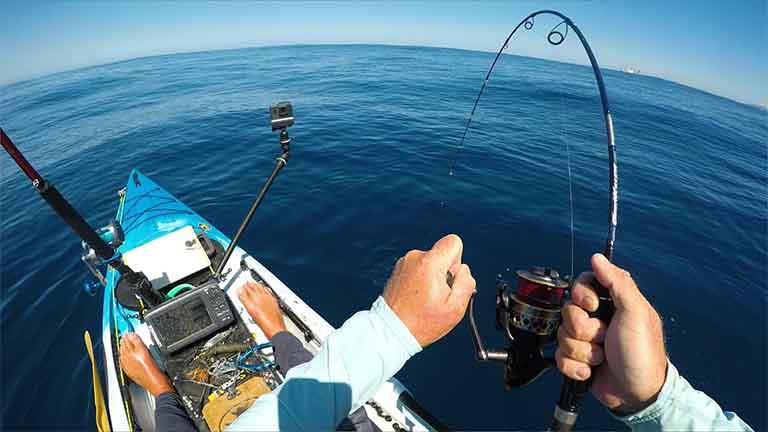 Those can happen, as well as other inconveniences such as accidentally getting your must-be-dry items wet, diving in the water after your stray fishing rod that decided to take a dip in the water, or making a mess of your deck with everything.
None of those is a killer. None is bound to happen. But when they do is when you wish you took precaution.
Kayak Fishing Accessories
In this list, I represent some of the accessories necessary for those specific annoying times.
1. Life Jacket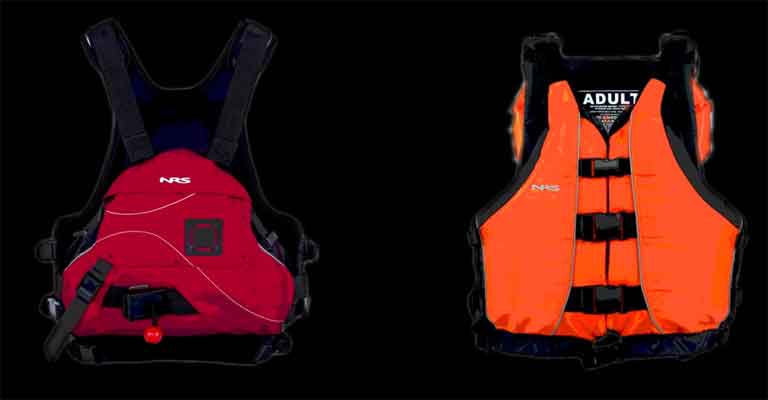 A life jacket is, in my opinion, the most important must-have on an angler kayak. It is a must-have on almost any water vessel, but for a fishing kayak, the significance is even higher.
You usually spend a long time in the water, on a small platform, which is also not the most stable one in the world. You better be ready for anything. On a fishing adventure, you need to be ready to jump down in the water or get wet by any other means.
That's very much the truth. However, it won't be as pretty or safe if you aren't ready for it. Probably you stood up to cast the rod further, and you lost your balance, or a sudden breeze tipped your kayak beyond the limit; accidents can happen at any moment.
Having a PFD (personal flotation device) can make the difference between a silly accident and a tragedy. Besides, many PFDs have extra features like pockets in reach, clip straps for miscellaneous items, etc.
2. Anchor and Trolley
It may seem unconventional to think of kayaks and anchors together. Kayaks are usually recognized for speed and mobility. However, A fishing kayak is different from your usual sport kayaks.
A fishing kayak is neither meant to traverse fast nor far distances, but the opposite. A fishing kayak is supposed to stay stationary at a relative spot. Let's say; you went on a fishing trip.
You're excited, you cast the line, but hold on, the breeze is slowly drifting you around. The casting wasn't nearly as good as you expected. Whatever, you prepare to cast a second line.
But wait, you are getting too close to the shallow water. Paddle your kayak back to the original place first. Would it be fun? I haven't even mentioned fishing in rivers. Thus, an anchor is an essential piece of equipment for kayak fishing.
Anchors are common on bigger vessels, like your usual traveling boats or even fishing boats. Anchors usually tend to be heavy and bulky. But kayak anchors are smaller and lighter.
Rather than sheer weight, kayak anchors keep the vessel stationary by other means, like a grappling hook, claw anchor, mushroom cap, anchor pole, etc. which are light, but still get the job done fairly well.
3. Tackle Crate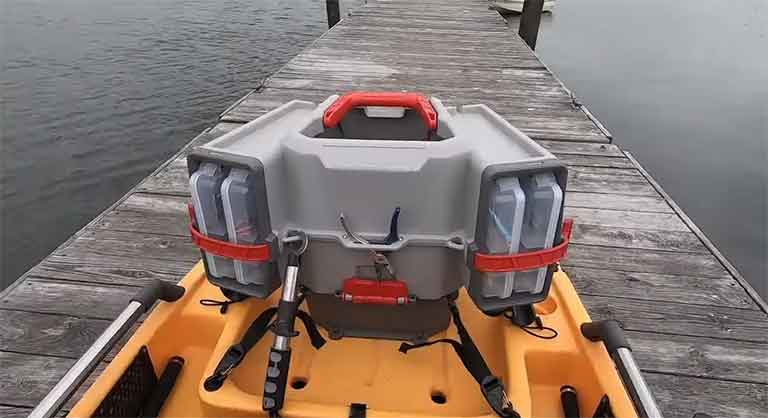 Having everything organized and in place is a good habit in general. Even though in everyday life, it might not seem as crucial, it indeed is when you only have the limited space of the deck of your kayak to work with.
You need to carry quite a few things on your fishing journeys, starting from your Hooks, pliers, sun protection, first-aid, food, water, and whatnot. All these can make an absolute mess, and you can never find what you need. A tackle crate is an easy way out of it.
You can easily throw a tackle crate on the back of your seat, not having to worry about it. There are different types of tackle crates out there. My personal opinion is to go with one that has dividers.
That'll allow you to pack nicely and compactly as well as keep track, of where to look when you need something.
Another advantage of a crate that is easily underseen is that it offers more space than having everything on the deck. They have higher walls, towering over the edges of your kayak. All those vertical spaces, you'll be able to put into use.
Therefore, A tackle crate is one of the essentials for kayak fishing, in my opinion.
4. Fish Finders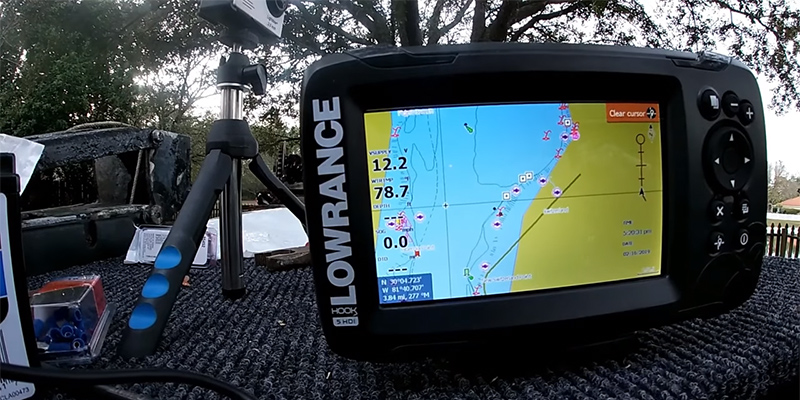 A modern piece of equipment that'll help you locate and keep track of the locations where fish schools are. Fishfinders are slightly modified, more portable versions of usual sonars. They use the same ultrasonic sound waves to detect the presence of underwater objects, which, in our case, is fishes (hopefully).
Imagine sitting in the middle of nowhere, all the lines cast, but no movement to be seen, no fishes caught. Would it be as enjoyable? Well, to be fair, it wouldn't be a waste or loss project.
You'll still be blessed with the beauty of nature and the likes of that. But wouldn't it be so much better if you could catch a fish or two every once in a while? Only if you knew where the fishes were, right?
Ultrasonic waves are not only beyond our capability of listening but also of the fish. Almost like you can silently spy on their movement or presence without disturbing them.
Fishfinders come pre-installed in some of the fishing kayaks fish finder, but not all of them.
In some cases, fishfinder models come with a GPS combo. If your kayak doesn't have one, you should install one before your next trip.
5. Dry Bags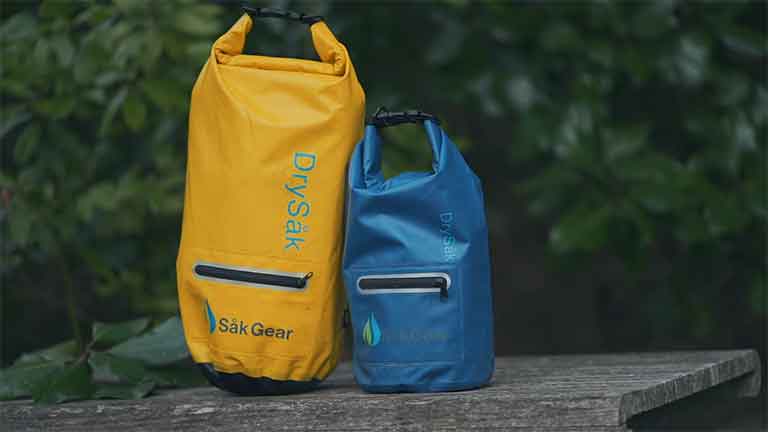 In all honesty, a fishing trip is all about water. Even you need to be ready to get wet or even have to jump down if needed. But even so, there is some must-be-dry equipment that you can neither go without nor can you get wet. There, a dry is your savior.
A dry bag is what it sounds like. It is waterproof and keeps the items inside dry, even if your kayak happens to capsize. It is usually made of nylon, vinyl, or waterproof materials. The goal is to provide safety for your phone, camera, or other types of electronics.
Some dry bags offer up to 99.9% water resistance, according to some companies, when sealed properly. The size of a dry bag may vary, but they usually range between 8 liters to 15 liters.
In terms of aesthetics, they come in various colors. You'll easily find one that pleases you. Or if you are like me, you could go for a transparent one or with a clear window. If you carry multiple, color-coding them helps a lot in coordinating.
6. Kayak Fishing Rod Holder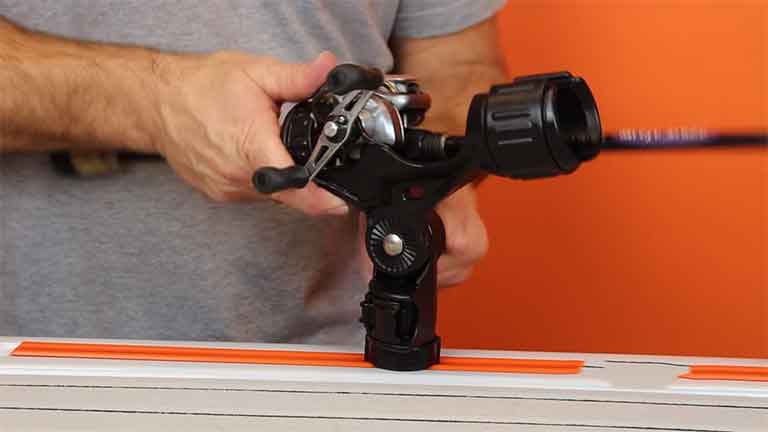 Since you are reading this article, chances are you are already into kayak fishing or at least know the necessity of a rod holder in a fishing kayak. So, I'm going to go through the basics. However, what I do want to talk about is the types of rod holders.
There are a few types, and you should choose the one that suits your style. Many angler kayaks come with pre-installed flush-mount rod holders. These are the ones that go inside the structure of your kayak.
Regardless of whether you have them or not, you can always install a set of clamp mount or crate mount rod holders quickly and effortlessly. They are very simple to install or remove or reposition.
Other types of rod holders include track mount and deck mount holders. They are a little more complex to install compared to the ones I priorly mentioned. However, they offer you better stability and customization options according to your liking.
When you have your rods positioned where you like them to be, you're going to like your fishing trips so much more.
7. Floating Stringers
Stringers are a great way to store the fishes you catch. Not on board, but rather in the water. It is an effective way to put some weight off of your kayak as well as keep them alive and fresh longer. My suggestion is rather than getting a genuine stringer, get yourself a floating stringer.
Another great method to store your catches is cooler. However, carrying around a cooler means spending a big part of your already limited budget for space and carrying capacity. If you are not fishing in predator infested areas, a cooler will almost be an unnecessary luxury that costs a good fortune (of space).
Why bother with a floating stringer, do you ask? Has it ever happened to you that you put all your fishes in one stringer, and it snapped? No? You'd know why bother with a floating stringer if you had to face it. At least you'll be able to locate them even in the worst-case scenario.
8. Leashes
Leashes are one of the most important must-haves for an angler kayak, in my opinion. They are so small of a detail that most people fail to acknowledge them completely. But they can make such a big difference should things go out of hand.
Have you ever accidentally dropped a paddle or rod in the water, trying to move something else? If you have, you know the pain to reacquire the dropped item. A leash here could save you so much trouble. You just have to secure the thing with your kayak before you set off, and not worry about it until you're back.
Leashes are available for both rods and paddles. They are small pieces of rope or chain that you can secure with the butt of your rods or paddle and then lock with your vessel. If you use a fishing net, you probably should secure that as well. You know, it could potentially save you a dive into the water.
9. Kayak Cart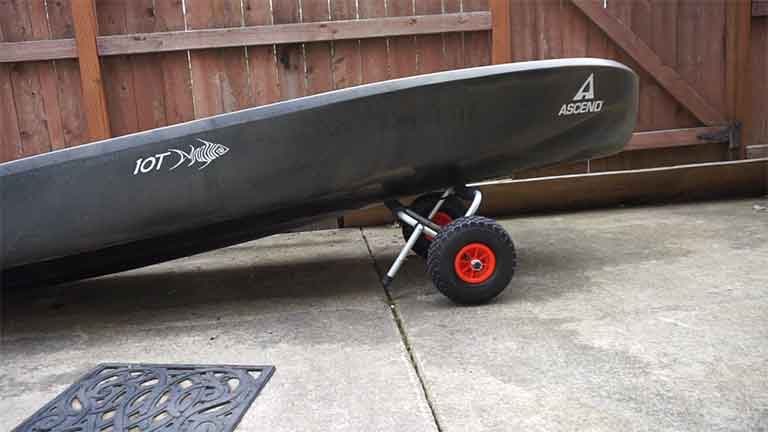 A kayak cart is relatively less compulsory compared to some of the other items I mentioned here. Neither does it have a use in all circumstances. But where it does, that's not insignificant. That's why I chose to mention it here. It can save you a good deal of hustle and spare the hull of your kayak intact.
You see, not every fishing location is equally convenient. Some locations are relatively more remote and inaccessible compared to others. If you frequent between multiple fishing spots, or if you need to drag your kayak to reach the water body, a kayak cart will help you a lot.
Besides, it's a one-time investment, but you'll be getting the output for a long time. The down-to-basic structure of a kayak cart helps to minimizethe complicacy and repairs needed. It's small, light, and easy to carry around when the kayak is not on it.
10. GPS Tracker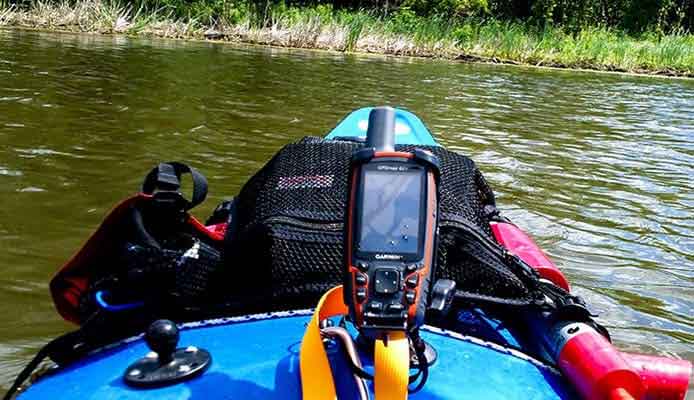 Having a GPS tracker, will not only help you navigate in massive bodies of water, but also keep track of where you fished recently, or where to go to find a bigger school of fish, etc. Modern devices can be as simple as a wristwatch, which is no additional effort to carry but effective, nonetheless.
You can collect a wide variety of data using a Kayak GPS tracker, starting from finding your position to keeping track of your movements. And not to orbit around the same position.
Some devices even offer functionalities like adding a marker to your position, where you found (in the past) a lot of fish so that you can come back later.
Overall, a GPS tracker is a helpful gadget to have ready at hand, especially when it's not a big deal to have one. Not to mention help you get back, should you get lost in massive lakes or ocean.
11. Lightweight Paddle
Paddle weight is critical when kayaking because it affects the speed and maneuverability of your boat.
You can find lightweight paddle options that are perfect for you, depending on your experience level and comfort preferences. Some factors to consider when selecting a paddle include its size, shape, and material composition.
Make sure you select a paddle that is compatible with the type of kayak you own so that you have an easier time paddling in any direction without having to adjust your gear or stance constantly.
Always store your paddle safely when not in use so that it doesn't get damaged by weather or other elements while stored away out of sight.
12. Leash or Bungee Cords
Fishing can be a fun, family-friendly activity that everyone in your group can enjoy.
One way to make sure everyone has a good time is by ensuring they have the right fishing accessories.
You need something sturdy and safe to hold onto your catch while you reel it in, so consider getting a leash or bungee cord for your kayak fishing arsenal.
These cords come in various lengths and are perfect for any size boat or person, making them ideal for both beginners and seasoned anglers alike.
Not only do these cords keep you from losing anything precious on the water, but they're also practical as safety devices when landing fish. If you don't already have one of these handy gadgets around, now is the time to invest in one – especially if you love spending time outdoors fishing with friends.
13. Landing Net
Landing nets can help you land your catch quickly and easily. They come in a variety of sizes, so they fit most boats.
You don't need to waste time tying the net onto the boat.
It attaches magnetically With a landing net, you no longer have to worry about getting tangled in fishing lines or hooks.
If you're targeting larger fish such as salmon or tuna, purchase a heavier-duty landing net For smaller gamefish, like trout or bass, use a lighter-weight landing net.
14. Fish Lip Gripper
If you're looking for a must-have fishing accessory, try a fish lip grip. This device is designed to keep your catch from slipping out of your hands while you're reeling it in.
It's also perfect if you have arthritis or other hand issues that make gripping the rod difficult.
You can find these grips in sporting goods stores and online retailers, making them available to everyone who wants them.
Just be sure to measure your fingers before selecting one so that the fit is comfortable and effective.
15. Multi-Tool
You must have the right fishing accessories to catch big fish, and a multi-tool is one of them. This handy tool has many uses when you're out on the water kayaking including opening boxes, cutting lines, adjusting hooks, and more.
Get an inexpensive model or a top of the line one it doesn't matter as long as it performs well for your needs. Make sure you keep it with you while kayaking or fishing so that you can use it quickly and easily in case of emergency situations.
Always practice safe kayak fishing techniques by following these tips from our experts: respect the environment; avoid disturbing wildlife; be aware of obstructions such as rocks or trees; use proper gear and never overreach your abilities.
16. Flag & Lights
You don't need to spend a lot of money on kayak fishing accessories to have fun out there. The right gear can make all the difference when you're trying to catch that big fish. Be sure to pick up some quality flags and lights, too.
They'll help you find your way in the dark and attract prey fish in particular.
Top brands like Strike King offer affordable items that will get the job done well – perfect for beginner fishermen who want to take their game up a notch.
Make sure your equipment is always properly stored so it's ready when you go out paddling; this includes keeping your flags and lights clean and corrosion-free as well.
17. First-Aid Kit
Make sure you have a first-aid kit on board if you're going kayaking fishing. Basic supplies include bandages, antiseptic wipes, and pain relievers.
If someone gets hurt while kayaking or fishing, be prepared to act quickly. Keep the kit in an easily accessible place so that it's quick and easy to grab when needed.
Be aware of local regulations when packing your first-aid kit for kayaking fishing trips, you might need specific items depending on where you're Kayaking.
18. Whistle or Air Horn
Make sure you have the right accessories to help you catch that big fish. A good set of fishing tools includes a good whistle or air horn for when things get too close for comfort.
Having the right equipment can make all the difference in your success on the water, so be sure to equip yourself well.
19. Polarized, Floating Sunglasses
It is important to have sunglasses that you can use while kayaking in order to protect your eyes from the sun and wind.
Floating sunglasses are perfect for this activity because they help keep your vision unrestricted and comfortable, even when you're on the water for a long time.
Be sure to pick polarized shades if you want maximum protection against glare and reflections off surfaces like water or ice.
Many floating sunglasses come with adjustable arms so that you can customize their fit according to your face shape and size.
Finally, be sure to store your new sunglasses securely so that they don't get lost or damaged during travel or use.
20. Fillet Knife
Knives are an important part of any fishing arsenal and the right fillet knife will make your job a lot easier. The type of knife you choose is based on the kind of fish you're going to be hunting down.
There are many different types of fillet knives available, so it's important to find one that is specifically designed for Kayak Fishing.
Make sure the blade is sharpened correctly and has a comfortable grip design to avoid hand fatigue during long trips in the water with your kayak. Be prepared for anything by packing along some essential accessories like a net, line holder, bait bucket, and more.
21. Handheld VHF Radio
Portable handheld VHF radios can provide an important safety net in the event of an emergency while you are kayaking or fishing.
Sometimes, a portable VHF radio is all that is needed to communicate with other boaters or fishermen when conditions are difficult to reach by landline phone.
Choose a handheld VHF radio that has features and capabilities specific to your activity such as NOAA weather alerts and fish finder tracking services.
Remain aware of signal strength and plan your trips accordingly so you can stay connected with those on land during critical moments.
Store your handheld VHF radio out of the way but easily accessible if needed and always carry spare batteries should they run low. Kayakers and fishermen will appreciate having a durable antenna for their portable VHF radios too.
22. Fish Measuring Board
A fish measuring board is a must-have for anyone serious about fishing, and there are many different options available on the market today.
You can find a variety of sizes and shapes to choose from, so finding the perfect one for your needs will be easy.
Additionally, some fish measuring boards come with features like hooks and lure holders, making them even more versatile in your arsenal.
Make sure to take into account how much space you have available before buying a fish measuring board – they don't take up too much room but are still essential for your success out on the water.
Extra Tips
Tip 1: Be prepared with some snacks and drinks, as well as sunscreen and insect repellent, just in case you're out there all day long.
Tip 2: If you don't have your own boat or want an alternate way to fish, renting a kayak can also provide great opportunities for catching those big catches.
Tip 3: Be prepared for emergencies: keep copies of registration, liability insurance information, contact information for medical help (including ambulance service), etc. handy in case you need them quickly.
Tip 4: Always use common sense when operating any type of boat or engaging in outdoor activities.
following these tips will help ensure a safe outing
And last but not least: Have fun out there – it's one of life's simple pleasures after all.
20 Best Accessories for Kayak Fishing Review
Here we hand-picked some best products for Kayak fishing and reviewed them in order. Hope the list helps.
There are many must-have kayak fishing accessories that you will need in order to have a successful outing. These items include a good pair of binoculars, an emergency whistle, and some quality snacks.
Other essential kayak fishing gear includes tackle boxes, line weights, and a fish finder or GPS unit. If you're looking for the best kayaks for fishing then be sure to check out our selection here at Minu Kayaks.
No products found.
In order to have the best possible fishing experience, you must have the right accessories. And while there are many different types of gear out there, some essential pieces that every angler should consider include a good kayak and rod set-up.
1. Intex Explorer K2 2-Person Inflatable Kayak
No products found.
Kayaking is a great activity to take part in when you have some time on your hands. And with the Intex Explorer K2, it becomes even more enjoyable and comfortable.
This kayak includes an adjustable inflatable seat that provides maximum flexibility and comfort. In addition, the cockpit has been designed with ample space for both you and your Companion (if you choose to bring one).
It also boasts directional stability thanks to its removable SKEG feature. That will make sure that you stay safe while out paddling around in whichever direction strikes your fancy.
Plus, the bright yellow color makes it easier for anyone who may be looking for you in case of an emergency situation.
The dimensions are 10 feet 3 x 3 feet x 1 feet 8 inch inflated size which means that this kayak can accommodate up to 400 pounds/180 kilograms of weight capacity depending on how much air is pumped into it from the included high output pump.
Lastly, this kayak is made specifically for smaller bodies of water such as lakes and mild rivers- perfect if you are someone who prefers not to go too deep into water or wants something less bulky than other types of kayaks available on the market today.
So whether fishing or just wanting a leisurely paddle through scenic waterways; Intex Explorer K2 is definitely worth considering.
Pros:
Comfortable for anyone
Increased visibility
Made for smaller bodies of water
Directional stability
The Product is Best For
The Intex Explorer K2 Kayak is a 2-person inflatable kayak set that is designed for stability and easy transport. The directional stability feature removes the need for a SKEG to provide directional stability, making it easier to move around and explore your surroundings.
Additionally, the high output air pump allows you to reach higher speeds with less effort, making this kayak perfect for exploring new waterways or taking on challenging rapids.
2. Pelican – Basscreek 100XP Fishing Kayak
No products found.
Stability is key when fishing and that is why the Pelican Basscreek 100XP Fishing Kayak features a stable flat bottom hull design. You will be able to procure better balance while casting your lines and reeling in fish, making it incredibly easy to get into and out of the kayak.
The comfortable adjustable ERGOFIT G2 seating system has thicker ergonomic padding for targeted cushioning. It also allows for improved airflow which makes it more comfortable to sit on for long periods of time. Additionally, our kayaks are designed with flotation panels inside the hull in order to meet or surpass ABYC standards.
This will ensure maximum safety during your ride even if you happen to get caught up in some strong waves or current flows. Being lightweight, our kayaks are easy enough for one person to carry around without much trouble – perfect for those times when you want an outdoor activity but don't have any extra gear with you.
At 10 ft long and carrying a capacity of 325 lb, this bass boat is perfect both as a recreational vessel as well as a fishing platform – especially considering its relatively affordable price tag.
Pros:
Stability
Comfort
Lightweight
Safe
The Product is Best For
The Pelican – Basscreek 100XP Fishing Kayak is perfect for anglers who are looking for a lightweight and safe kayak that can hold up to 325 lbs. With its flat hull design, it ensures you have peace of mind while fishing.
3. Suction Cups Electronics Caddy
No products found.
This is a great way to keep your electronics organized and out of the way. The removable dividers will give you the flexibility to put whatever you want in there.
You can store your devices, cords, and other materials in this caddy. It also has a built-in cable management system that makes it easy to organize everything inside.
Additionally, the suction cups ensure that it remains securely attached to surfaces despite movement or vibration. And when it comes to durability, we have no doubts about this product's ability to withstand regular use over time by most consumers.
Plus, its sleek design will complement any décor in your home or office space easily.
Pros:
Keeps your electronics up and out of the way
Great way to keep organized
Removable Dividers
The Product is Best For
The Suction Cups Electronics Caddy is perfect for storing your electronics and other small items. The removable dividers give you many different options of what you can put in there, so it's perfect for any situation.
4. ONYX Kayak Fishing Life Jacket
No products found.
With this life jacket, you will be able to enjoy your kayak fishing trips in comfort and safety. The six adjustment straps make it easy to get a snug fit.
Plus, the high foam back ensures that you have ample support for your backseat. In terms of gear storage, there are pockets on both sides of the vest for storing essentials like phones or wallets while you are out on the water.
And since it is made from breathable mesh material, sweat will not build up and cause discomfort during long outings.
Additionally, there is also a lower back area with comfortable neoprene padding which makes sitting in the kayak more bearable too.
Last but not least, these shoulder pads provide maximum comfort when wearing the life jacket for extended periods of time
Pros:
Six adjustment straps
High foam back
Pockets designed for your essential gear
Breathable mesh lower back
Comfortable neoprene shoulder pads
The Product is Best For
The ONYX Kayak Fishing Life Jacket is a universal life jacket that has pockets designed specifically for your essential gear. This means you can store all of your essentials, like fishing rods and tackle, safely and securely while you are out on the water.
5. 4510 Super Half Satchel Soft Bait Organizer
No products found.
This tackle storage box is perfect for conveniently organizing soft bait packages. Offers customization options with 3 adjustable dividers that can create up to 4 different compartments.
The Zerust anti-corrosion technology infused into the dividers will protect your gear from rust and corrosion in extreme marine environments. It also offers lasting protection against rusting season after season by inhibiting electrochemical reactions.
The translucent plastic lid and base make it easy to identify what's inside even when closed, making it perfect for quick and organized baiting sessions with soft bait packages. Specifications include: 15″L x 8″W x 6 25″, Includes 3 Zerust dividers, Made in the USA.
Pros:
Sized for soft bait packages
Zerust anti-corrosion technology
Lasting rust defense
Easy identification double deep design
Specifications: 15″ L x 8″ W x 6.25″ D
The Product is Best For
The 4510 Super Half Satchel Soft Bait Organizer is the ultimate bait storage solution for fishermen who want to keep their gear protected from rust and corrosion. The Zerust formula inhibits electrochemical reactions that cause rust and corrosion, so your tackle will stay fresh and free of damage for up to 5 years.
6. Old Cedar Outfitters Adjustable 3-Shelf Rolling Tackle Trolley for Fishing Tackle Storage
No products found.
With this rolling tackle trolley, you can conveniently store and organize your fishing gear. It comes with three adjustable shelves that are capable of holding up to 35 pounds each.
This will accommodate a wide range of rods and combos. The unit also features rubber clips that secure the rods in place so they do not get damaged or lost during transport or storage.
Additionally, it accommodates 12 rod and reel combinations, making it ideal for storing multiple sets of equipment at one time.
Another great feature is the sturdy wheels that make movement easy even when fully loaded with gear and supplies.
Plus, it is very easy to assemble too- just screw on the legs. So if you're looking for an efficient way to store your fishing gear, then take a look at the Old Cedar Outfitters Adjustable 3-Shelf Rolling Tackle Trolley for Fishing Tackle Storage, which Holds up to 12 Fishing Rods and Multiple Tackle Cases and Gear.
Pros:
Easy to assemble
Three adjustable shelves
Accommodates 12 Rod and Reel Combinations
Comes with six peg hooks for hanging; line, baits, gear, etc..
Sturdy Wheels Allow for Easy Movement
The Product is Best For
The Old Cedar Outfitters Tackle Trolley is a great option for anyone who wants an easy way to store their fishing gear. The 3-shelf rolling tackle trolley can hold up to 12 rods or combos, making it perfect for storing all your fishing gear in one place.
7. Lowrance HOOK Reveal 7x SplitShot – 7-inch Fish Finder
No products found.
FishReveal combines the target separation of Lowrance CHIRP sonar and the high-resolution images of structure from DownScan Imaging to make fish light up on your display, making them easier to identify.
The GPS Plotter makes the route, trail, and waypoint navigation easy – perfect for anglers who want to get straight down to fishing without any distractions.
SplitShot features the fish-finding capability of wide-angle high CHIRP sonar and the high-resolution images of fish-holding structures from DownScan Imaging; giving you a clear view below your boat no matter where you are in relation to those pesky fishes.
With autotuning sonar, HOOK Reveal ensures that you always have accurate readings with minimal fussing – so you can spend more time fishing and less time reworking your settings.
The 7" display is crisp and clear even when wet or in low light conditions, making it ideal for viewing while out on the water.
Pros:
FishReveal
GPS Plotter
Splitshot Transducer
autotuning sonar
7-inch display
The Product is Best For
The Lowrance HOOK Reveal 7x SplitShot Fish Finder is perfect for anglers who want the best views below the boat. With its SPLITSHOT TRANSDUCER, you can get wide-angle high CHIRP sonar and the high-resolution images of fish-holding structures from DownScan Imaging to find those big catches.
8. Wilderness Systems Mesh Storage Sleeve for Kayak Storage
No products found.
This mesh storage sleeve is perfect for kayaking enthusiasts who want to keep their gear organized and tidy. The 4 pockets on the sleeve can accommodate a wide range of items- from paddles to life jackets.
It's also versatile in terms of installation as it can be attached using a bungee ball latch system or screws. That means you don't have to worry about damaging your boat when attaching the sleeve.
And, it features fast-drying properties that will prevent any water accumulation inside the pocketing system over time.
Plus, it's snag-free so you won't have to fight with cords and other residues while storing your gear indoors or outdoors.
This product is specifically designed for use with kayaks and other sporting equipment such as SUPs (stand up paddleboards). So if you're looking for equipment storage solutions that are specific to one sport, then this may be just what you're looking for.
Pros:
4 pockets
Bungee ball Latching system
Easy-draining
Fast-Drying and snag-free
Sport type: kayaking
The Product is Best For
The Wilderness Systems Mesh Storage Sleeve is the perfect storage solution for kayaks. It has a bungee ball Latching system that securely holds your kayak in place, so you can quickly and easily grab it when you need it.
9. Plano PLAB88140 Weekend Series Kayak Crate Soft Bags
No products found.
At Plano, we know that passionate kayakers need a place to store their gear safely and conveniently. That is why we have created the PLAB88140 weekend series tackle bag.
It is made of durable water-resistant fabric and fits securely in a milk crate (not included). The four-panel design allows you to carry as much or as little as you need at any given time.
And if you do not require bulk storage, simply remove one panel and utilize its attachment points for customized storage instead. On one side of the bag, there are two sections with bulk storage while on the other side there is an open interior with two sections of STORAGE.
You can easily access your pliers, hook removers, etc., thanks to all these convenient D-rings and tool holders. The large lid features a spacious storage area that can accommodate even larger items like fishing rods or tents without having them take up space inside the main compartment itself.
Plus, it also comes equipped with a zippered pocket for additional storage needs. Sport type: Outdoor lifestyle – This tackle bag was designed specifically for kayaks so you can enjoy all your outdoor adventures worry free.
Pros:
Large open interior
Sturdy carry handles
Easily remove panels
Side storage panels double as sturdy carry handles
Numerous D-rings and two tool holders
The Product is Best For
The Plano PLAB88140 Weekend Series Kayak Crate Soft Bags are perfect for carrying your kayaks and other gear on the go. The four-panel design allows you to carry as much or as little gear as you need, while the attachment points make it easy to customize your storage.
10. Wilderness Systems Kayak Crate
No products found.
The Kayak Crate by Wilderness Systems is a great way to store your kayaks. Not only does it come with four (4) rod holders, but the main compartment can also serve as additional storage.
It is water resistant when latched closed and has universal lash-down points for convenience. With dimensions of 13-1/4″ – 12-1/4″ – 18″, it is easy to fit in most spaces. And at 10.9 lbs, it will not be too heavy to carry around either.
The crate is made from blow-molded plastic and features a durable design that will last for years on end without any issues. The Kayak Crate comes standard with brackets that you can use to raise the position of the rod holders if needed so that they accommodate narrower tank wells or boats.
No assembly is required. Simply attach the brackets and you're ready to go. The height of the crate ranges from 13-1/4″ to 18″. So no matter what size kayaks you have, this unit will be able to accommodate them perfectly. Plus, its width range allows for various other accessories such as jackets or gear bags underneath without having them obstruct your view while paddling.
Pros:
Large main compartment
Comes standard with four (4) rod holders
Water resistant, when latched, closed
Universal lash-down points
Comes with brackets to raise the position of the rod holders
No assembly required
The Product is Best For
The Wilderness Systems Kayak Crate is perfect for storing and organizing your kayaks. It comes standard with four (4) rod holders that are designed to fit most kayaks. This crate also features a built-in watertight seal, so you can rest assured your gear is safe and secure while you're out on the water.
11. Seachoice Emergency Multi-Purpose Telescoping Boat Hook and Paddle
No products found.
This telescoping boat hook features corrosion resistant aluminum tubing and a lightweight design. It also has high strength molded paddles, handles,s, and coupling.
The paddle is adjustable from 26 to 72 inches in length. The boat hook can be used as a fishing rod or tow line holder with the help of its Telescopic feature. And you can adjust it according to your needs- whether you are using it for fishing or towing boats around at sea, this fixture will serve you well.
Another great thing about this product is that it comes in an orange color which will add some pizzazz to your outdoor activities. Last but not least, this emergency multi-purpose boat hook measures 8x6x5 inches when collapsed and 12x8x7 inches when extended fully outstretched (it extends up to 36"). So if you need something compact yet powerful enough for all sorts of tasks outdoors then look no further than the Seachoice Emergency Multi-Purpose Telescoping Boat Hook and Paddle, Orange.
Pros:
Telescoping dual-purpose paddle/boat hook
corrosion resistant aluminum tubing
high strength molded paddle, handle, and coupling
lightweight design
color: orange
The Product is Best For
The Seachoice Emergency Multi-Purpose Telescoping Boat Hook and Paddle is designed with a high strength molded paddle, handle, and coupling for versatility and reliability when you need it most. With a 26" to 72" reach, this boat hook can be used for a variety of tasks in and around the water, making it an essential part of your emergency preparedness kit.
12. Vont 4 Pack LED Camping Lantern, LED Lanterns
No products found.
With 30 bright LED bulbs, this compact camping lantern is able to light up the entire tent or room with ease. It's also collapsible for easy storage and transportation.
Made of durable military grade materials, you can be sure that this lantern will survive a 10-foot drop and being temporarily submerged under water. Additionally, it comes with an original patented version that guarantees long-lasting quality gear for your outdoor adventures.
Lastly, we provide a lifetime warranty on the product against loss, theft, or defects in materials or workmanship – whichever occurs first.
Pros:
30 crazy bright LEDs
Collapsible design
Waterproof
Lifetime warranty
CE/ RoHS/ EMC certified
The Product is Best For
The Vont LED Camping Lantern is perfect for camping, hiking, and other outdoor activities where you need a reliable source of light. It is constructed with military-grade materials that make it able to survive a 10-foot drop and temporarily submerged under water.
13. ReelSonar CGG-MY-IBOBBER iBobber Wireless Bluetooth Smart Fish Finder
No products found.
The ReelSonar CGG-MY-IBOBBER fish finder is perfect for anyone who loves fishing. It has patented sonar technology that makes it one of the most accurate and reliable devices on the market today.
With its LED beacon, you will always know when your battery needs to be recharged or if there are any other problems with the device. Plus, its 10+ hrs battery life is amazing. You can use it either as a bobber or as a remote fish finder.
Moreover, it comes with two snap swivel connections so you can attach it in different positions easily. On top of that, you also have access to various app functions such as raw sonar readings down to 135 feet depth or fish tagging views where tagged icons color coded by size show how deep each fish was caught (small = 1′, medium = 2′ and large = 3′).
Fish strikes are detected quickly and alarm notifications will let you know about them in real time too. Outfitted with an integrated GPS system, you can track your catches along with detailed weather data (temp & rain conditions, etc) while out fishing too.
As if all this wasn't enough – there's even more included when purchasing the iBobber hardware separately such as contour mapping for waterbeds and structures; lunar calendar & weather features; trip log w/ date, time location information including water temp & conditions; hit alarms – PLUS social media share capabilities.
Honestly – this thing has everything… And yes – compatible with Go devices too.
Pros:
Depth-tagged fish icons color coded by size
GPS spot tagging with an interactive map
Trip Log with date, time, location, water temp
Fish & strike alarms
Optional social media share features
Compatible with Google Watch and iWatch
The Product is Best For
The ReelSonar CGG-MY-IBOBBER iBobber Fish Finder is perfect for anglers who want to stay connected while fishing. It has a rechargeable battery and a charges status indicator light so you can always know how much power remains, making it ideal for long trips out on the water.
14. Lure Holder Hooks Lure Baits Storage Box Fishing Accessories Boxes
No products found.
The Lure Box is a high quality, safe and durable lure storage box. It is made of quality plastic and features stable performance. Its excellent materials can provide an increased life for the product as well.
It comes in two different colors to choose from- black or green- both of which are tough and resistant to wear and tear. With its lightweight design, it is easy to carry around even when full of lures or baits boxes.
You can also use it as a portable bait storage container too if you need one that's large enough (14 slots). Another great feature about this product is that it comes with drainage holes so the box stays dry inside even during heavy rains or flooding situations.
This will ensure your lures remain in good condition at all times. Plus, the cover closes smoothly with no jingling noises thereby ensuring stealthy operations while fishing. Lastly, like most other top rated products on Amazon, this Lure Box come with 2 types of covers to choose from-( standard & deluxe ).
So whether you're looking for something simple yet effective or want something more luxurious; this bait storage option has you covered.
Pros:
100% high quality material
The Lure Box is made of quality plastic
the box is tough and durable
can provide a safer guarantee for your life
good materials can increase product life
High Quality Material
Excellent performance
The Product is Best For
The Lure Box is perfect for storing your baits, lures, and other fishing accessories. It has a capacity of 14 slots that will let you store everything you need without taking up too much space.
15. Eveready LED Camping Lantern 360 PRO Super Bright Kayak Lights
No products found.
This LED camping lantern is perfect for emergencies or general use in tents and other places where you need light. It comes with 4 collapsible lights that each operate with 3 AA batteries (included).
So, you have everything that you need, right out of the box. The 360-degree light coverage is impressive, as well as bright and white in color. You can also use it to provide directional lighting inside your tent or campsite during night time activities.
Another great feature of this lantern is its magnet-based base that makes mounting easy – no more struggling trying to hold onto a metal post while hanging your lantern. Lastly, it has 4 light modes: 360 degree Lantern mode (for illuminating an entire room), directional flashlight mode (to help find things in the dark), red night vision mode (if you are looking for better visibility at nighttime ), and flashing red strobe/SOS Mode for emergencies if all else fails.
Talking about reliability; these camp lamps last up to 16 hours in lantern mode and 9 hours when using its flashlight function. That means plenty of runtime whether indoors or outdoors activity pursuits take place.
Pros:
360 degree lantern mode
directional flashlight mode
red night vision mode
flashing red strobe/SOS mode for emergencies
The Product is Best For
The Eveready LED Camping Lantern 360 PRO is a rugged and super bright tent light that comes with a magnetic base and hanging hook. It has an energy efficient LED bulb that lasts up to 100 hours, making it the perfect camping lantern for any adventure.
16. EGO Catch & Release Trout Fishing Net
No products found.
If you are looking for a net that is perfect for catching and releases fishing, then the EGO Trout Fishing Net should be on your list. It is easy to handle even if you have large fish in hand.
The light- yet sturdy design also makes it easy to carry around without feeling weighed down. The ergonomic handle offers a comfortable grip no matter how wet or slippery the situation may become.
You will not have any trouble handling this net either- whether it's during fishing or when transporting it from one place to another. In addition to its versatility, the trout fishing net is also quite strong and durable thanks to its injected molding process..
So, you can rest assured knowing that your investment will last longer. Last but certainly not least, we love how EGO nets don't require huge storage spaces like other types of nets do- making them great for taking with you anywhere you go. Plus, they come with our 30-day money back guarantee so there's nothing stopping you from trying out this amazing product today.
Pros:
Catch & Release
Lightweight and durable
Personal carry net
The anywhere net
The Product is Best For
The EGO Trout Fishing Net is perfect for anglers who want an easy to use and lightweight net that still offers great durability and strength. With a comfortable ergonomic handle, this net makes it easy for anyone to grab and go fishing.
17. Motorola Talkabout T800 Two-Way Radios
No products found.
When it comes to communications, many people turn to radios in order to stay connected with loved ones or friends. And that is why Motorola has designed the Talkabout T800 two-way radios.
They come with a lot of features and support an impressive vocal range as well as data range. The channels are easily customizable too, allowing you to find the perfect one for your needs.
You can also set up filters so that only certain frequencies reach your device. This way, you can avoid any unwanted noise interference from other sources around you while staying connected wirelessly.
Even when outside of signal range, the T800 will still keep track of your location using its offline tracking feature . This means that family or friends won't have to worry about losing contact with you during difficult circumstances such as weather conditions or emergencies.
With its 11 weather channels, it is possible to stay informed on all sorts of environmental conditions like rain and snow even if there is no cell service available nearby. Additionally, 7 NOAA weather channels provide real-time updates on local forecasts and warnings (including flash flood alerts).
Finally, because these radios are Bluetooth enabled they are also easy to use when connecting multiple devices simultaneously – perfect for large groups who want quick access to each other's messages without having them crowd into one conversation thread.
Pros:
Radio Control Settings
Bluetooth Connectivity
Off-Grid Group Messaging Or Broadcasting
Offline Location Sharing And Tracking
Easy Group Communication
Emergency Location
The Product is Best For
The Motorola Talkabout T800 Two-Way Radios are perfect for anyone who needs a reliable two-way radio with long range. They offer up to 35-mile voice range and 20-mile data range, depending on the terrain and conditions. Plus, they're easy to use and provide crystal clear transmission even in difficult environments.
18. HUK, Polarized Lens Eyewear Fishing Sunglass
No products found.
Huk is a company that specializes in performance fishing products. Their goal is to unite all anglers, from the very first cast to the last. They have done this by introducing polarized lenses into their lineup of sunglasses.
The lenses are made out of premium polycarbonate material and boast 100% UV protection. This will help you stay safe while outdoors in harsh sunlight conditions or during extended periods of activity such as hunting or fishing trips.
The frames are injected with TR90 frame material which makes them strong and lightweight at the same time. It also provides resilience when it comes to holding its shape over an extended period of time without showing any signs of wear and tear.
The 8-base wrap on these sunglasses offers great light blocking properties, making them ideal for sunny days spent outdoors engaging in activities like fishing or playing sports. Finally, they come in sizes medium (50-55) and large (56-59). So no matter what your face size may be, you'll be able to find a pair that fits well.
Pros:
Premium Polarized polycarbonate lenses
8-Base wrap
TR90 frame material
Injected
The Product is Best For
The HUK SIWASH is great fishing, sports, and outdoors sunglasses that have performance frames. The injected TR90 frame material is strong, lightweight, and resiliently holds shape for lasting fit and comfort.
19. Frabill EZ Crappie Check'R Fish Measurer
No products found.
Crappie fishing is a popular sport enjoyed by many anglers. With this easy-to-use measuring system, you can get rid of tedious tapes and measurements altogether.
The EZ Check'R Fish Measurer measures crappie up to 12 inches long and features a quick release mechanism for the head so that it can be easily dropped in. Soaking the tool in water before use will help to clean it quickly after each usage.
And because it is readable even when wet, there's no need to fumble around trying to find your reading or write down an accurate measurement. Simply drop the fish into the device for an instant length reading – making sure not to damage either the fish or the measuring apparatus in the process.
This simple yet ingenious tool has been designed specifically for crappie fishing and provides fast, efficient results time after time. Combine this with a quality set of tackle and you're good to go on some great crappie hunting adventures.
Pros:
Easy measuring tool
Measuring crappie up to 12 inches
Rinses clean with water
Easy to read and use
The Product is Best For
The Frabill EZ Crappie Check'R Fish Measurer is an easy to use the measuring system that eliminates the need for tedious tapes. It measures crappie up to 12″ in length with fast and accurate results.
20. Hurricane Stringer with 10 Stainless Steel Snaps
The Hurricane 15 Foot Stringer is a long, durable stringer that will help you get the job done efficiently and quickly. It has 10 stainless steel snaps along its length to provide an even hold on your projects.
The tapered needle ensures precise cuts every time, while the sturdy construction ensures that this product lasts for years without any issues. With dimensions of 15 feet by 1 inch by 0.5 inch, it is easy to transport and store too.
Plus, it comes with a convenient carrying case so you can take it with you wherever you go. Another great aspect of this product is its price tag- it's affordable yet provides high-quality results.
Pros:
15 feet long
Durable
Efficient and Quick
10 stainless steel snaps
The Product is Best For
This is best for any fishing activity. A must-have product for you.
Conclusion
That concludes my list of the must-have accessories for kayak fishing. I hope you found it helpful. These are some of the most necessary accessories you need for a pleasant and exciting as well as safe kayak fishing experience. These are not all the items, but they occurred to me to be of the most significance.