A truck camping setup is the best way to experience peaceful locations where you won't find conventional campgrounds. If your truck is equipped and organized properly, you can use it as a comfortable yet versatile basecamp for hunting.
A family deer camp is a great way to spend time together and hunt whitetails in the backyard. Hunting accommodations on public lands have never been easier thanks to the combination of sleeping quarters, gear storage, and transportation capabilities.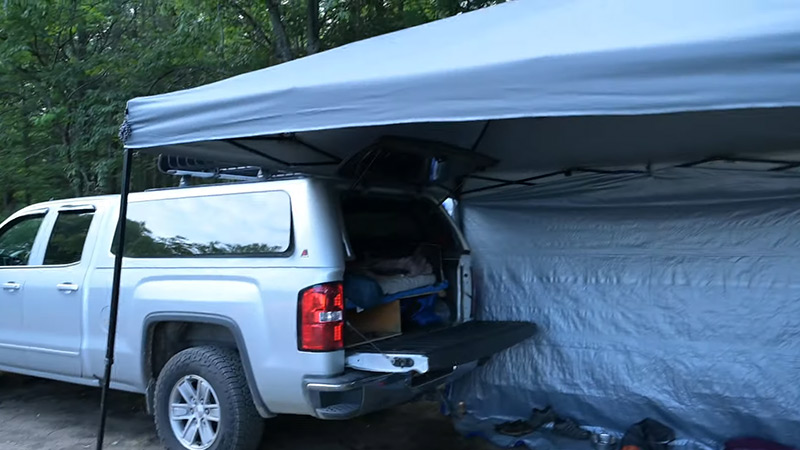 Advantages Of Truck Camping
Camping in your truck allows you to go anywhere and stay as long as you'd like. As opposed to trailers, there are no tight pull-offs or rough roads on a pickup.
Additionally, you can park right on the public lands where you want to hunt and sometimes even set up camp from where you can glass potential hunting areas.
You also benefit from moving your tent to the back of your truck and from eliminating the extra time spent setting up and packing up a tent.
Rainy and snowy days are especially useful for this. You can easily relocate if your first stop doesn't work out. You can also throw a few items in your vehicle and drive off right away.
This is our ultimate guide to spending less on the perfect setup for truck camping. Your situation and preferences will determine how to adjust.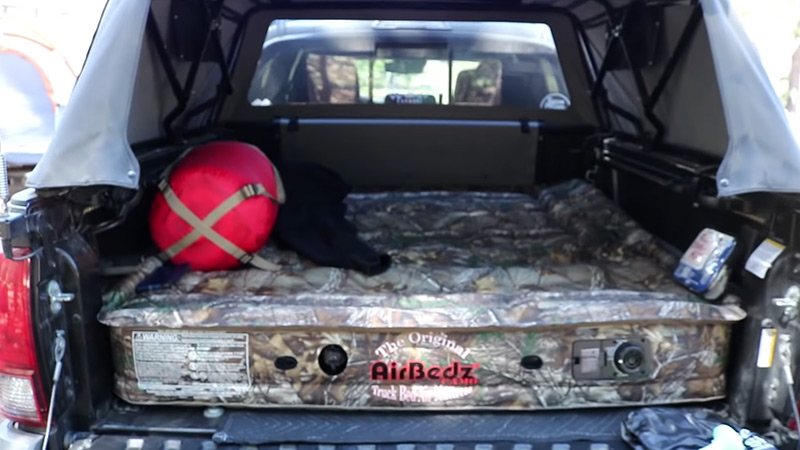 Start With a Good Truck Tent
The first thing we need is a place to sleep. No other type of tent is more versatile or affordable than a good truck tent. Price of the tents and other camping gear becomes lower during a specific time of the year. So, if you want to save some money choose the best time to buy the tent and then make your purchase.
Starting in truck camping has never been easier. An advantage of sleeping off-ground is that it's cleaner and warmer. Setting up in the bed of your truck also opens up endless destinations. If you're parked wherever you want, a truck tent can be set up in minutes without the need for a campsite reservation.
You might also consider a rooftop tent if you want to upgrade your tent game. In comparison with a bed tent, these are more expensive, but they offer increased comfort, space, and protection against creatures.
Additionally, you have the option of tearing apart part of your roof while remaining on your roof for highway speeds.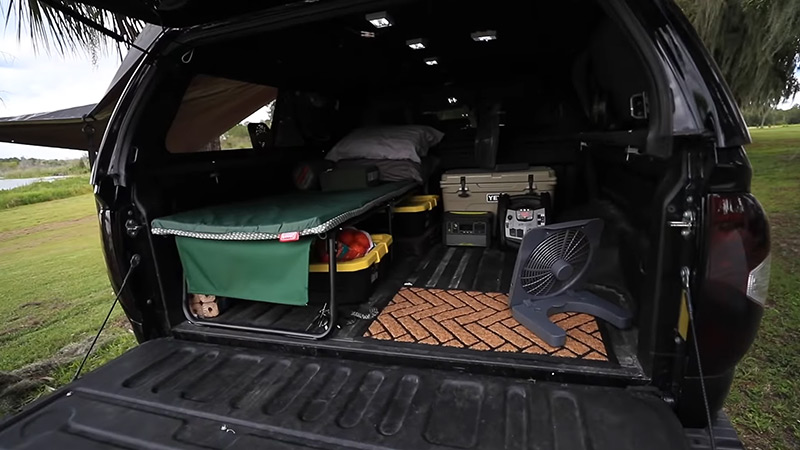 The Ideal Truck Setup
Having a full-sized 4WD pickup with a topper on the back is the best option for a truck camping rig, in my opinion. Although a large truck has more storage than a small one, I prefer it for its added space. SUVs or vans can also be used for a similar style of camp setup, but I think the truck is more adaptable.
In general, if I come across a deer carcass in my car bed rather than on the carpeted interior, I feel more comfortable throwing the bloody carcass in there.
Full-sized beds provide sufficient length for most people so that their feet do not hit the tailgate while they sleep. There are short beds that can also be used, but you may need to sleep at an angle.
Don't Sleep on a Bare Truck Bed
The truck bed will keep you dry and safe but sleeping directly on it is not an enjoyable experience. It is crucial to have a sleeping pad or air mattress when you are planning on getting a good night's sleep.
No need to burn out your lungs or attach a cord to blow it up with the built-in hand pump. You can have a cozy bed under the stars in 10 minutes if you use some standard bedding.
Ventilation
I would suggest a cap with either pop-out or sliding windows, screened windows, or fully operable windows for good ventilation.
Furthermore, I think a carpeted interior helps keep the cap warmer in the winter and absorbs moisture in the summer.
Accessibility
While truck camping can offer several benefits, one of its downsides is its accessibility. Installing a Hitch Step can really benefit people with animals, children, or those with underlying physical problems. Driving a big, lifted pickup makes this even more of a problem.
Power
People who have brought portable batteries or power stations out of the office know how hard it is. On the other hand, a truck camping setup allows you to choose your site wherever you want it!
In an emergency, you could always use the power from your vehicle; why risk draining it? Your truck cab should be equipped with a power station.
You can charge personal devices, navigational devices, electric appliances, or electric appliances. Your tent's rear access window will allow you to provide power directly to your sleeping area without rearranging anything!
Light
Easily overlooked, yet one of the most important components of your camping setup is your camper's running system. It's nice to be able to haul a lot more gear in a truck than you could if you hiked it to your campsite.
Besides having a power source, you can also bring along some other creature comforts to make your stay truly comfortable. String lights, hanging lanterns, and the like can make your tent's warmth feel like home, something that headlamps cannot create.
Utilize An Awning
Incorporating some outdoor space into your setup is one of the best things you can do. The easiest way to do this is with an awning like the one built into our Sports Truck Tents or as a separate accessory.
It's the best way to put the finishing touches on your setup. Awnings make it easy to cook outdoors, dry wet clothes, snuggle up beside a fire, or simply sip your favorite beverage.
When it is especially hot or rainy, this can be particularly useful. It is well worth investing in a covered space to protect against sun and rain.
Protection
A tarp, two adjustable poles, and a paracord are all you need to make your own awning if there will be inclement weather. It allows you to grill on the tailgate, relax on your camp chair, or even change while standing up while staying dry in rain or snow.
Choose Your Own Adventure
There might not be an exact setup for you, but this is what I have found to be effective in camping, fishing, and hunting on our nation's public lands over the past ten years. As a stepping-off point, you can customize your own truck camping setup, and you can choose the adventure that's right for you. It is time to set out on the road.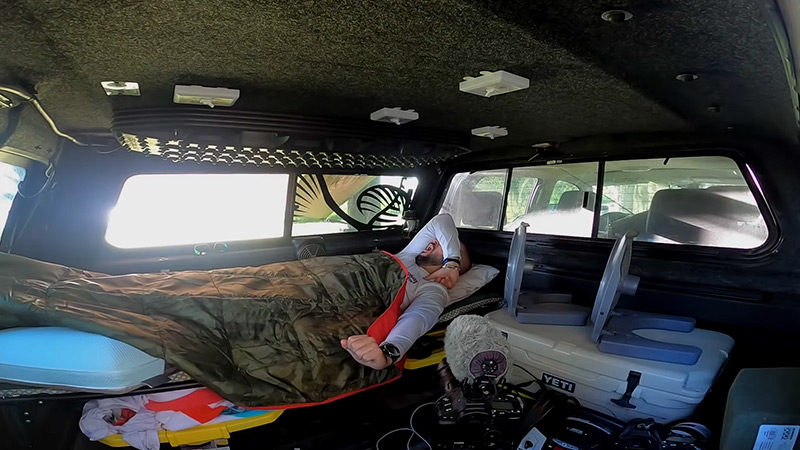 Final Words
Camping on a truck is a great way to get a taste of freestyle camping at an affordable price point. While backpacking, you couldn't get to too many places without a vehicle.
An RV, however, could take you there. There is, however, an amazing middle ground offered by truck camping. The tips above will allow you to build a great camping truck setup for under $1000.
Take a jump and visit some truly stunning locations without having to carry your gear for hours on end.