Can you catch trout without fly fishing?
In general, trout fishing isn't that hard. You can easily catch one or two without any prior experience. However, if you want to catch a lot of them consistently, you will need experience and knowledge.
I prefer not to fly fish. That is because I'm more of a spin fisherman. And I can proudly say I'm extremely successful at catching trout – says Ryan Lemieux from South Windsor.
He recommends using a 5′-5'6″ fishing pole with a 4 lb. fluorocarbon line. It doesn't have to be a fly-fishing rod. You can use a spinning rod instead. Also, make sure to use a size eight hook.
Here are a couple of things that you need to keep in mind before you start trout fishing without a fly rod. If this is the beginning of your fishing adventures, don't go for the name brands just yet. Any brands will do for now.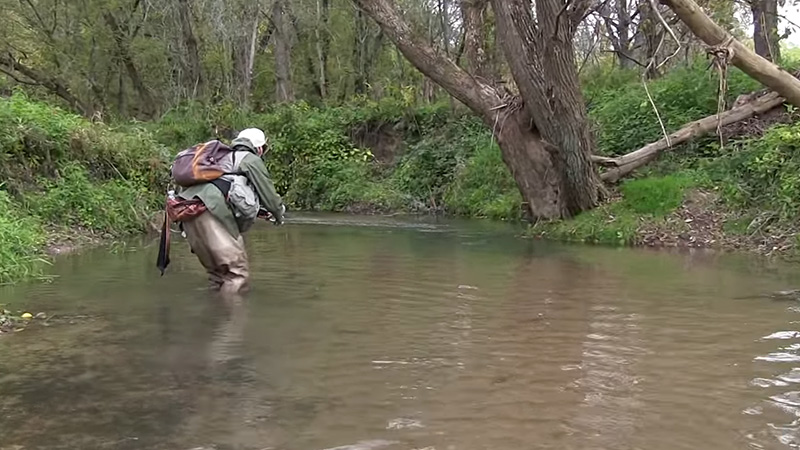 Important Trout Fishing Tips Without Fly Fishing
Selling the old fishing gears upgrade those to more expensive names like St. Croix, Daiwa, Shimano, etc., only if you think that fishing is exciting, and you are enjoying it. You can find information about where trout are stocked on the internet in the area where you want to fish.
As for the baits, I always fish with my favorite baits, which are Power bait and nightcrawlers. Many also find it efficient to use small minnows and mealworms as bait as well.
You can also check YouTube videos on popular trout fishing techniques and tips to give you a little insight into how others are fishing for trout.
Insights into how others are fishing, and their tips and tricks will certainly pay off if you spend some time. Online is everything… from where to find the right fishing reel and line, along with what knots to use when securing your hook to your line, etc.
Find out where trout like to live. If you are watching trout fishing videos on YouTube, pay attention to what the spot/hole looks like. The trout are there for a reason because that is where the trout are.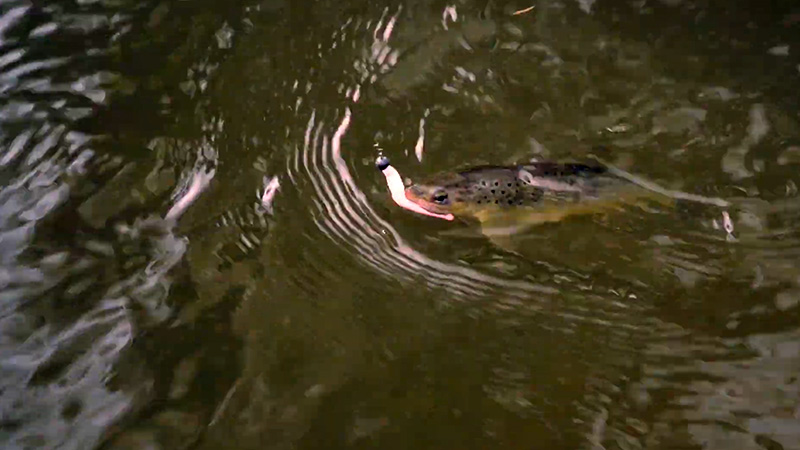 Fishing For Trout With Fly Fishing
Here is what Don Walker from Colorado has to say about fishing for trout without fly fishing. Trout fishing has been part of my adult life for more than a decade.
Since I can remember, I have mostly fished with a spin/lure, and only recently have I begun fly fishing. There are a number of reasons for this.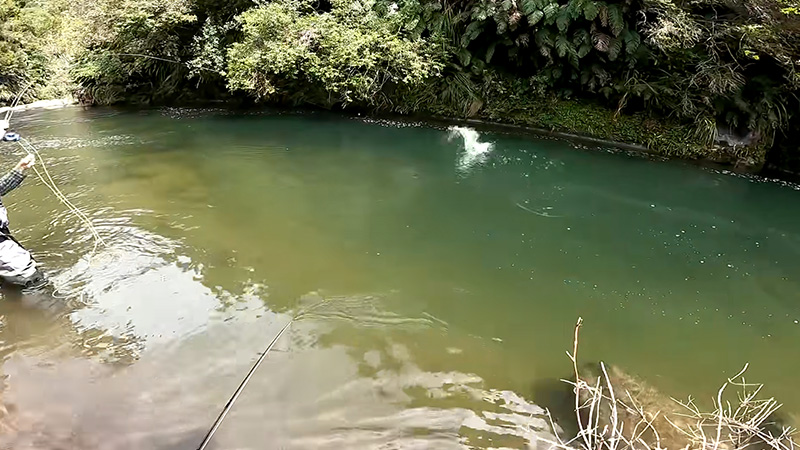 It occurred to me some years ago that though I enjoy catching trout, most of the time, I don't particularly enjoy eating it.
The mortality rate of treble hook lures is higher than that of single hook lures because it is difficult to catch and release those on treble hooks. Except for a few exceptions, flies are generally equipped with only one hook.
There are many fly fishermen, if not most, who use barbless hooks or hooks with a smashed or compressed barb. This will make the release easier and decrease mortality rates.
Fly fishing is always a challenge. It requires a lot of concentration, patience, and more skill than spin fishing. A person must find out how to read the water, correctly cast the line, retrieve the catch, and which fish are biting on a given day.
It's an insanely addictive hobby for all fly fishermen who tie their own flies. When you catch a trout or any other fish with a fly that you tied yourself, there's something incredibly satisfying about it.
Likewise, flies can be designed to imitate anything a trout will eat, from the tiniest midges to a small rodent or bird.
To learn the ropes, it is best if you work on it with someone who knows how to fly fish. Despite that, I would first use worms or other organic baits if I needed to catch fish in order to survive.
For example, power bait or salmon eggs, a #4 Panther Martin spinner flies with a Wooley bugger. You can also use flies with spinning gear. It doesn't matter what setup you use; it's important that you are having fun.
Trout Fishing Without Fly Rod | Things To Follow
Can you fish trout without a fly rod? Absolutely! A trout fisherman who does not fish with flies has two options: to fish with lures or to use bait.
They can both be used with the same setup. It's best to use a small spinning reel with an ultralight trout rod.
For your fishing rod, make sure it is 5′6″ to 6′5″ in length. Also, check for the ultralight power rating with fast action.
For the reel, any model with a size of 100 to 2500 will suffice. Make sure it's a spinning reel.
As for the line, use a 4lb to 8 lb. line. The line weight will depend on how heavy the trout are in the area.
Always keep some weights and a selection of single hooks if you are bait fishing. Weights can be bought in several different sizes. The hook size would be between a size eight and a size twelve.
Spinners, spoons, and small crankbaits are some of the lures that are commonly used in lure fishing. Here are some of the most popular ones.
Rapala
Blue Fox Vibrax
Kastmaster
Panther Martins
Rooster Tails
Other than that, you also need fishing pliers and a small landing net. Start fishing in a stocked lake if you are a complete beginner. You can venture on wild river banks and streams once you have a little experience.
You may want to ask someone for help learning. This is likely to be one of the quickest and easiest ways to learn trout fishing.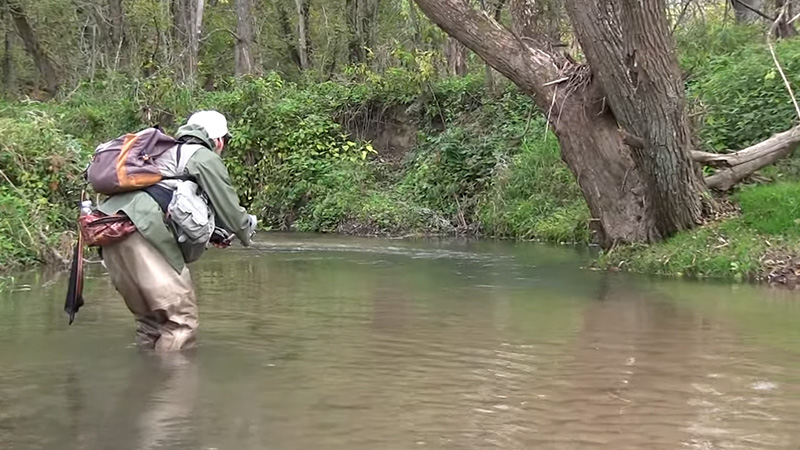 Spin Fishing For Trout
It is 100 percent to catch trout without using a fly-fishing rod or setup. There are plenty of fishermen that use spinning rods and reels for trout fishing. Consider spinning setup with relatively light lines.
For starters, a 4 lb. line would be best. After that, get some spinning lures. You can try black and yellow panther martins with a gold spinner.
Trout Locations Tips
First of all, look for deep, slow-moving water followed by faster-moving water. Deep enough water along the banks and on the surface of the water hold fish.
Those are the spots you might want to try casting into. It would be best if you reeled in quickly enough to get the spinner blade moving. Here is a good video of fishing along banks and in holes.
Final Words
The wild trout fishing experience is one of the most enjoyable and rewarding that you will have as a fisherman. Fishing for trout can be one of the most enjoyable activities on the water.
Streams are my favorite place to fish for trout, though I also like to fish trout in lakes and rivers. There's a misconception that trout can only be caught with a fly rod. However, that's not true.
Fly fishing for trout is almost always preferred, but not everyone has a fly rod or is proficient at fly fishing. It's similar to catching most other kinds of fish. In order to catch a trout, you need to know its tendencies.