Let's talk about spotting scopes for a moment. However, we are not going to touch on the glass quality or the coatings. This article will focus primarily on numbers.
When it comes to optics, what do those numbers mean? Spotting scopes are generally more powerful than binoculars. Spotting scopes that have an objective lens of 85mm and are 20-60mm are considered large spotting scopes.
Is this important information? It is very important to know these numbers because they tell you the diameter of your exit pupil. Exit pupil size determines how bright the image will be.
You will have an extremely large exit pupil with an objective lens like this 85. Under low-light conditions, it will be bright.
What is the need for it? The larger objective lens will let more light pass through the scope so that the hunter can spot the game more easily when he or she is out in the field.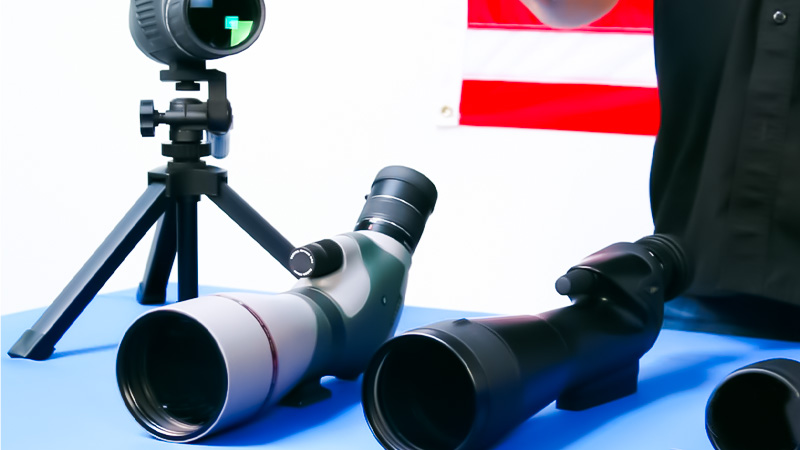 What Is a Spotting Scope?
Spotting scopes are small telescopes modified for daytime use. There are several important differences between an astronomical telescope and a spotting scope.
To begin with, the image created by a spotting scope is always upright, while an image from an astronomical telescope will often be reversed or even upside-down.
Spotting scopes are smaller than astronomical telescopes, mainly for portability reasons.
Third, a spotting scope is a smaller magnification instrument than a telescope, since it is impossible to use high magnifications for astronomy in the daytime due to the atmosphere.
A spotting scope is usually mounted on a standard tripod, whereas astronomical telescopes require a special mount, which is rarely suitable for daytime use.
The final major benefit of spotting scopes is that they are water- and fog-proof. Any time you need more magnification than what binoculars provide, you should use a spotting scope.
Birders and hunters use spotting scopes to view birds, wildlife, ships, and other distant objects and observe landscapes.
A spotting scope can also be used to score targets at rifle, pistol, and archery ranges, and they can also be used to observe the night sky. Also, many different types of cameras can take long-distance pictures using spotting scopes.
What Do The Numbers Mean On A Spotting Scope?
There are three numbers on most spotting scopes. The magnification range is represented by the first two numbers, while the last number represents the size of the front lens.
The 15-45×60 value, then, gives you a spotting scope with a zoom capability of 15-45x and a front lens measuring 60mm in diameter.
Two numbers are always present on the side of a spotting scope. For instance, 20-60 × 80. Magnification (or zoom) is indicated by the first set of numbers.
In other words, 20-60x means variable zoom of 20x to 60x. Its objective lens diameter is indicated by the second number. 60mm to 100mm lenses are usually found on spotting scopes.
The magnification range and objective lens size of a spotting scope, binocular, and riflescope are all distinguishing features. Generally, magnification and objective lens size are referred to as a combo or platform.
20 – 60 x 80 MM
We'll start by looking at this pair of numbers on the left side: 20 – 60.
1. You will get 20x magnification with this scope as its minimum magnification. Through this telescope, anything observed in nature will appear 20 times larger than it is.
2. The second number, 60, represents the height to which you can magnify objects through the scope. At a magnification of 60 times, objects will appear 60 times as big as they are in reality through your spotting scope.
How Far Can You See With A 20-60×60 Spotting Scope?
As an example, let's look at a 20-60X80 spotting scope. Magnification and power are represented by the numbers to the left of the "X". The symbol "X" represents power. When you stand at the proper distance, your image will be magnified by up to 20-60X.
An 80mm lens has an objective size of 80mm. The size of the objective lens is illustrated by the numbers to the right of the "X". Millimeters are the measurement unit here.
Magnification ranges can also be fixed so that the image is not enlarged or shrunk based on their selection. The image you see when viewing through a 30X60 spotting scope eyepiece will always be 30 times greater than what you see without it.
About Magnification
We have already gone over how to read your spotting scope's numbers so let's discuss some of the common myths about magnification that can hinder you in the field and on the range.
The magnification of a spotting scope starts where the magnification of traditional binoculars ends. Spotting scopes feature higher magnifications that make them ideal for viewing birds, wildlife, scenery, and other objects that are beyond the range of conventional binoculars.
There are, however, limitations to magnification. Two things determine how much magnification you can get from a spotting scope.
Atmosphere
The atmosphere is the first factor. A spotting scope must always be used in conjunction with the atmosphere's conditions of seeing.
All of the factors mentioned above reduce image quality during the day, but the more magnification, the more drastic the reduction.
On any given day, anything over 30x may seem a bit mushy. However, on calm, clear days, 60x can be extremely useful.
Optical System
The optical system of a spotting scope is another major limitation to magnification. The image quality will always decrease as the magnification increases, regardless of the model.
The size and design of the scope play a small role, but the quality of the optical system is the most important factor. In this case, you get exactly what you pay for.
Objective Lens
For example, when comparing two models of similar quality, a larger objective lens will offer greater detail and a better image, especially at higher magnifications.
Even an ultra-large lens of mediocre quality cannot perform as well as a smaller, quality lens. Don't be afraid to go for quality over size when in doubt.
What Is The Ideal Lens Size?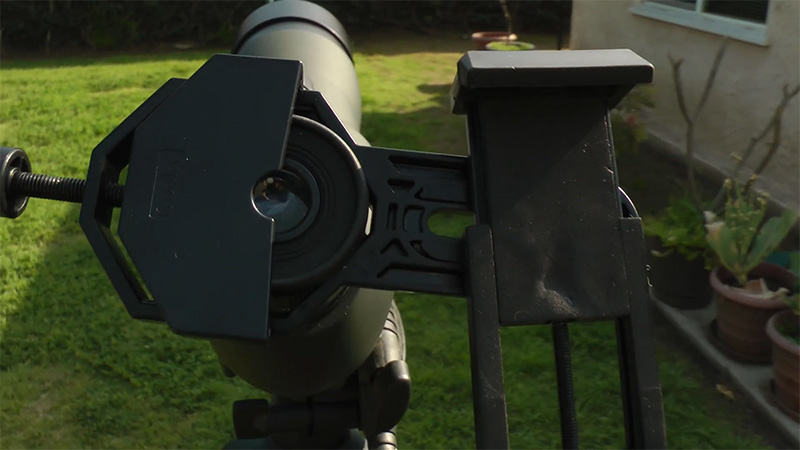 It is only a matter of picking between a larger and heavier spotting scope, or a small and lighter one. Compared with smaller lenses of 50mm or 60mm, a large 80mm spotting scope will be better able to gather light.
Therefore, the image you see will be clearer and brighter. The view will also be broader. Conversely, as your spotting scope's lens grows, it will become bigger and heavier. The larger the scope, the more expensive it is.
If you intend to use the spotting scope primarily for hunting, think about where you'll use it the most. When you tend to stay at one place for long periods or if you do not need to concern yourself with extra weight, go for an 80mm scope.
A smaller scope will be better suited to you if you are on the move more than you like to travel light. In some cases, you can even use 50mm scopes without a tripod.
What is the Best Magnification?
Variable zooms are common in spotting scopes, for example, 15-45x or 20-60x. Magnification increases clarity. The higher the magnification, the greater the detail. Hopefully, now you know what do the numbers mean on the spotting scope.