Bluegill is a species of freshwater fish. It is mainly native to North America. If you love fishing, then you should give it a try to catch them at least once. It's fairly easy to catch bluegills. But are they edible? How do they taste?
Bluegill is edible. They are fairly rich in nutrition. Bluegill meat contains low calories and low carbohydrates, thus suit most of the diet plans without harming your body.
So, we can assume that it will be beneficial for our bodies. Now, if we talk about taste, then they are fairly delicious. Bluegill has a mild taste without the fishy smell that is a common theme in many freshwater fishes.
Keep in mind, "taste" is not an absolute thing. Take our word with a grain of salt. It can vary from person to person. However, due to their mild, passive taste, they fit well in a variety of recipes, and chances are, you will love it if you like freshwater fish.
Bluegills are also a great fighting fish and take a bit of casting and reeling before you can reel them in. However, they are great and top-notch table fare. These fish are mostly sought after for their gills. As for my favorite fish, they are right up there with Walleye.
You can stew them, bake them, fry them, whatever you want. In my opinion, these are some of the best eating fish around. They are the meatiest of panfish, and their firm meat makes for a great day bite.
There is a popular saying that the best-tasting fish comes out of an ice hole, and the bluegill is a prime example.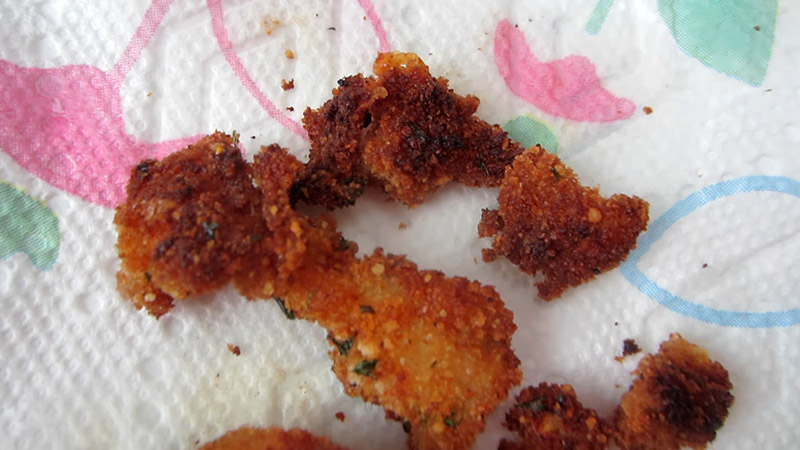 What Does It Taste Like?
Bluegills are omnivores. They feed on both plant matters and animal matters. Their taste largely depends on their habitat and diet. In the lakes where there is a good mix of vegetation and critters, they have a mild, sweet-ish taste. The taste is not aggressive and mixes well with the ingredients and seasoning you add.
Their meat is firmer & flakier than most freshwater fish species, and their diet gives them mild flavor. If we talk about taste, then the cooking process and skill are also important factors. With the right ingredients, its taste can make you fall in love with it. Bluegills are best served as pan-fried.
But they are also a great choice for grilling, sautéing, baking, as well as deep-frying. You can also add them as an ingredient of soup or stew. If you like, you can simply fry them on fire and eat with a bit of sauce and salad.
In short, bluegills are among the tastiest freshwater fishes, along with perch and Walleye.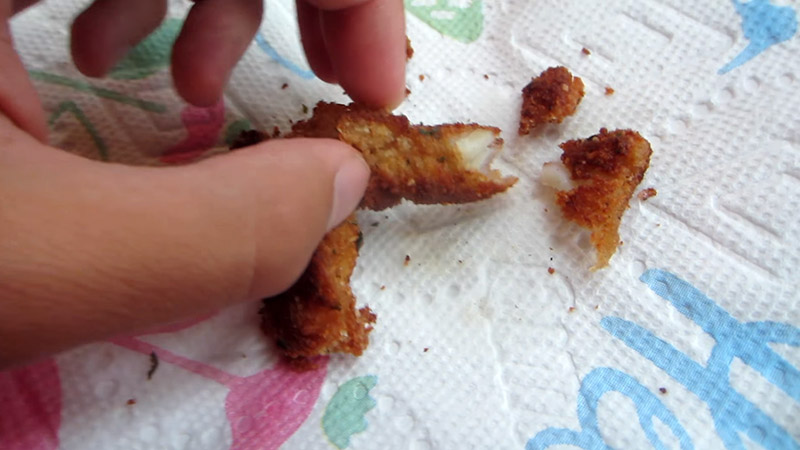 Are Bluegills Safe To Eat?
When we talk about eating something, there is always a concern if it is healthy enough, does it contain pollutants or toxins. For the most part, the food itself, in our case, the bluegills, is not responsible for it. It largely depends on the habitat they live in. If the environment is contaminated, then chances are the inhabitants are also.
Bluegills feed on a wide range of things. They mainly feed on insects, crustaceans, and other small fishes, as well as underwater plants and algae. So, they have very little chance to eat a large amount of a food item contaminated with dangerous substances.
Heavy metals like Lead, Mercury, and Chromium pollutes several fish habitats. When a fish heavily relies on a certain food item that is contaminated with metals, the metal starts accumulating in the fish's flesh over time. 
Fish like the bluegill eat many food items that keep the consumption of a certain metal below the threshold of it being a danger.
The same principle applies to other pollutants as well. In short, unless the bluegills of a certain lake are forced to survive on a limited variety of food, they are safe to eat and good for health.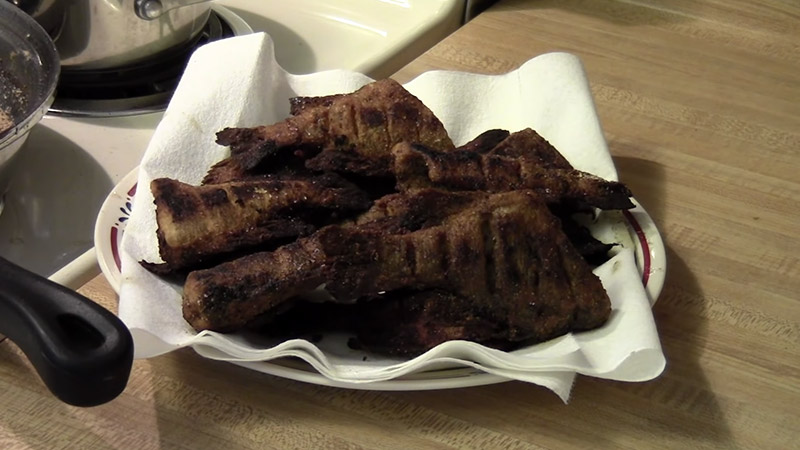 Where Can You Catch Them?
As freshwater fish, we can find them in streams, ponds, lakes, and rivers of North America. They are native to the region of the USA, southern Canada, and northern Mexico. But they have also been introduced to South America, Europe, and Asia.
Bluegills are mostly found in shallow water. They are highly adaptive and can cope with any environment as long as the water is not salty, and the environment is not too hostile. They thrive in most of the natural water bodies such as ponds, lakes, pools, slow-moving canals, rivers, or creeks.
The reason for their high adaptability is that they do not depend on a particular food. As a result, they usually do not directly compete with any other fish for food. Thus, neither do they starve any other fish from the ecosystem, nor do they get starved themselves.
Bluegills can be found in streams, ponds, lakes, and rivers. You can fish them in shallow waters and under weed beds, and these fish tend to hide from other aquatic life.
The best way to catch these fish is to use lighter hooks and baits. You can use a slab-type jigging spoon, Carolina Riggs, inline spinner, spinnerbaits, and even short grubs.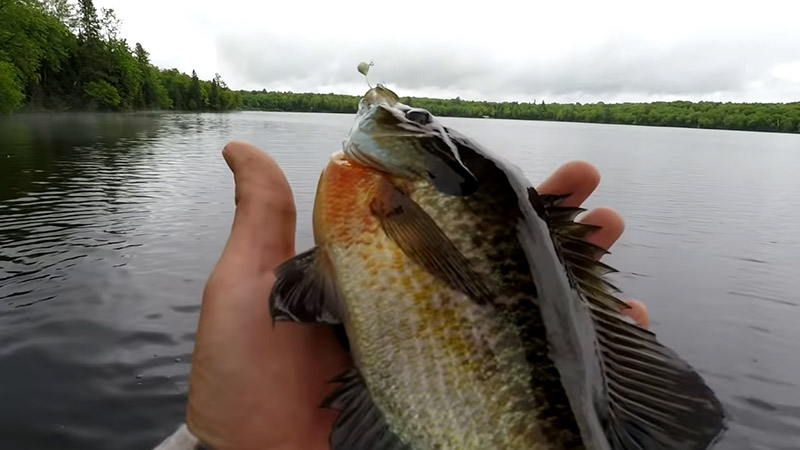 Best Way To Cook Bluegill
"Taste" is a highly personal matter. The same food will obviously not make the same appeal to two different individuals. I am well aware of it. But still, there is a common theme. Fried bluegill is on the top of the desired dish for some and the favorite list for many.
While the Old-school fry-the-fish-on-fire method is popular, the best way to fry them is by adding some egg, milk, and spice for added taste and smell. Bluegills are relatively small fish and can easily be fried whole. Just remove the scales and guts, give it a good wash, and you are good to go.
Don't forget to add some salt, though.
Fry them until they are light brown and crispy. At this point, your bluegill is ready to eat. But aren't you forgetting something? Delicious food should always be served with an appropriate salad. So, mix some fresh garden salad with a squeeze of lemon and potato wedges.
Bluegills are referred to as panfish in the culinary world because these fishes are mostly cooked in a frying pan over an open fire. You can also cook them on the stove. Most anglers catch bluegills for the meat because they make a great campfire meal.
Conclusion
Fishing is a popular pastime among people all over the world but the amusement of fishing completes completely only after getting the fish on your plate. There are countless ways to cook bluegill. But only the master chefs can make it into a top-notch dish to win everyone's heart. But everyone can turn bluegill into a meal for dinner that all the diners will appreciate. Credit goes to bluegills.
As long as you have some command of cooking, you can make a lovely little dish for your loved ones. And if it's a date, you can hope to win their heart with a delicious dish, bonus points for you since you cooked.
Nevertheless, bluegills make for a lovely desirable dish. With their smell-free, lovely, mild taste, they blend in well with almost all the recipes you try them with—no wonder why they are at the top of the desired dish at restaurants.