The Ruger Precision Rifle, which comes at an entry-level price, is one of the most popular rifles for precision that can shoot at long range.
The rugged, well-designed chassis rifle introduced by Ruger managed to ignite a national passion for shooting and was the first publicly traded manufacturer to offer such a firearm in a budget-friendly price range.
Now, pair your weapon with the best scope for a Ruger precision rifle and you will have a powerful firearm ready for action. The scope you put on top of this rifle will dictate how good your rifle will be, no matter how good it is on its own.
As far as the scope goes, we should all agree that it is important to have a good one to achieve reliable performance and hit the target accurately without needing to spend a lot of time on it.
You will need to research and compare various models with the essential features you need, and the costs associated with the models that you have in mind. Which scope should I choose?
As hunters and tactical shooters demand quality, heavy-duty, and precision riflescopes, the tough competition between manufacturers has made it harder than ever to make a selection.
Because of these reasons, tons and tons of scopes are introduced onto the market. Buying this kind of scope can seem more overwhelming if you are unfamiliar with what to look for. The following are some of the most popular scopes for rifles on the market.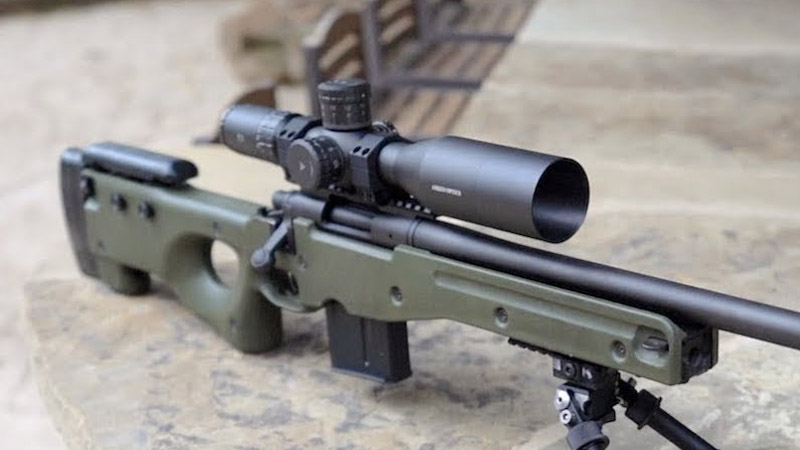 Best Scope For Ruger Precision Rifle
As far as rifles go, this isn't your average model. Hence, you should only settle for the best scope for Ruger Precision Rifle. Selecting something like this requires care. The cost will be high. It can be overwhelming to choose the right scope. So, let's look at each scope.
1. Vortex Optics Diamondback Tactical First Focal Plane Riflescopes
Ruger's Precision Rifle is a top-notch weapon. This rifle chassis was built from the ground up. Guns with bolted barrels and stocks are called chassis guns. A long-range, accurate scope is crucial for a rifle like the Ruger Precision Rifle.
With its flattop profile, the Ruger is pretty easy to mount a scope on. I would recommend the Vortex Optics Diamondback Tactical First Focal Plane Riflescope when using this rifle. Diamondback Tactical is like a wolf dressed up as a sheep.
I like the scope's quality build and its well-mounted turrets that are tight when twisted and are also strong enough to not twist when bumping against something or moving around in a case. With a magnification range of 4-15x, it provides clarity through a variety of magnification levels.
The Diamondback Tactical puts the focus on robust turret performance and excellent optical quality rather than packing features into every corner. Previously unseen tracking performance in this price range has been brought by exposed turrets.
Additionally, even at an extended range, its optical system delivers sharp images. With its relatively simple design, you are in control and have the potential to easily take on targets north of 1,000 yards. It is also affordable for beginners.
Pros
A scope of high quality that holds a zero
You can easily use the magnification settings
The image remains clear at magnifications between 4x and 15x
There is no risk of eye strain with the reticle
This parallax setting is perfect
Cons
Clarity will decrease at 16x
No products found.
2. Trijicon TR23 AccuPoint 5-20×50 Riflescope
With this AccuPoint 5-20*50 riflescope, long-range or close-range shooting are both possible with high-quality results. If you're searching for a precise and accurate scope, take a look at the MIL-Dot Crosshair scope.
Even in low lighting conditions, you will have a clear view of the picture. A quality lens construction is one of the things I liked about the scope. Having multiple coatings makes it extremely clear and bright. So when it comes to low lighting conditions, we could be assured that it would work as expected.
The scope will allow us to have a trouble-free operation from dusk till dawn. Furthermore, the quality scope features a tritium phosphor lamp, making the reticle visible even in the dark. The reticle can also remain constant in a second focal plane.
This scope also offers us a battery-free illumination, which is something unique that is not readily available in other scopes on the market. Fiber-optic technology is used which can automatically adjust the brightness based on the conditions in the area.
As long as you choose the Ruger Precision .243 Winchester Bolt-Action Rifle, you can be confident that you're getting a scope that can perform in any weather and lighting condition. If you're looking for a heavy-duty scope that will last longer, you should also look into it.
Pros
Aims accurately even when magnified at high magnification
Aluminum housing built to last
Lenses with multiple coatings of high quality
Excellent clarity of the lenses
Batteries are not required for illumination
Cons
No products found.
3. Burris Xtreme Tactical XTR II 8-40x50mm Precision Rifle Scope
If you are looking for the best riflescope for Ruger precision rifle, this is the one. This rifle is designed for tactical and competitive long-range precision shooters, as well as serious, technical, technical shooters. An excellent optical system and tactically appropriate reticles and adjustment knobs make it easy to identify targets.
Also, you can easily adjust elevation and windage. A 5x zoom system provides a wider field of view at close ranges as well as better target acquisition at distances up to infinity; ergonomic side focuses for easy target alignment at distances up to 50 yards and easy parallax adjustment for improved accuracy from 50 yards to infinity.
Brightness and clarity, as well as long-lasting durability, are provided by high-grade optical glass. The internal assemblies are precision gauged and hand-fitted, ensuring a uniform point of impact throughout the magnification range. The adjustment knobs also have zero-click stops.
Resetting the yardage to its original value without counting clicks is crucial to a quick and easy system reset. For repeatable and accurate reticle adjustments, advanced windage and elevation adjustments are available. This waterproof scope contains nitrogen-filled body tubes that prevent internal fogging in the cold and rain.
The scope is designed with a triple spring-tension system, enabling it to hold zero in difficult conditions. There is no scope in Burris' lineup that has a greater magnification than the XTR II 8-40x. As long as the body tubes are filled with nitrogen, there is no internal fogging.
Pros
There are some nice clicks on the turrets
Targeting darker objects with red dots can be useful
It is very easy to place shots with the reticle as it is tack sharp
Scopes like this are perfect for bench rest shooters
The glass is crystal clear
Cons
No products found.
4. Bushnell Banner Dusk & Dawn Multi-X Reticle Riflescope
The multi-X reticle of Bushnell Banner Dusk & Dawn riflescope, offering an excellent sight picture in low light. Featuring fully multi-coated (FMC) optics and a waterproof design that prevents fogging, this hunting riflescope makes sure you see in crystal clear detail regardless of conditions. During the low-light conditions of dusk and dawn, it is an ideal hunting device.
With the Multi-X crosshair reticle in the second focal plane (SFP), you can identify your target as early as dusk, making this low-light tool a simple but powerful one. The fast-focus eyepiece allows you to focus on your target with perfect clarity by quickly adjusting the reticle to fit over your eye.
To protect against bumps and hard use, the resettable windage and elevation turrets have a cap. It is as clear, has a depth of field similar to my much more expensive Leopold scope, and has a parallax like my Leopold scope. Considering the price, it's a good deal.
In the upper end of its zoom range, clarity and depth of field suffer some loss but are otherwise outstanding. The weapon has held zero at a Ruger M77/357 through several range trips. The directional arrows were deeply etched with anodized and painted paint to make zeroing easy.
I'm not sure how you can beat this scope for TWICE the price! It hangs right there with my Vortex scopes, which I also love. Low-light situations are no problem for them as they are clear and transmit light very well. In my opinion, these sights are just as good as my Nikon Buckmaster and my Vortex crossfire. They can easily compete with the Leupold VX-2.
Pros
Good value for the money riflescope
It holds its zero perfectly
A fast-focus eyepiece
It features the Multi-X reticle
Waterproof construction
Cons
The crosshairs are a little on the thick side
No products found.
5. Athlon Optics Midas TAC 6-24×50 First Focal Plane Riflescopes
The company is relatively new to the riflescope industry, but they've already managed to make a big splash in the affordable, high-quality scope market. My new favorite riflescope option from Athlon is the Midas Tac from Athlon, and I have it on my rifle right now.
In summary, the scope is very good, as I discuss in detail in my full review. In a minute, we will discuss the Viper riflescope which is a tough competitor since they're both similarly priced, and they perform pretty similar, although the Midas Tac riflescope is a little bit cheaper.
If you plan to compete, or maybe hunt long-range varmints from a static position, then the APRS 3 Milliradian is the way to go. This riflescope also has clear and bright optics, which are much better than those on a lot of more expensive products.
In terms of the number of magnifications and amount of depth of field, I prefer the 5-25×5, but I also like the 6-24x. The main tubes of both have a diameter of 34mm. I think that this is one of the best riflescope options under $1000 in this price range.
Pros
High-definition glass transmits light more effectively
An optical coating that reduces reflected light effectively
The lenses are protected further by the XPL Coating
You can return to a position of zero by using precision zero stop technology
Cons
No products found.
6. NIGHTFORCE SHV 5-20x56mm Zeroset .250 MOA Scope
Its magnification range from five to twenty times makes the NightForce SHV scope a great choice for use from close to long-range. Moreover, its 56 mm objective lens is reliable, making this scope useful even in low light conditions.
No matter whether you're shooting at dusk or dawn, NightForce's precision makes it an excellent choice. It is a product feature we need to consider when searching for such a product. I also like the fact that it is offered at a reasonable price.
With no compromise on performance quality, management can be assured the scope is valuable and capable of delivering when needed. Its capability to work at a long range is also appealing. With this scope, we can see a clear and bright sight picture, even from a distance of several hundred yards.
A significant reason for this was the scope's higher magnification and the fact that it is affordable. Even if you use the scope at its maximum magnification level, it will maintain that excellent color contrast and crispness.
More than that, the scope has a ZeroSet standard, making it an excellent choice for Ruger Precision 6.5 Creedmoor Bolt-Action Rifles. Even when multiple elevation adjustments have been made, we can quickly return to our selected zero.
Pros
A Nightforce SHV scope is designed to provide maximum flexibility
Even in low lighting conditions, you can expect reliable performance
An elevation adjustment range of 80 MOAs is available
It offers exceptional clarity
Hunting and shooting specific product
Cons
No products found.
7. Steiner T5Xi Tactical Rifle Scope
One of its features is that it is fog proof and waterproof, both of which add to its durability and performance under any weather condition. The fact that this device is waterproof means you will be able to enjoy the uninterrupted performance without any interruptions. It has a shockproof performance, as well.
This makes it a more efficient, durable, and cost-effective solution for heavy-duty tasks. For this reason, if you are interested in a scope that not only delivers but also lasts for a long time, make sure you check out one of the best scopes on the market. As far as reliability is concerned, the Steiner scope is among the best.
Additionally, it is highly accurate. If you are looking for superb precision, then this scope is for you. It has a large, one-piece tube, which increases its strength and reliability. A special competition reticle on this scope makes it ideal for competitions, another thing I like about it.
In other words, if you're a tactical shooter or if you like to compete, you might be interested in checking out this scope. In addition to an increased illumination area, this scope also offers a high level of accuracy for holdover lines and windage.
Moreover, you will find it convenient to adjust magnification changes fast and easily with the throw lever. In addition, the excellent lens is protected from moisture and dust by Tenebraex lens covers or coatings.
Pros
Fogproof and waterproof capabilities
A Tenebraex lens cover prevents dirt and moisture from getting on the lens
A special competition or tactical operation should be performed with this device
Reticulum illumination enhancement
Cons
No products found.
Choosing The Best Scopes for Ruger Precision Rifle
If you are unfamiliar with what makes a great riflescope for Ruger Precision Rifle, you may experience a difficult time selecting one. As hunters and tactical shooters demand quality, heavy-duty, and precision riflescopes, the tough competition between manufacturers has made it harder than ever to make a selection.
These things are responsible for tons and tons of electronic scopes being introduced to the market. Scope of this kind can seem overwhelming if you aren't sure what to look for.
Nevertheless, you should compare the top picks in the category if you'd like to get a better idea of how the Ruger Precision Rifle compares.
Additionally, you will have a scope that complements your rifle and improves your shooting ability. Find a perfect match for you according to the buying guide below. Now, let's get started.
What Makes a Great Ruger Precision Rifle Scope?
It is incredibly important to choose a scope that suits the performance requirements for your Ruger Precision rifle. Despite the vast selection of scopes available on the market, the best ones are distinguished by their performance in the field, competition, and hunting as well as their design, construction, and construction.
Aside from the design, the aluminum body is of high quality and is aircraft-grade, which means that it can endure and handle any shocks or impacts it may encounter while out on the field.
In addition to the o-ring sealing and gas purging, the right scope will be durable and perform well. As long as the o-rings are sealed and the gas is purge, we are certain it won't have any issues with moisture or fogging.
Furthermore, the scope for the Ruger Precision Rifle will be able to provide us with a powerful magnification so that even though the distance is longer, we can get a clear view of the target. The scope can also be used for both short- and long-range shooting, which gives us peace of mind.
The Ruger Precision Rifle cannot do everything it should by itself, so we need a top-of-the-line riflescope to make it possible. Our rifles can be more effective if we have a powerful scope.
Factors To Consider When Buying A Scope For Ruger Precision Rifle
When you're clueless about how to select the scope that suits the Ruger Precision Rifle, finding the best optics can be challenging. A hunting and/or tactical rifle that you own is expensive and of good quality.
You wouldn't want to settle for anything less than the best when hunting/shooting, so you shouldn't settle for second best. Therefore, you should not purchase a lower-end riflescope, which will demoralize you when you go hunting or shooting.
In addition to our best picks, we have prepared a buyer's guide so that we can help you decide what to pick.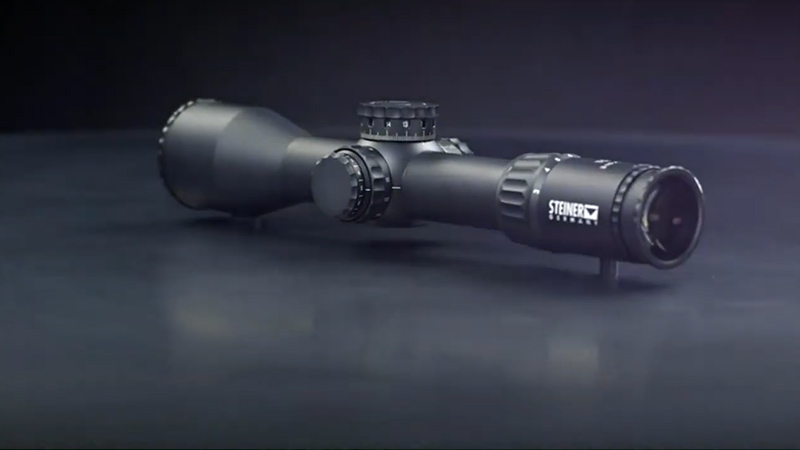 You want an appropriate reticle for the Ruger Precision Rifle, which is, well, for precision. In this type of riflescope, the standard crosshair in your duplex reticle isn't going to do.
Crosshairs with an MOA or Mil-dot should be a bare minimum. Additionally, I would suggest going with a reticle that has both wind and height lines in tactical style so that you have both wind and height lines on your reticle. It will be easier to switch targets quickly and make adjustments on the riflescope more quickly as the wind changes.
Certain scopes are popular for their heavy-duty performance and certain characteristics. That's what we believe, too.
Having heavy-duty means that the scope will last a long time whether you are using it for hunting, competition, or in the field. This device does not just suit different purposes and applications, but it is also durable enough to withstand harsh conditions out there.
Hunting and mission-critical operations can be facilitated with high-quality scopes. It is capable of dealing with the challenges it would encounter out there.
As well as resisting some damage, it is also durable. A shockproof or impact-resistant device needs to be able to withstand impacts. Even if it is dropped, it will survive.
It so happens that the quality or clarity of a scope, or how well it performs in low light, can be highly subjective. This is why I recommend viewing a riflescope before buying it.
Try to find a way to check out the scope yourself before purchasing it, even if you plan to order one online from Amazon or Optics Planet. It is generally true that most scopes from reputable manufacturers who make these kinds of products will be free of things like chromatic aberration.
These lenses will have solid multicoating to make the mirage key easy to see for judging wind directions. Higher magnification may result in blurriness if you're not familiar with this. The image will be blurry when we focus on a distant subject or when we shoot at a long distance.
Waterproof And Fog-Proof Performance
They are related to the gas filling and purging of the scope as well as the sealing with o-rings. The best ones are nitrogen and argon purged, o-ring sealed, and nitrogen-purged. Having a scope with these features, you can rest assured that you will be able to utilize a durable one for a long time.
While considering scopes for the Ruger Precision Rifle, you should take your average shooting distance into account. If you're going to use it for longer-range shooting, you wouldn't want a scope that doesn't allow you to see clearly.
A scope that has a low resolution when you're targeting at a distance will always frustrate you. What is the most common scenario you usually find yourself in?
Typically, most people consider middle-range shooting to be within 600 yards and long-range shooting to be at most 1500 yards. They would often shoot at distances over 1500 yards for some.
There are several more affordable scopes available on the market for people who often shoot mid- or long-range. Alternatively, you should consider a more powerful scope if your shooting distance is over 1500 yards.
Another thing to consider when choosing a riflescope is its clarity. This is another consideration you ought to make when buying a riflescope. A good scope must have this quality so that you can achieve a rewarding experience and experience more.
Even when we maximize the magnification, it must be able to provide a clear sight picture so that we can see. Therefore, you should find scopes with clear sight pictures after doing your homework. Consider your needs and shooting style when selecting a Ruger Precision riflescope.
A tactical or target style knob is an important feature when you're shooting this way. A finger-adjustable knob on the riflescope can be used to dial windage and elevation adjustments, not one that is adjusted using a coin and then left once the zero has been hit.
It is important to note whether or not your riflescope has a capped windage turret. However, most people tend to adjust their sights with just their fingers rather than dialing for windage.
It's only necessary to dial wind when it's really strong, or when you're shooting beyond what most PRS shooters are comfortable with, so a riflescope with that cap over the windage knob can help keep the knob from being bumped accidentally.
The zero-stop is usually an adjustable set screw or other mechanical devices that allow you to quickly dial back to the original zero without having to adjust the scope.
You do not adjust your gun for a shot within your zeroing range with your turret anyway, so it lets you quickly and silently return to your original setting without having to look up.
Low-profile elevation turrets are of great value compared with sight pictures because they're comfortable and low-profile. For precision rifle shooters, elevation is often an important factor.
What Magnification Do You Need?
It is important to find a scope that has excellent zooming abilities or magnification. The fact that a Ruger Precision rifle comes with a top-notch scope with great magnification is certainly an advantage.
So, comparing your options carefully and thinking about the exact magnification you want will pay off. You may find it helpful to figure out how you want to use the riflescope or optics system.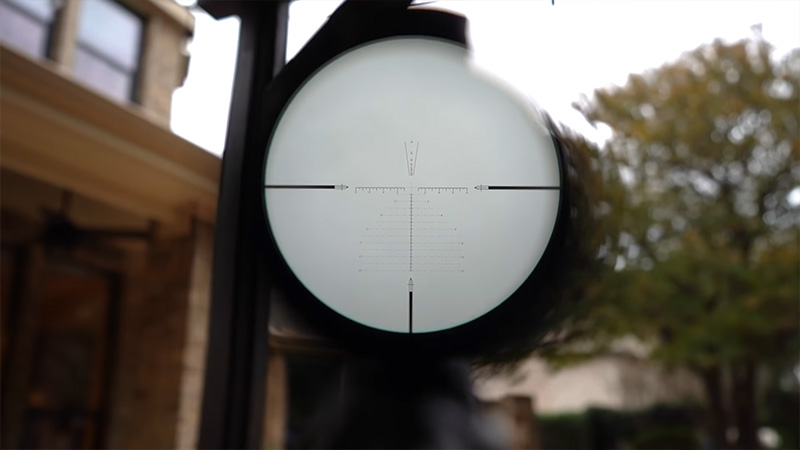 It's best to avoid common misconceptions regarding magnification, such as the biggest range of magnification is the most ideal and satisfying. A thing to consider when choosing an optics system is your shooting style as well as the magnification range.
A blurry scope with the maximum magnification but the worst sight picture might be what you get if you don't follow these guidelines.
Military and tactical scopes can magnify up to 10 times the normal magnification. These scopes can easily be sighted into with the correct shooting technique.
You should keep in mind that a good scope will be able to deliver precise results. Nevertheless, you have to ensure that the setup and process are both precise.
It's common to use magnification from four to forty times for long-range shooting, while four times is commonly used for short-range shooting.
What's the ideal magnification, you might ask? Many professionals have said that magnification doesn't have much impact on how far you shoot. Depending on what you are shooting, the problem may arise.
A shooter shooting an F class on paper would want to be able to see the X ring, so they will typically use a high magnification scope, but there is a compromise in the elevation adjustment. Determining the ring height is very important for the shooters.
A majority of field shooters also choose scopes with 19X magnification or less, while most use less than 25X magnification, while they enjoy greater elevation adjustment.
For the majority of shooters, a scope that has between 12 and 18 times the magnification range is going to be satisfactory, along with an excellent field view and sight picture.
You can use more magnification, but don't go overboard. Select a scope that can provide you with a gratifying experience based on your shooting style and personal preference.
How Much Should I Spend On A Scope For A Ruger Precision Rifle?
You are the one who knows how much money you have to devote to a rifle scope and how much space you have in your finances. I remember being a broke college student trying to get a good riflescope for a low price.
If you don't want to spend more than $1,000 on a scope, I've compiled a handful of budget-friendly options on here for scopes for Ruger Precision rifles that will not break the bank.
In the end, a scope is a purchase worth making, and I am a strong proponent of purchasing the best scope you can afford for the Ruger Precision rifle. Some of the scope options on this list are expensive, but that's okay. It costs nearly twice as much to choose certain scope options.
Final Words
Due to the vast array of options available on the market, choosing from the different scopes for the Ruger Precision Rifle is no easy task. Having all those options without a clear idea of what you want will be time-consuming and frustrating.
If you had a reference on what to look for when picking a scope for this rifle, you could make a wise choice. If you reference the buying guide and reviews sections for comparisons, you will be able to determine which scope is ideal for your Ruger Precision Rifle.