Let's talk about safety first. Just follow the same rules of shooting that you would apply to any shooting range and use common sense. At least for the safety side of things, you are the one that is shooting the bow, so make sure the shooting site is safe.
As for accuracy, nothing beats practice. Your best bet is to get trained in a good archery course. Most instructional programs will teach you the safety factors as an integral part of the course.
Now, if you are asking about the one way to make sure you shoot a bow safely and accurately, then the discussion will be a long one.
Shooting A Bow Safely
Whether you are in the field or on the archery range, there are a few common safety rules that all archers must obey. Accidents happen, but it is rare among bowhunters. While shooting accidents are rare, it is still your responsibility to follow basic safety rules.
Bullets are deadly, so is an arrow. The rules that you follow during firearm shooting should also be followed during bow shooting. With that being said, let's have a look at safety rules.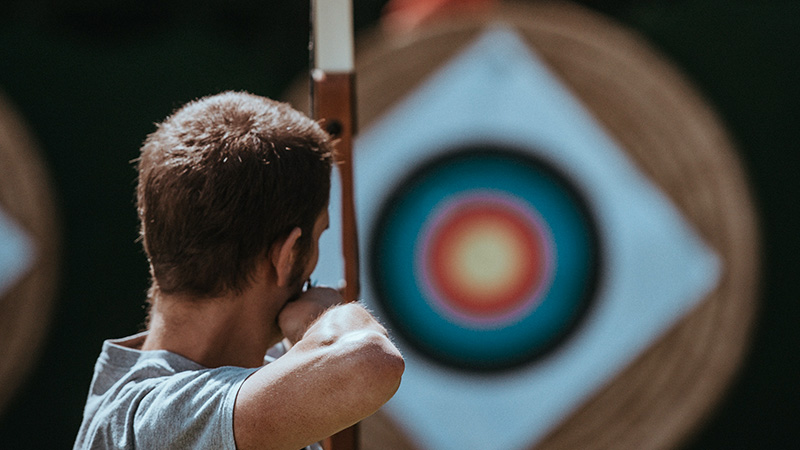 Make sure the path to the target is clear and always point the arrow in a safe direction.
You should only release the arrow when you have a clear target in sight.
Never try to shoot over the horizon. Also, if you are in a shooting range, make sure there is some sort of blockage to stop the arrow if you miss it.
Check your surroundings and see if there are any oncoming people, and then nock the arrow. Never point your arrow where there will be people.
Don't only focus on the target. You should check beyond it. Make sure there is nothing in front of your target and behind the target.
Even a small twig can deflect an arrow. Keep this in mind when shooting.
Don't carry your arrow in a nocked position. Don't shoot up. And also, don't dry-fire your bow.
Don't draw a bow if there is a person in front of you.
You should only carry your bow in a nocked position when you are slowly approaching the game or when it is in your sight.
If you want to raise a bow to a tree stand, make sure to use a haul line.
How To Shoot A Bow Accurately
Whether you aim without a bow sight or with one, or whether you use a compound bow or recurve bow to shoot, there are a couple of steps that you need to master first if you want to improve accuracy.
There are seven basic steps of accurate archery that you need to polish first if you want to hit a 3-inch bullseye every time. There is always room for improvement, and if you practice hard enough, you will certainly achieve the "archer's minute of angle accuracy."
1. Stance
The first thing to fix is your stance. The proper way to face the target is not how most beginner/self-taught archers do it. First, face the target about 45-degrees. Your feet should 18 to 24 inches apart and parallel to each other. As for the toes, those should be pointing to the target as well.
2. Aim Small & Miss Small
By aiming small and missing small, what you are doing is that you are reducing your area of error. Now, we are all human, and we make mistakes. In our archery, we all have an area of error in our archery.
To explain this in simple terms, let's say you have got a target at 30 meters. Imagine it is a big, colorful archery target, and you are focused on that. You want to hit the hole. So, what you're doing is you're looking at the whole target, and you're shooting.
Now, this is a common practice, and everyone does that. If you are experienced enough, you are going to hit the target and probably even going to get a few in the middle every now and then. However, you have got a really large area error, which means you are going to get a few misses. So, what do you do?
3. Reducing The Area Of Error
You need to reduce the size of the target that you're trying to hit. So, instead of trying to hit the whole target, let's reduce it down to the size of the gold. Your area of error is going to shrink down with you.
With the area of target shrinking down, you have got this whole gold that you are looking at. With this, you are going to hit a few in the gold and also hit a few centers. You are also going to pepper a few around the outside of the gold as well.
4. Focusing On The 10-Ring
Let's reduce the target down further. Now, all you are focusing on is that 10-ring. Now, your arrow of error is reduced again. It doesn't all way go according to plan, but by now, all your arrows should fall within the gold circle. It's a very simple concept, but it's often overlooked.
5. Technique
The smaller the thing you can look at, the smaller your area of error will be. Here is a quick technique you can follow. Always try to focus on the smallest thing. For example, if you are talking to someone one on one, focus on their pupil or blemish or the smallest thing you can find when looking at that person.
Train your brain and your body to look at small things. The smaller the thing you can look at, the smaller your area of error will be, and the more accurate your shot will be. You know, not paying attention to the small things is one of the main reasons of hunting incidents.
Final Thoughts
So, I hope you found this tip helpful, and I hope that it made sense. Hopefully, this should help you improve your archery accuracy. Anyway, take care and shoot straight and happy hunting. In my opinion, this Is the one way to make sure you shoot a bow safely and accurately.