Perch is a highly sought-after fish, mostly for sport and hobby. Yellow perch are naturally found in northern America. Although a 'close-enough' counterpart is found in Europe, genetically speaking, they are not the same species.
So, besides catching yellow perch for fun. Can you eat them? In terms of nutritious value, perch is perfectly fine as food. Whether you like the taste or not, that's up to you to decide.
Perch is both harvested from natural sources and cultivated for consumption. Fish from the two sources differ slightly, both in terms of nutrition and taste.
Cultivated perch is much more available, tasty, and popular. Natural perch is mostly available around the Mississippi River basins and St. Lawrence River, and some other lakes of North America and Canada.
Saltwater perch is found both in the arctic ocean and the Atlantic ocean. So, yes, perch is highly adaptable and can survive both saltwater and freshwater.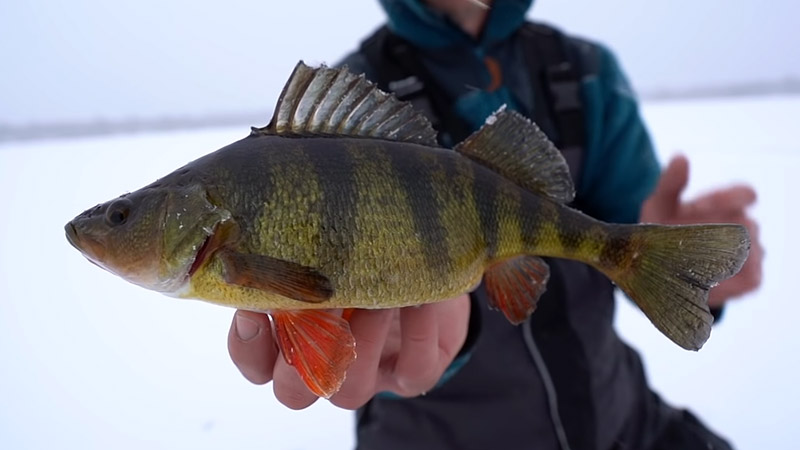 Eating Yellow Perch
Yellow perch was first documented in the early 19th century. They were not as sought after until much later. During the later period of the 20th century, their popularity peaked, and perch have been fished recklessly, pushing them toward extinction.
Toward the beginning of the 1990s, the supply of natural yellow perch shrunk down to about 20% compared to the peak a few years back. Fortunately for the perch, and lucky for us, the Yellow perch is a highly adaptive species.
Freshwater perch were being introduced to lakes and reservoirs of different parts of the USA since the early 1900s. They responded fast, not only surviving but also thriving in most situations. This resulted in a huge rise in the availability of perch around the country.
Cultivated yellow perch is milder in smell and taste compared to the naturally grown ones. The main influencing factor is the habitat they live in and their diet.
Since artificially farmed perch are raised in a mostly controlled environment, they gained popularity in no time. Nowadays, only a small part of the market is covered by naturally grown perch.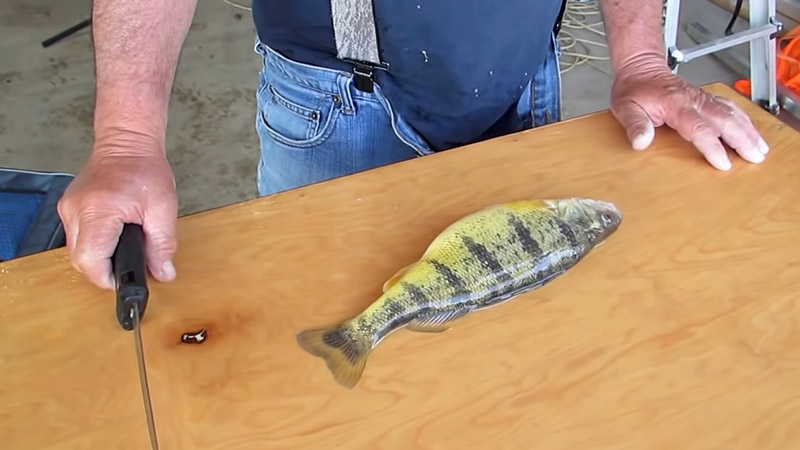 How Does Yellow Perch Taste?
We generally consider all the freshwater fishes edible though it is a matter of debate. You will be happy to know that yellow perch is considered among the tastiest freshwater fishes, along with walleye, bluegill, crappie, and a few others. Obviously, taste is a very controversial topic to standardize.
But don't hold yourself back. If you haven't tasted perch before, take a leap of faith and go for it. Perch is on the neutral side in terms of smell and taste. Perch does not have the overwhelming odor some other fishes have, like the bass.
Both the cooked and raw fish are fairly tame in smell. The cooked perch has a mild sweetish taste. The farmed yellow perch has a higher fat to protein ratio than the wild ones. But they taste nearly the same.
I personally prefer the white, flakey variety of fish meat and perch fall into that type. It's similar to Rock Bass, Sunfish, Crappie, Pike, and even Walleye. If you know how to cook one, you will instantly fall in love with the taste.
On a side note, Walleye are also considered as perch. The TLDR of this article is that perch are great for eating. It's hands down one of the tastiest fish meats to eat outdoors; if you prep it the way it's meant to be cooked.
If you like fleshed white meat, Walleye and Perch should be on your list. At the time of writing, I'm craving a good old fish and chips beside a lake.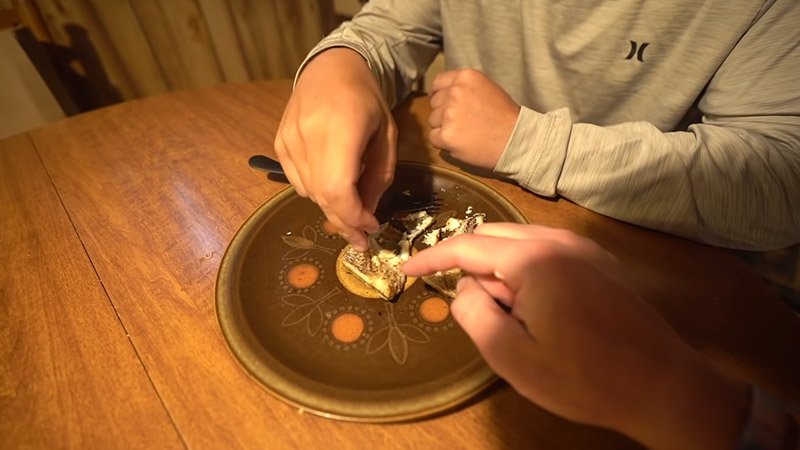 How To Prepare Yellow Perch?
Because of the non-aggressive smell and taste, perch can be cooked and consumed in a variety of ways. The stand-alone cooking method includes pan-frying, deep-frying, baking, grilling, sauteing, and more.
Yellow perch can also be included as an ingredient with other recipes, including different kinds of soup or stew. Sadly, sushi is no go.
Yellow perch goes well with most of the popular cooking techniques. Are you a cooking fanatic? Bake the perch with all sorts of seasoning and tampering.
Do you want something fast? Just wash it well and pan fry it. If the fish is small enough, you don't even need to slice or cut it. Simply bringing out the guts will do.
Because of the non-existent odor and the passive taste, perch is very versatile. Because of the number of ways perch can be prepared and presented, you are more likely to end up like a meal than not.
In restaurants, perch is on the top of the demand, along with walleye. Unfortunately, perch doesn't go well in sushi or other similar semi or uncooked recipes. So, bear that in mind.
Let me tell you something while we are on the cooking subject. Perch is considered highly versatile when it comes to cooking this fish. This yellowfish can be sauteed, baked, pan and deep-fried, grilled, poached, or used in chowder.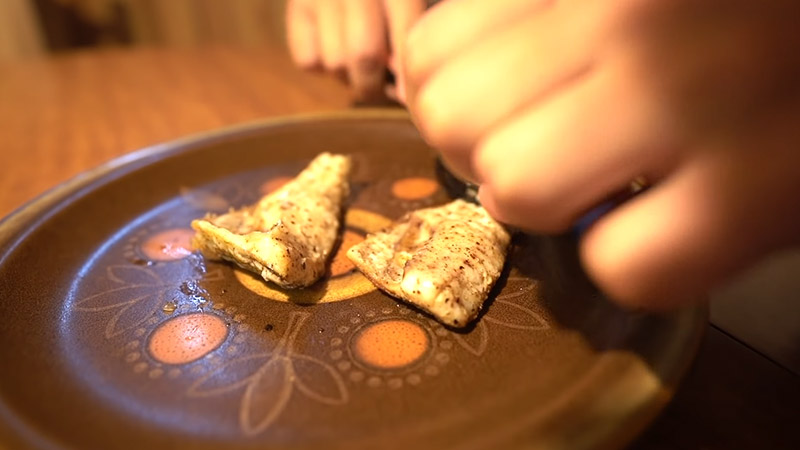 Where To Catch Perch?
Yellow perch is one of the few fishes that are native to North America. Both the saltwater and the freshwater variety exist naturally. But lately, they have been introduced in the lakes of a good part of the US and some parts of Canada. So, you can expect to catch them almost anywhere.
But it is still safer to check before setting out. They are highly adaptive species and can cope with the environment well. Their babies are herbivorous, but the juveniles and adults are omnivorous but mostly carnivorous.
So, they have no issue adapting as long as the environment isn't deadly. If food is extremely scarce, they don't feel shy to be carnivorous. In short, you can find at least a few yellow perch in nearly all major water bodies. Oftentimes, they are caught unintentionally, while casting for other fish like pike, bass, and more.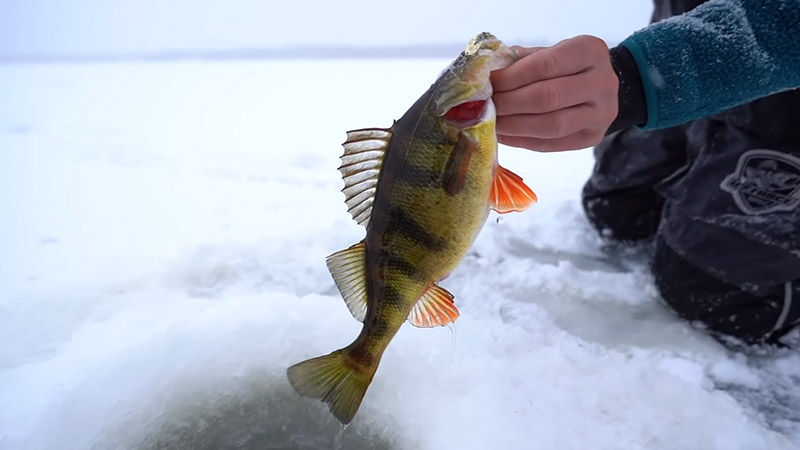 Conclusion
Yellow perch is a versatile fish capable of living in a wide range of habitats, including small or medium ponds, large lakes, deep but slow-moving rivers, canals, brackish water, and most importantly, artificial reservoirs.
The cultivation of perch not only saved the fish from extinction but also made it a major competitor in the food market.
Due to the taste of the fish, yellow perch is rapidly growing in popularity. Thanks to the aquacultures, the supply of the fish is also growing and satisfying the demand well enough.
Yellow perch is also great for introducing kids to cooking. They are easy to cook and are not the kind of fish that'll make the dish stink when not cooked properly.
So, kids can experiment with them quite freely. But when cooked properly, they are delicious, and you will have a dish to remember.